Welcome to my Tile Win Cash review!
Over 1 million people worldwide have downloaded "Tile Win Cash Review," a classic match-tile game offering unrealistic cash prizes.
This game claims to pay hundreds of dollars for eliminating tiles.
After completing each level, players can withdraw their earnings immediately via PayPal.
However, this enticing proposition raises eyebrows!
After reviewing so many cash games, I have learned to be cautious when it comes to such claims.
I found Tile Win Cash through an enticing advertisement featuring an Asian lady who points to bold claims on the screen:
"Download, all you need is your phone – no ads, no withdrawal limits.
"Rewards are sent directly to PayPal; there is no waiting!"
This review will cover the game's mechanics, payout system, and overall credibility.
Is it legit or fake? Does it really pay? Join me as I expose the truth and give you the necessary insights.
Before leaving, check out the strategy that turned my laptop into a $2,000/month income machine. Click here for the blueprint to success!
Tile Win Cash Review
Name: Tile Win Cash
Developer: heimudall
Eligibility: Worldwide – Android
Price: Free
Payout Threshold: No limit
Overall Rating: 0 
Avoid fake games: Click for the checklist!
What is Tile Win Cash? 
Tile Win Cash is an Android puzzle game where you match tiles with identical symbols to clear levels.
The developer is attracting players with the opportunity to earn cash rewards after completing each level, which can be cashed out via PayPal.
However, a concerning factor is that Tile Win Cash is still in early access.
This classification prevents users from publishing their reviews on the Play Store, which means no one can voice their opinions on the app.
Therefore, those who eventually feel cheated cannot warn others about not receiving their rewards.
How Does it Work?
Tile Win Cash is accessible to anyone with a smartphone and doesn't require registration.

The game is labeled as suitable for "Everyone", which implies that children and teenagers can download and play it.
This is a significant concern, as it exposes younger players to the concept of earning money through gaming.
Games that involve financial incentives can be detrimental and addictive.
Game Mechanics and Rewards
In "Tile Win Cash," you must match and remove three identical tiles from the game board.
To do this, tap on the tiles to move them to a specific slot.
Successfully matching three tiles clears them from the board.
The objective at each level is to eliminate all the tiles.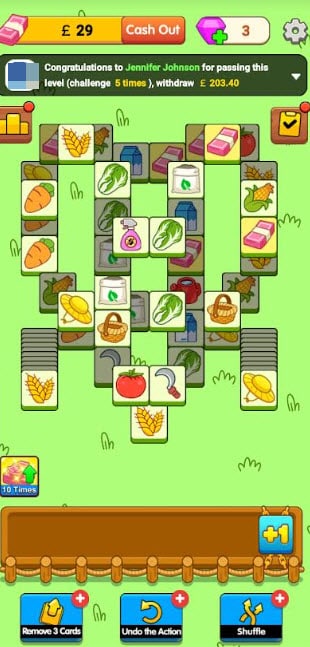 You will earn virtual cash for every tile you eliminate.
In addition, the game occasionally presents large cash bonuses, which can be doubled if you tap the bottom and watch an advert.
You must strategically eliminate all the tiles while managing limited spaces within the slots.
If you run out of available slots, it's a game over.
However, there's a lifeline in the form of a revival option, which you can use once by simply watching an advertisement.

The encouraging aspect here is that the cash you've earned during the level remains intact, even if you need to retry it.
This means your earnings keep accumulating until you complete the level and are ready to withdraw.
Unlike many other cash games, Tile Win Cash doesn't require you to reach a specific cash threshold for withdrawal.
Instead, it allows you to cash out via PayPal after successfully completing each level.
What are Diamonds For? 
For those who have exhausted their free revival and wish to make another attempt, Tile Win Cash asks for a payment of 100 diamonds.

This reward platform is going viral! Cash out via PayPal, Visa, Gift Cards, and in-game currencies - Click here to find out how to generate an extra $10+ per day! 
Moreover, Diamonds serve as an in-game currency you can use to get helpful props.
These props include the ability to remove three cards from the slots, undo previous actions, or shuffle the tiles for a fresh start.

One distinctive aspect of Tile Win Cash is its approach to monetization.
The game offers diamonds for sale, prompting players to spend real money on the game to complete levels to withdraw cash.
In the UK, 300 diamonds are worth £3.29.
Premiums
Tile Win Cash introduces premium options for people who want to earn more faster!
The developer offers an option priced at £19.99, which allows you to add an extra space for placing tiles.
This modification supposedly reduces the difficulty of all levels by a substantial 80%.
Additionally, they entice ptunity to pay an additional £19.99 to increase their cash rewards by a staggering factor of 10.
These offers may appear enticing, but it's essential to exercise caution when dealing with them.
Be careful here! Spending real money on this game carries a significant risk, as cash rewards are not guaranteed.
Step into the exciting world of play-and-earn: Our expertly curated list unveils the top apps where your gaming skills translate into tangible rewards.
How to Withdraw the Funds
Before you can initiate a withdrawal, you need to complete a level in the game by eliminating all the tiles.
Once you finish the level, you will be prompted to enter your name and email address linked to PayPal. They just have to confirm and submit.
Is Tile Win Cash Legit? Does it Pay? 
The developer may transfer a few pennies after the first level.
This encourages players to join in by making them feel confident that they can win larger cash prizes.
As a result, players may become more inclined to pay for expensive premium features to complete levels quickly.
This approach enables the developer to recoup their investment and potentially make a significant profit.
However, knowing that the likelihood of earning higher cash prizes is very low is crucial.
The primary goal of the game is to maximize profits for the developer.
This is achieved through advertising revenue and in-app purchases.
Many players pay these premiums with the false expectation of earning easy money.
But alas, it's the developer who ends up laughing all the way to the bank while the players are left counting pennies on the dollar.

Conclusion 
Tile Win Cash advertises the opportunity to win hundreds of dollars, attracting a large audience looking for easy money.
But unfortunately, this is a trap aimed at profiting from your time and hard-earned money.
It quickly becomes evident that the chances of winning more than a dollar with this game are incredibly slim.
Although Tile Win Cash provides a fun and engaging gameplay experience, it should not be viewed as a reliable source of income.
The real winners in this scenario are the developers, who capitalize on the players' wildest dreams!
Earn a Full-Time Income Online
If you're tired of the traditional 9-to-5 grind and yearn for the freedom to live life on your terms, then you're on the right path.
The internet has revolutionized how we work and make a living, offering endless possibilities to those who dare to dream big.
Creating content and engaging with your audience on the web is like planting seeds of potential.
Every blog post, video, or social media post you create is like placing another brick in your online empire.
If you want to learn how to harness the power of content marketing and achieve the laptop lifestyle, check out my top recommendation here!
This I s
Final Words
Thank you for taking the time to read my Tile Win Cash review.
Don't hesitate to share your thoughts and experiences; your insights can be invaluable to other readers!
Peace