Welcome to my Mega Winner Slot review!
Do you love playing slot games that offer exciting prizes and rewards?
If you're always on the hunt for easy money, you're in for a treat.
I recently stumbled upon a game that allows players to win some serious cash—and I'm talking real money!
Introducing Mega Winner Slot, a game quickly becoming a favorite among slot enthusiasts.
Why? For starters, it promises a minimum win of $1,000, which can be transferred directly to your PayPal account or redeemed via gift cards.
And if that's not enticing enough, you could become the proud owner of an iPhone 14 worth $1,499!
I know what you're thinking: "Do I need to risk my hard-earned cash for a chance to win?"
The great news is, absolutely not! Mega Winner Slot is a no-deposit game, meaning there are no financial risks!
I first came across Mega Winner Slot through an advert featuring a woman proudly showing $1,000 on her phone.
The ad promises a quick $300 win just by playing for 10 minutes. Sounds too good to be true. That's what I thought, too.
So, is Mega Winner Slot the real deal, or just another gimmick?
Will they actually transfer the money to your account? Join me as I cut through the hype to deliver the truth!
Before leaving, check out the strategy that turned my laptop into a $2,000/month income machine. Click here for the blueprint to success!
Mega Winner Slot Review
Name: Mega Winner Slot
Developer: zhuyiyebaofuxuan
Eligibility: Worldwide – Android
Price: Free
Payout Threshold: $1000
Overall Rating: 0 
Get the Ultimate Guide to Avoiding Fake Cash Game here! 
What is Mega Winner Slot?
Mega Winner Slot is a free-to-play game that combines the classic thrill of a 5-reel slot machine with the fun elements of bingo.
The gameplay is straightforward: you tap to spin the reels and have the chance to collect cash rewards whenever you land on cash note symbols.
But that's not all. In addition to the cash notes, players can also gather coins and puzzle pieces that appear with their respective symbols on the reels.
These virtual rewards accumulate in your balance, creating an exciting opportunity to exchange them for real prizes.
Mega Winner Slot encourages players to watch advertisements to collect rewards.

The game's main hook is this strategy of rewarding users with cash rewards.
However, it's important to note that this game is still in early access.
This status means that players cannot leave reviews on the Play Store to share their experiences.
Why does this matter? Well, if the developer doesn't fulfill their promises of payouts, players cannot report it and warn others.
Mega Winner Slot Work? 
Mega Winner Slot is a game you can download from anywhere in the world, and it says it's okay for anyone over ten years old.
But should teenagers really be playing this?
However, there are several reasons why this type of game may not be appropriate for teenagers.
Firstly, the game involves earning money, which can be particularly addictive for younger players.
The excitement and anticipation of winning cash rewards can lead to excessive gameplay.
Additionally, Mega Winner Slot promotes the notion that money comes easily, which is far from reality.
For impressionable young minds, this can create a distorted view of how money is earned in the real world.
Young individuals need to understand the value of hard work to avoid big disappointments later in life.

Gameplay
When you launch Mega Winner Slot, you'll first see a pop-up promising a real iPhone 14. Sounds exciting, right?
To win it, you must collect 400 puzzle pieces and check in daily for a week.
Plus, as a welcome bonus, you get 100 puzzle pieces right off the bat!
Here's a quick rundown of the gameplay mechanics: Hit the spin button to whirl the reels into action.
When they come to a halt, you can win various prizes, including cash, coins, and puzzle pieces.

This reward platform is going viral! Cash out via PayPal, Visa, Gift Cards, and in-game currencies - Click here to find out how to generate an extra $10+ per day!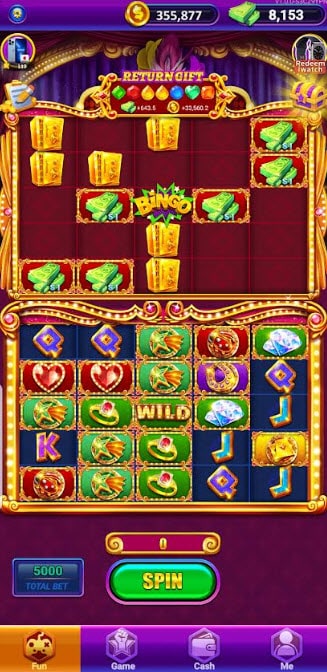 These wins depend on landing the correct symbols.

You might need to tap a 'collect' button and watch an advert to grab these virtual rewards.
But let's say you land on cash notes and get a reward of 792. Don't get too excited because it's not $792!
In this game, you need 10,000 'cash' points to redeem $1,000. So, 792 'cash' points are actually worth $79.20.
When you get cash, that symbol gets stamped on a bingo scorecard above the slot.
If you complete a row or column on this card, you're in for a big cash reward.
Win an iPhone 14
The key to this exciting prize lies in collecting puzzle pieces.
Your goal is to gather 400 puzzle pieces as you play the game and land the fragments on the slots.
But remember, it's not just about spinning; sometimes, you may need to watch an advertisement to claim these puzzle pieces.
Besides collecting puzzle pieces, you must check in daily for seven consecutive days.
How to Cash out
Within the game, you'll find two balances – one for cash and the other for coins.
Tapping the cash out button or any of the two balances will open the withdraw page. 
Once there, you can choose from popular platforms, including PayPal, Google Play, Steam, Amazon, Visa, Mastercard, and Xbox.
To withdraw your cash balance, you need to reach the minimum payout threshold of $1,000
In the game's currency, this means you need to accumulate 10,000 'cash' units. Once you hit this target, you can proceed to redeem your earnings.
Is Mega Winner Slot Legit? Does it Pay? 
No, it doesn't! The truth is that these cash prizes are entirely fake.
This is just a clever ploy to keep you playing and watching ads while the only one truly benefiting is the developer.
These apps that claim to shower you with money are not in the business of making you rich.
Instead, they want to enrich themselves by exploiting your time and gullibility.
As players get closer to the $1,000 mark, the rate they earn money noticeably decreases.
This design is intentional, leading players to watch more and more ads in the hope of reaching their target.
It's a clever tactic but doesn't end there. For those who persevere and eventually hit the $1,000 mark, the game introduces additional requirements, further prolonging the process and increasing video views.

Players must be aware of this. It's impractical for such games to generate enough profit to reward players with large amounts.
You might also be interested in exploring other fake games to learn more about their strategies and what to avoid:
Conclusion 
Mega Winner Slot is not a real money-maker. The developers misled people with the false idea of winning unrealistic cash prizes so THEY could profit.
Therefore, I strongly suggest you avoid this game like the plague.
The promise of earning significant amounts of money or high-value items like an iPhone 14 is an illusion.
In reality, the game profits from advertisements while players are led on a fruitless chase for rewards that don't exist.
Earn a Full-Time Income Online 
Imagine a life where you work remotely, harnessing the power of the internet to build a thriving online business.
Take it from someone who's been there: I started my site from scratch, armed with nothing but determination and a vision.
Initially, the path was unclear, and the online world seemed daunting.
But as I immersed myself in these lessons and strategies, every piece started falling into place.
I learned how to craft a business plan that resonated with my audience, attracting visitors from across the globe.
Now, my days are shaped by flexibility and freedom.
I have the luxury to work from anywhere, be it from the comfort of my home or while traveling to exotic destinations.
If you want to learn more about my story and how you can replicate my success, click here! 
Final Words
Thank you immensely for diving into my Mega Winner Slot review!
Now, we'd love to hear your story. Feel free to comment on your experiences – your insights could be a game-changer for others.
Peace!