Welcome to my Ivory Reels review!
I was testing another money-making game when I stumbled upon Ivory Reels.
This is another free slot simulation. To collect incredible cash rewards, all you need to do is tap the spin button.
Unlike other arcade games, the developer really wants players to believe they can actually cash out their winnings.
It's tempting – who wouldn't want to hit 'spin' and watch their bank balance soar?
Many do, as evidenced by the game's 50,000 downloads.
The hype caught my eye through an advert where a woman boldly claimed she had $360,000,000 in her account. 
She had apparently accumulated all this fortune by playing free mobile slot games without spending a dime.
Her latest obsession is Ivory Reels. The ad shows her excitement and guarantees big wins on the first ten spins.
It also promises to give you a $200 prize bonus!
Yet, a quick glance at the fine print warned the audience that these results aren't guaranteed.
I decided to take a closer look and see for myself whether Ivory Reels is legit or just another elaborate hoax.
Keep reading as we uncover the truth about another unrealistic offer!
Before leaving, check out the strategy that turned my laptop into a $2,000/month income machine. Click here for the blueprint to success!
 Ivory Reels Review
Name: Ivory Reels
Developer: Kivflar Ludum
Eligibility: Worldwide – Android
Price: Free
Payout Threshold: $
Overall Rating: 0 
Join the Savvy Players: Discover the Red Flags of Fake Cash Games!
What is Ivory Reels?
Ivory Reels is an Android slot machine game that immerses players in a prehistoric mammoth treasure theme.
It features a visually engaging 5-reel slot interface and offers the tempting prospect of matching pay lines to unlock cash rewards.
With every tap on 'spin,' you get to chase the thrill of lining up the mammoth-inspired icons, which could potentially lead to earning real money.
Intriguingly, the game promises the flexibility to withdraw any amount of money you've won.
In other words, there is no minimum payout threshold, which is uncommon in free-to-play slot games.
Despite being installed over 50k times, there are no reviews on the Play Store.

If players were winning real money, as the game implies, wouldn't there be a rush of positive testimonials? Of course there would!
But unfortunately, the developer blocks all comments by classifying the app as Early Access.
How Does it Work? 
Ivory Reels is accessible anywhere without the need for registration.
Despite the financial incentives and its inherently addictive gameplay, it's recommended for teens on the Play Store.
In my opinion, this is completely irresponsible!
Adolescents are particularly vulnerable to these winning mechanics as it could foster unhealthy habits.
To make matters worse, Ivory Reels does not provide data encryption.
Encryption is a shield that guards user information from prying eyes. Without this protective layer, all the data you provide is at risk.
If cybercriminals intercept this information, the consequences could range from identity theft to financial fraud.
In a worst-case scenario, such breaches can ruin credit scores, drain bank accounts, and much more.
Gameplay
Upon launching, Ivory Reels immediately entices new players with a $ 77 'lucky bonus.'

A quick tutorial follows, guiding you through the simple mechanics: select the amount you want to play with and hit spin.
There's no need to deposit real money; the game operates on a virtual dollar system to fuel the slot machine action.
Depending on the combinations you get on the reels, you will win cash rewards.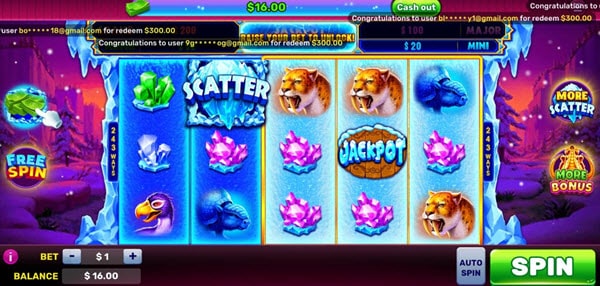 To understand the winning conditions, you must check the Pay Table, which is located in the menu.

This reward platform is going viral! Cash out via PayPal, Visa, Gift Cards, and in-game currencies - Click here to find out how to generate an extra $10+ per day! 
It's pretty complex to understand, so the best thing you can do is keep tapping the spin button, as you will be bombarded with rewards.
While spinning, you will find random bubbles on your screen with a decent cash amount.

You can tap this button to collect the prize, triggering an advert. Watch it until the end to claim your cash prize.
Bear in mind that's how the developer is generating revenue from the app and exploiting your time.
You can claim more cash rewards by simply tapping the cash icon on the left side.
How to Withdraw Your Funds
Withdrawing your winnings is a simple process: click the cash-out button and select from various payment options such as PayPal or Cash App.
The developer claims your funds will arrive within 3 to 15 business days.
But here's the catch—entering your personal payment information into an unencrypted app is risky.
You're effectively handing over sensitive details to developers with questionable security measures.
The big question looms: Will the money materialize, or will an excuse conveniently emerge to avoid payment?
Is Ivory Reels Legit? Does it Pay? 
The unfortunate truth about Ivory Reels is that it doesn't pay out.
What masquerades as a lucrative pastime is, in reality, a facade.
This game is designed to exploit your time for profit while showing non-existent prizes that you'll never actually receive.
You are initially led to believe that there's no catch and no payout threshold to meet.
But once you've handed over your details, the game shifts the goalposts.
Instead of processing the payout, the cash-out page suddenly stipulates that if you accumulate $300, you can withdraw your cash 'without any conditions.'
This bait-and-switch tactic is a clear sign that the developers are not playing a fair game—they're not keeping their word, and that alone is a red flag indicating they should not be trusted.
The scheme doesn't end there. Often, as you try to reach this new target, you'll encounter additional hidden requirements.
This is a tactic to keep you engaged and viewing more advertisements from which the developers profit.
The realization hits hard: Ivory Reels is not the money-making venture it pretends to be.
Instead, it's a time sink that preys on its players' hopes, operating without transparency ority.
Earn a Full-Time Income Online
Are you looking to actually make money online? Forget these fake cash games and start your own online business.

There are many ways to do it, but what's worked great for me is setting up a website where I promote products as an affiliate.
When people buy something based on my recommendation, I get a little bit of cash from that sale.
It's not as easy as tapping a button on a game, though. You've got to put in the work, like writing helpful content and finding products you want to support.
But trust me, it's worth it. Imagine making money from your couch or a hotel room in Bali.
That's what some folks call the 'laptop lifestyle.'
If you're up for it and want to learn how to start, click here and check out my #1 recommendation.
Final Words
Thanks for reading my Ivory Reels review! I hope it was helpful and eye-opening!
If you want to share your thoughts on this game, kindly use the comment section below and spread the word.
Peace!