Welcome to my Million Quiz App review!
The developers of Million Quiz are advertising their trivia game as a path to easy riches!
You may have stumbled upon this app through a rather intriguing advertisement.
It urged people to uninstall money-making software, emphasizing that these programs with barriers and withdrawal limits don't want you to succeed.
Instead, they recommended Million Quiz as the solution, a game where you can supposedly withdraw real money.
Curiously, I've previously exposed an identical game called Millionaire Quiz to Win, but it targeted a British audience with questions about the UK.
Now, the question on everyone's mind is: Is Million Quiz legit, or just another cleverly marketed game with empty promises?
In this review, I'm here to uncover the truth behind this application. Let's get started.
Before leaving, check out the strategy that turned my laptop into a $2,000/month income machine. Click here for the blueprint to success!
Million Quiz App Review
Name: Million Quiz
Developer: thewhale111
Eligibility: Worldwide – Android
Price: Free
Payout Threshold: $500
Overall Rating: 0 
Get Smart About Cash Games: Find Out How to Spot the Fake Ones!
What is Million Quiz?
Million Quiz is an Android trivia game available for free on the Google Play Store.
It claims to offer players a chance to answer questions about the United States, putting their knowledge to the test.
However, if you happen to be in the UK, the game switches topics targeting UK residents.
In that case, the game becomes the exact copy-and-paste of Millionaire Quiz to Win, which I reviewed a few days ago.
The game's premise is simple: answer questions correctly, and you'll supposedly win generous cash rewards.
These questions can cover many topics, including history, geography, and cuisine.
With over 5 million installations, Million Quiz has gained remarkable popularity.
But despite this high number of downloads, the game is still labeled "Early Access."
This "Early Access" status means you won't find a single review on the Play Store.
Why is the developer so scared to put his app for public scrutiny? Very suspicious, right?

How Does Million Quiz Work? 
Million Quiz is available to users worldwide and is completely free to play – no deposits that will suck your wallet dry!
That's right, and you don't even need to create an account or provide any personal details to start playing.
Sounds too good to be true. Well, it is, and that's what's concerning.
This app, as convenient as it may seem, doesn't encrypt your data.
Although your information isn't necessary for registration, you should be prepared to enter payment details.
Without encryption, any data you send can be intercepted and read by others.
So, what could possibly happen?
Cybercriminals can sell your details on the dark web, where your data can be used for many illegal activities, ranging from spam campaigns to creating fake identities.
Keep Your Information Safe: Learn Proven Strategies for Data Protection in Reward Apps.
The Gameplay
As soon as you load the app, you'll be greeted by a charming anime character on the main page.
The gameplay itself is straightforward: you'll be presented with questions like, "When do British people like to drink afternoon tea? Morning or afternoon?"
Most of these questions are so easy that it's almost insulting!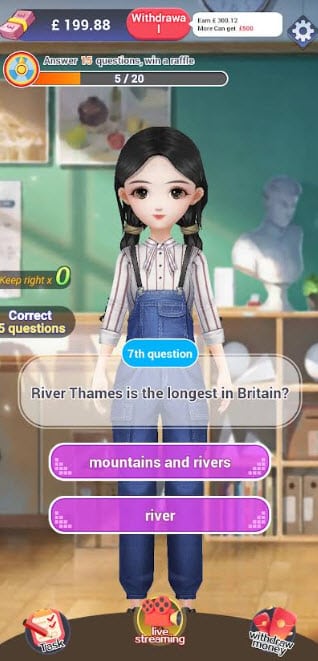 If you manage to answer correctly, you'll earn cash instantly.
But here's the catch: you can double your prize by tapping a button and watching an advertisement.
It's a sly tactic employed by the developer to maximize their profits.
They're playing on your desire for instant gratification and freebies, exploiting the psychology of reward and temptation.
Once you've correctly answered 20 questions, you can spin the wheel of fortune for a chance to win even more cash rewards.
And if that's not enough, there's a Tasks tab where you can claim rewards for reaching specific milestones.

This reward platform is going viral! Cash out via PayPal, Visa, Gift Cards, and in-game currencies - Click here to find out how to generate an extra $10+ per day! 
And guess what? You'll have to watch more adverts!

How to Withdraw the Money? 
They make it very simple to cash out!
Once you've accumulated $500, you'll need to tap the "Withdraw" button at the top of the screen.
Then, you'll click on "Attract" and follow the prompts. But is this money even real?
In the next section, I will show you what you can expect after requesting the payment.
Is Million Quiz Legit? Does it Pay? 
No, it doesn't! Beware of Millionaire Quiz to Win, a classic bait-and-switch cash game.
At first, the app lures you in with seemingly substantial cash rewards, fostering the illusion that reaching the payout threshold will be quick and easy.
However, as you inch closer to the $500 mark, the rewards steadily decline, dwindling to mere cents.
This tactic frustrates you into watching endless advertisements with the faint hope of cashing out.
Don't be fooled. Even if you persevere and satisfy the steep requirements, the goalposts shift.
Suddenly, you're faced with additional hidden conditions, such as watching a set number of videos or answering more questions.
But the bottom line remains: regardless of your efforts or the promises made, the payout never comes.
The truth is stark— "Millionaire Quiz to Win" will not pay out. It's a cycle of false hope and wasted time.
Conclusion 
In conclusion, "Millionaire Quiz to Win" is an alluring trap masterfully designed to exploit your time and attention for profit,
The game's structure is skewed to ensure players remain in an endless loop, baited by diminishing rewards and an ever-distant payout that will never materialize.
The reality is stark and straightforward: you play, they earn, and the promised cash reward remains an illusion.
For those looking to earn real money through trivia, Swagbucks Trivia (formerly Swag IQ) is one of the rare legitimate apps that does reward its users.
However, if your goal is to make a consistent side income by answering questions, then online surveys are more viable.
PrizeRebel is a reward platform I've confidently recommended for years in this blog.
Many users earn an extra $200 per month by sharing their opinions with marketing research firms.
I invite you to read my detailed review of PrizeRebel here! 

Final Words
Thanks for reading my Million Quiz review! I hope it was helpful!
If you want to share your own experiences or thoughts about the game, I'd greatly appreciate your input in the comment box below.
Peace!