Welcome to my Superb Balls review!
Over half a million individuals have already taken the plunge and installed Superb Balls from the Play Store.
This 2048 merge game offers a straightforward premise: players drop balls and merge them by colliding two with the same number.
The result is an immensely satisfying and addictive gaming experience!
But it gets ridiculously better!
Superb Balls claim to offer the opportunity to earn money without any initial investment.
There's no financial risk involved, making it all the more appealing!
However, in a marketplace teeming with similar games, each promising substantial rewards, skepticism inevitably creeps in.
Can an app transfer real money to your PayPal account? Is Superb Balls legit, or is it another piece of virtual nonsense?
This review will dive into its depths to find the truth!
Before you close this page, unveil the strategy that helped me generate $2,000/month from my laptop and quit my job! Click here to find out! 
Superb Balls Review
Name: Superb Balls
Developer: Visionnate
Eligibility: Worldwide – Android
Price: Free
Payout Threshold: $2
Overall Rating: 0
Get savvy at identifying fake cash games and avoid wasting time and energy!
What is Superb Balls?
Superb Balls is an Android game that involves the strategic merging of colorful bubbles.
In this game, your primary objective is to merge bubbles of the same number and color by hitting them together.
As you follow the sequence—starting with 2, then 4, 8, 16, and so on—you'll witness these bubbles combine and create larger numbers.
This gameplay style is commonly known as "2048 games" due to the sequential doubling of numbers.
One of the most enticing aspects of Superb Balls is the opportunity to win substantial cash rewards while playing.
However, there's a catch: to claim most of these rewards, you'll be enticed to watch advertisements.
Besides, the number on your balance doesn't correspond to the amount you can withdraw.  
How Does Superb Balls Work? 

Superb Balls is available for download in all countries and offers a straightforward gaming experience without registration.
However, there's a crucial caveat that you must be aware of: you will eventually be prompted to enter your name and account number to cash out.
It is absolutely imperative that you do not, under any circumstances, provide such sensitive information.
Why? Because, shockingly, the data isn't encrypted, putting you at severe risk of becoming a victim of cybercrime.
Identity theft is a severe and harrowing ordeal.
If your personal data falls into the wrong hands, malicious individuals could exploit it in numerous ways.
They might gain access to your bank accounts, collect debts in your name, and do other crazy things. Discover the Keys to Safeguarding Your Data!
The Gameplay
As soon as you launch the app, you'll be enticed to tap the screen to drop your first ball.
Merging your initial ball will trigger a Lucky bonus of $66, which is a compelling start.
As you know, the gameplay involves strategically merging bubbles of the same number and color.
When you combine multiple balls, it can trigger a cash reward, especially when you achieve combos.
Sometimes, you instantly receive the money, but other times, you must tap the "button" and watch an advertisement.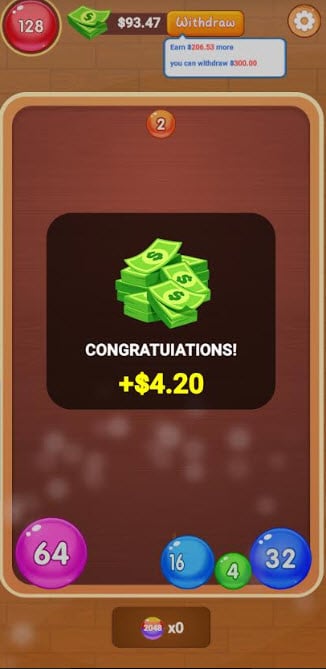 This is precisely how the developer generates revenue, essentially trading your time for their profit.
You will complete a level whenever you unlock the ball number 2048. As you will see in the next section, this milestone is crucial for increasing your pay rate!
Cashing out 
To withdraw funds from Superb Balls, you need to tap the "Withdraw" button at the top of the screen.
However, it's crucial to understand that your displayed balance isn't the total amount you can withdraw.
Instead, the eligible cashout amount is presented in a blue box under your game balance.

This reward platform is going viral! Cash out via PayPal, Visa, Gift Cards, and in-game currencies - Click here to find out how to generate an extra $10+ per day! 
For instance, if your game balance indicates $70, this translates into a cashable balance of just $0.70 if you are under level 29.
A table in the cash-out section displays different exchange rates depending on your level.

Up to level 29, the exchange rate remains 1%, gradually increasing as you progress.
For example, the rate increases to 50% at levels 40 to 49.
Then, once you reach level 60 and above, the rate goes up to 100%, allowing you to transfer your entire game balance.
The minimum amount you can withdraw is $3.
This means that if you attempt to cash out before reaching level 29, you must accumulate $300 in your balance.
Consequently, many players aim to reach level 60 to withdraw 100% of their earnings.
You can choose your preferred payment method once you have attained the necessary balance.
Options include PayPal, Amazon gift cards, or Mastercard.
This exact withdrawal process isn't unique to "Superb Balls." In fact, it's a common mechanism found in several other games, including "City Garden," "Smash Master," and many more.
Is Superb Balls Legit? Does it Pay? 
No, Superb Balls doesn't pay a dime! The game bombards you with non-stop ads, providing little or no tangible rewards.
Reaching the minimum $3 for withdrawal and receiving the money might seem possible, but there's no guarantee.
The problem is that getting to this point takes an unrealistic amount of time.
Contrary to the game's claims, earning hundreds or thousands of dollars is an illusion!
If real payouts at this level were happening, the developers would surely let players share their success stories on the Play Store.
However, the game is still in 'Early Access,' which prevents them from leaving reviews.
This only adds to the skepticism surrounding the game!
How to identify fake Mobile Games
Unrealistic Payout Promises
Many mobile games like Superb Balls entice players with the allure of easy money.
They often promise hundreds of dollars in rewards for reaching certain levels or after just a few minutes of gameplay.
However, these payouts are very unrealistic.
The truth is, these games are designed to captivate your attention.
The end goal is to keep you playing and watching numerous adverts, not to pay you.

The Deception of Flashy Advertisements
A common tactic used by such games is displaying flashy advertisements with PayPal logos and images of dollar bills.
It's crucial to remember that PayPal does not endorse these apps.
These advertisements are designed to create a false sense of security and legitimacy.
They exploit the trust people have in established payment platforms to lure players into a false sense of financial gains.
Early Access Games
Games in early access on the Play Store pose another red flag.
Since these games are not open for public review, developers take advantage of this.
The absence of user reviews means you're venturing into uncharted territory without the benefit of community feedback.
Hidden Cash-Out Requirements
Finally, be aware of hidden cash-out requirements.
These games often require you to watch a specific number of advertisements to "approve" your payout. Some of them even charge a small fee!
This system is designed to maximize the number of videos you see, benefitting the game developers.
Conclusion 
Superb Balls is a game that promises big payouts but falls short when it comes to actually delivering them.
Even if you earn the $3 payout, it's too little for the hours you put in.
So, if you're considering this game as a way to get rich quickly, I'd advise you to reconsider!
You're better off joining reputable sites that allow you to take surveys and offers in exchange for cash rewards.
I've been using and recommending PrizeRebel for over five years because it consistently transferred money to my PayPal account.
Now, for those who dream of a more substantial income, the kind that can support a laptop lifestyle, consider building an online business.
I am not talking about setting up an online store and worrying about inventory, shipping, or customer service headaches.
Instead, this is all about providing value through digital content creation.
I took this path myself and haven't looked back since.
The beauty of an online business is the flexibility it offers. You can work from anywhere with just your laptop and an internet connection!

If you want to know about my story and how you can do the same, click here! 
Final Words
Thank you for taking the time to read my Superb Balls review! Your visit and engagement mean a lot.
Feel free to drop your thoughts and experiences to assist other readers in making informed decisions.
Peace