Welcome to my Crazy Oasis Bonanza review!
Who doesn't like free money, right?
That's what Crazy Oasis Bonanza promises, a compelling proposition that lures players into a world of wild possibilities.
In a digital landscape flooded with casual games, Crazy Oasis Bonanza stands out with an audacious claim: the chance to redeem real money without ever spending a dime.
In this game, players enjoy the simple pleasure of tapping the spin button and watching their balance account grow.
I came across this game through an enticing advert offering an instant $1000 payout and $300 daily.
The cherry on top? No ads, no top-ups, and no withdrawal limits!
The ad depicted a man literally buried under a mountain of cash notes, a sight that's nothing short of dreamlike.
But is Crazy Oasis Bonanza legit or fake? This review will reveal whether it lives up to the extravagant claims.
Before you close this page, unveil the strategy that helped me generate $2,000/month from my laptop and quit my job! Click here to find out! 
Crazy Oasis Bonanza Review
Name: Crazy Oasis Bonanza
Developer: Craon Medico
Eligibility: Worldwide – Android
Price: Free
Payout Threshold: £800
Overall Rating: 0
Learn how to spot fake cash games and avoid wasting time and energy!
What is Crazy Oasis Bonanza?
Crazy Oasis Bonanza is a mobile slot game that places players at the heart of an enticing cash-filled adventure. It's almost identical to Reel Adventures Fiesta and many others!
At its core, it operates like a classic slot machine, with three reels that spin in anticipation of that perfect match.
The objective? To align three matching symbols on the reels, paving the way for cash rewards and puzzle pieces.
What sets Crazy Oasis Bonanza apart is the opportunity to redeem their virtual earnings for real cash.
Moreover, it offers the possibility of winning incredible prizes, such as a PS5, MacBook Pro, Samsung Galaxy, and more.
The most enticing aspect is that the game is free to join and play!
Tapping that alluring spin button requires no initial deposits!
It seems like an effortless way to acquire substantial wealth and valuable prizes.
Yet, a question mark hangs over the game's authenticity.
Crazy Oasis Bonanza is currently in early access, preventing players from publishing their reviews.

Why else would the developer choose to silence players' voices if not to hide the truth about their app?
Crazy Oasis Bonanza Work? 
Crazy Oasis Bonanza is a mobile gaming app available worldwide that offers players real money without registration or deposits.
Although it may appear appealing, there are several alarming aspects that require careful examination.
Attracting a Vulnerable Audience
One striking concern is that the app is labeled for teens.
This categorization is particularly troubling because it can trigger addictive behaviors associated with games involving money.
Encouraging teenagers to participate in such games can have long-term implications, potentially leading to risky behaviors in their adult lives.
When an app is labeled for teens, it gives the impression of being safe and suitable for a younger audience.
Therefore, parents may be less likely to investigate or restrict access to such apps because they assume they are age-appropriate.
However, Crazy Oasis Bonanza is not designed for teens!

Data Encryption Risks
Equally problematic is the app's lack of data encryption.
The absence of encryption means the developer has unrestricted access to any sensitive information you enter.
For example, the developer asks players to enter their full names and bank account details.
This creates a substantial risk of personal information misuse and potential fraud committed under your name.

This reward platform is going viral! Cash out via PayPal, Visa, Gift Cards, and in-game currencies - Click here to find out how to generate an extra $10+ per day! 
Gameplay Mechanics
Upon launching the game, you will see a brief tutorial.
Tap the spin button to trigger the three reels.

Initially, players are granted ten spins, and the goal is to match three banknote symbols to collect cash rewards.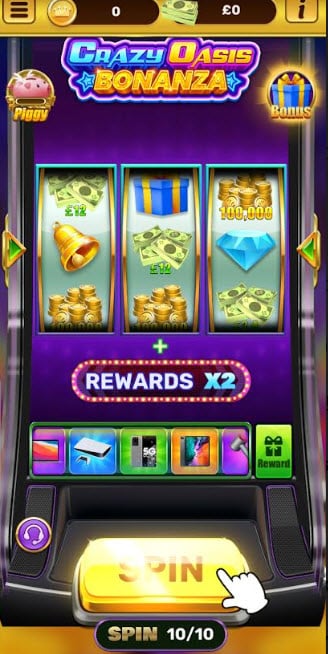 These rewards can be boosted randomly by up to five times. My first reward amounted to a substantial £80! 
After the first spin, the game entices players to tap the cash balance, indicating that there is no withdrawal threshold.
So, you can supposedly cash out any amount!
The game rewards players with additional free spins every 2 minutes, ensuring continuous playtime.
Coins accumulate in your balance if you match 3 coin symbols. You can supposedly exchange them for £240 once you hit the 30 million mark.
Bonus: The bonus icon triggers "fever mode," doubling your wins.
Extra Spin: The extra spin icon grants more free spins.
Wild: The Wild icon substitutes for any symbol, boosting your chances of winning.
Gift Section and Prizes
Matching three gift coins allows players to collect puzzle pieces.
These pieces can be accumulated and eventually redeemed for coveted prizes, including Apple iPads, Samsung Galaxy S20s, MacBook Pros, and more.
By tapping the "i" icon in the top right corner, players can access the game rules and discover the odds of winning each prize.
Crazy Oasis Bonanza Legit? Does it Pay? 
No. The harsh truth is that Crazy Oasis Bonanza doesn't pay a dime.
It's just another slot machine game with fake cash rewards, and all those claims of easy cashouts are nothing but empty promises.
The only one benefiting financially from this app is the developer, who generates revenue through advertising.
So, what happens when you attempt to cash out? Well, it's a deplorable bait-and-switch tactic.
Initially, they allow you to enter your details with the promise of receiving any amount of cash.
However, once you submit your details, they reveal a hidden requirement: you must accumulate £800 to approve the order.
Many are trapped in this illusion, tirelessly spinning the reels while believing they are lucky.
The insidious trick is that the game bombards you with advertisements every time you receive a cash reward.
These videos predominantly promote other fake cash games, attempting to trap you in their web of deception.
This is how the developer profits from your time and engagement.
Reaching that elusive £800 takes an incredible amount of time because the game starts offering more coins than cash.
Moreover, the cash rewards diminish as you approach the target.
Even if you accumulate the required sum, there's no guarantee they won't add more requirements or ignore your payment request.

It's crucial to note that the developer doesn't provide any user agreement, which means they don't owe you any money.
Conclusion 
The allure of Crazy Oasis Bonanza and similar games can be intoxicating!
They promote the idea of easy wealth and lavish prizes with just the tap of a button.
However, the reality is starkly different, leading many players down a path of unnecessary exposure to advertisements.
To make matters worse, the app targets a vulnerable teenage audience and lacks crucial data encryption.
The game's structure is a classic example of a bait-and-switch tactic designed to keep players engaged for longer.
It draws players in with the possibility of cashing out at any amount. But once players request the money, they are told to reach £800 to approve the order.
What a joke, folks!
My humble advice? Avoid falling into the trap of such deceptive games.
Always remember that if an offer seems too good to be true, it probably is!
Earn a Full-Time Income Online
Anyone can achieve the laptop lifestyle and enjoy the freedom of working remotely.
This path has not only allowed me to travel the world but also to enjoy a more balanced work-life harmony.
One of the most effective ways to embrace this lifestyle is by stepping into the world of content creation.
The beauty of this career is that you can learn the ropes through a well-structured training program, the very same one that I joined back in 2015.
It was this program that catapulted my site to success, offering me remarkable results.
Imagine having the flexibility to work from anywhere, creating content that resonates with audiences worldwide!
This program is your gateway to achieving that dream. If this resonates with you, click here to learn more! 
Final Words
Thank you for taking the time to read my Crazy Oasis Bonanza review!
Please feel free to share your thoughts and experiences so other readers can benefit from your insights.
Peace