Welcome to my Slot Bingo Day review!
Slot Bingo Day is another Android game that combines the exciting worlds of slots and bingo.
It's completely free, eliminating any concerns about losing your hard-earned money.
Like many others, I stumbled upon this game through an enticing advertisement offering quick payouts.
Over 100k people have installed this app with high expectations of striking it rich.
However, we know that the Play Store is teeming with deceptive money-making games, preying on our valuable time.
Developers aggressively compete for our attention and don't mince words mince words when promoting their apps to deceive the public.
So, is Slot Bingo Day a legitimate opportunity or just another game using fake dollars? Does it pay or not?
Stay tuned as we explore further and reveal the truth behind this captivating game.
Tired of fake cash games? Step into the proven method that skyrocketed my online monthly earnings to over $2,000 and paved the way for my job exit in 2019!
Slot Bingo Day Review
Name: Slot Bingo Day
Developer: IVAN ISVARIO
Availability: Worldwide
Price: Free
Payout threshold: $1000
Overall Rating: 0 
Slot Bingo Day is an Android game that combines the worlds of slots and bingo!
The fact that it's free means there is no risk of losing money, but it's still a potential time waster.
The core gameplay revolves around a simple tap-to-spin mechanism, providing access to slots and bingo elements.
The objective? Land piggybank symb ls on the reels to unlock cash rewards.
Completing a line on your scorecard triggers a bingo, unlocking the potential for even more cash and puzzle pieces.
These fragments supposedly offer the chance to claim high-value prizes like iPhones, MacBooks, and iWatches.
However, the game's status of early access on the Play Store casts a shadow of doubt over its legitimacy.
Without user feedback, people cannot discover whether other players receive the money.
Learn how to report fake money games today! 

How Does Slot Bingo Day Work? 
Slot Bingo Day is readily available on the Play Store for Android users over 18.
The game is entirely free to play and requires no deposits.
Also, there is no registration, making it highly convenient!
The fact you don't need to register makes it seem like you are playing without compromising your privacy.
However, it's crucial to highlight that Slot Bingo Day lacks data encryption, potentially exposing players to severe data privacy risks.
This can leave your personal information vulnerable to unauthorized access, which may lead to various threats, such as id identity theft and fraud.
So, if you care about your online safety, you should seriously consider uninstalling this app.
But how about the cash rewards? Is the potential risk truly worth the risk?
Before I answer this question, let's dive into the gameplay details.
Gameplay
To start, you tap the spin button, consuming 5,000 coins with each spin.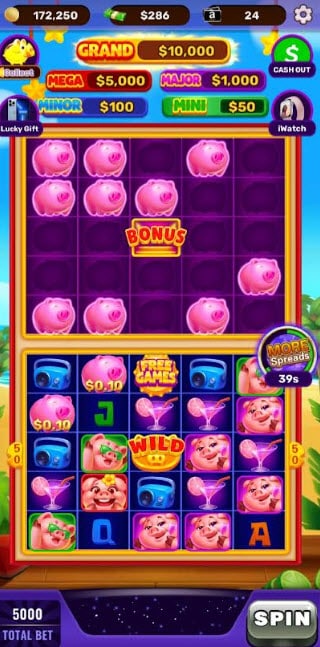 Landing piggybank symbols on the reels can yield cash rewards, Amazon cards, and puzzle pieces for prizes like iPhones, MacBooks, and iWatches.

Occasionally, you'll encounter a "cash win" bonus, which can be claimed by tapping the Collect button after watching a short advertisement.
The piggybanks are then transferred to your bingo scorecard at the top of the screen.
Completing a line on the scorecard triggers a bingo, granting the opportunity to play the wheel jackpot and collect more cash and puzzle pieces.
Win the iWhatch
There's another intriguing way to obtain an iWatch worth $499.
If you clock in for three consecutive days, you can redeem the iWatch for free.

This reward platform is going viral! Cash out via PayPal, Visa, Gift Cards, and in-game currencies - Click here to find out how to generate an extra $10+ per day! 
However, unlocking the clock-in button requires spinning the reels 20 times. 

How to Claim Your Prizes?
You can withdraw your cash balance via PayPal or Cash App once it reaches a minimum of $1,000.
You'll need to collect 300 Amazon items to redeem $1,000 for the Amazon gift cards.
As for the puzzle pieces, they can be used in the gift section to claim various high-value items.
These conditions to claim prizes in Slot Bingo Day are a clever tactic to maintain player engagement and encourage more frequent exposure to adverts.
The developers employ this strategy to maximize their profits within the game.
Is Slot Bingo Day Legit? Does it Pay? 
Nope! Slot Bingo Day doesn't transfer any money, even after you've met the requirements.
Those cash rewards are nothing more than an illusion, much like countless other money-themed games littering the Play Store.
It's a stark reminder that when a game is free and pledges to dole out hundreds of dollars, it's undoubtedly FAKE.
Slot Bingo Day employs an insidious tactic: the closer you get to the $1,000 target, the less you earn.
This frustrating reward decrease prolongs your playtime and forces you to endure an increasing number of advertisements.
But the deception doesn't stop there. Even if you accumulate that elusive $1,000, you'll be hit with additional requirements.
You might be asked to spin a specific number of times or watch an outrageous number of videos to "approve" the order.
But after jumping through all the hoops, you won't receive any money.
If you think this slot game has unfortunate surprises, wait until you see my take on Panda Fortune.
Conclusion 
Slot Bingo Day is designed to keep you engaged, watching more ads, and hoping for a payout that will never materialize.
As with many things in life, if it seems too good to be true, it likely is.
So, don't fall for the illusory riches this game dangles before you.
Earn a Full-Time Income Online
Instead of chasing unrealistic rewards from a casual game, consider building an online business.
While it's not a quick fix, it's a realistic way to achieve the so-called laptop lifestyle.

It requires effort and dedication, but the outcome? A chance at a steady income, freedom to work from anywhere, and the pride of creating something of value.
So, where should you begin on this journey to real success?
Start by following an excellent step-by-step program that I vouch for.
In fact, I used this exact training to set up and grow the lucrative site you're currently on.
It's not about luck or magic; it's about taking the proper steps consistently.
With dedication and the right guidance, you can achieve what I did.
You have the potential to create something incredible and start earning massive commissions!
Click here to dive in, stay committed, and watch your vision come to life!
Final Words
Thank you for diving into my Slot Bingo Day review!
Your insights matter to us. If you've played the game or have any feedback, please share it in the comments section below.
Stay awesome!