Welcome to my Crazy Train Slot!
Crazy Train Slot is another free slot machine game that's blowing people's minds.
The developer markets it as an opportunity to earn thousands of dollars with zero risk.
Having reviewed countless cash games, the ingenuity of developers to captivate players never ceases to amaze me.
The advert shows a touching scene: a young girl visiting her mother in the hospital, presenting her with a $10 bill for her surgery.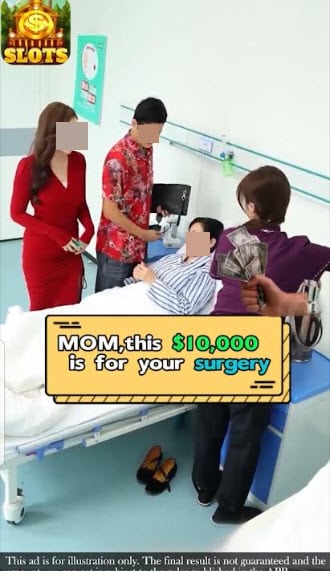 She suggests playing Crazy Train Slot for just two hours daily, which can fill your pockets!
Astonishingly, there appear to be no withdrawal conditions, with funds flowing into your PayPal account in no time!
The ad strikes an emotional chord, targeting those with loved ones in urgent need of medical finances.
But let's face it; the notion of earning vast sums of money through a simple game feels rather far-fetched.
This leads us to question the legitimacy of Crazy Train Slot. Does it pay or not?
Stick around as we unravel the truth behind this unrealistic game, leaving no stone unturned.
Tired of fake cash games? Step into the proven method that skyrocketed my online monthly earnings to over $2,000 and paved the way for my job exit in 2019!
Crazy Train Slot Review
Name: Crazy Train Slot
Developer: hakrapro
Availability: Worldwide
Price: Free
Payout threshold: $500
Overall Rating: 0 
What is Crazy Train Slot?
Crazy Train Slot is a captivating slot machine game with a train theme that takes players on an exciting journey to riches.
Well, at least in theory!
In practice, this "train" may take you on a scenic route to the middle of nowhere!
Crazy Train Slot features a traditional 5-reel setup where players can tap to spin the reels in hopes of landing winning combinations.
The app's description on the Play Store promises to let users experience the thrill of becoming rich overnight.
By landing star icons on the reels, you will collect cash rewards that can only be cashed out after meeting certain conditions.
How Does Crazy Train Slot Work? 

Crazy Train Slot is available on the Play Store worldwide and doesn't require any registration or deposits.
So, this is not a typical slot game that drains your bank account.
The only thing at stake here is your precious time!
Upon launching the game, you're greeted with a generous welcome bonus of 100,000 coins.
You will need coins for each spin, but you cannot exchange coins for cash.
All you need to do is tap 'spin' and let the reels do their dance.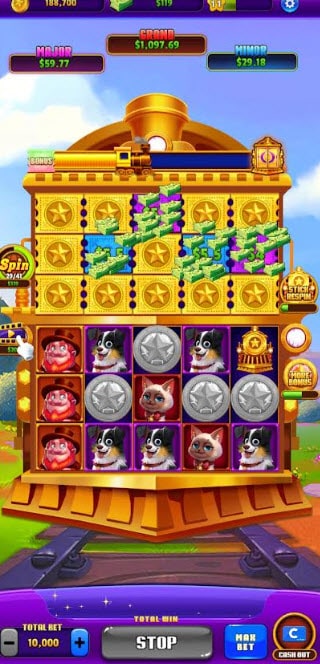 Land on star symbols, and they'll reveal your prize, which could be cash (in U.S. dollars) or more coins to keep the game alive.
Occasionally, you'll be blessed with bonus offers, but there's a catch – to collect them, you need to watch an advertisement.
Oh, and brace yourself for those adverts; they have a knack for appearing out of the blue, providing you with unsolicited 'breaks' right in the middle of your game.
Yes, you guessed it – that's how the developers keep generating revenue!
The game's progress is represented by a small train moving along a progress bar.
Once it reaches its destination, you're awarded 5-wheel bonuses.
Hit 'start' and watch as the wheel might shower you with some decent cash prizes.

How do you cash out your winnings?
Head over to the game's wallet section, and you will find that all the money will be sent to your account after the 24-hour countdown.
For those who prefer the express route, reaching $500 lets you cash out instantly!
Is Crazy Train Slot Legit? Does it Pay? 
No, it doesn't! Crazy Train Slot won't pay you a single cent.

This reward platform is going viral! Cash out via PayPal, Visa, Gift Cards, and in-game currencies - Click here to find out how to generate an extra $10+ per day! 
It's just another deceptive and fake slot game designed to waste your time and exploit your desire for easy money.
As you diligently play, you will eventually reach your account's enticing $500 target.

However, you'll be hit with another requirement when you attempt to cash out.
They'll demand that you spin the reels 41 times to "approve" your order.
But is that enough? Nope, not by their standards.
To further frustrate you and expose you to even more advertisements, they'll ask you to watch 23 videos as part of the so-called approval process.
This ordeal consumes an excessive amount of your precious time!
Once you've endured this lengthy and tedious process, they promise to send your reward within five business days.
But let's be clear – you shouldn't trust a single word they say.
The sad truth is that they do not intend to transfer you any money.
Crazy Train Slot isn't a game of chance because there is literally no chance of winning!
The developers will make you chase an illusion, only to leave you empty-handed and frustrated.
Conclusion 
Crazy Train Slot is luring thousands of people with shimmering promises of riches.
Yet, once you step closer, you'll realize you're only sinking into the quicksand of deception.
However, don't let this disheartening experience give up on the potential of the online world.
The digital era presents genuine avenues to craft your success story.
Instead of pouring hours into games like these, consider investing in building your online empire.
Dream of a laptop lifestyle?
Anyone can seize the opportunity to work remotely and build a sustainable income.
The blueprint is here, waiting for you to combine it brick by brick into a lucrative online asset. 
Final Words
Thanks for reading my Crazy Train Slot review!
Your input is valuable! So, if you have any thoughts or experiences with the game, feel free to share them in the comments below.
Peace!