Welcome to my One Two Spin App review!
You may have found the One Two Spin app and are trying to determine if it's the golden ticket to easy earnings.
This mobile game simulates a slot machine and claims to pay a ridiculous amount of money.
The best part? It's completely free to play, so you can dive in without risking your hard-earned money.
But can this game live up to the hype it proudly displays in its advertisements?
One Two Spin caught my eye through an advertisement, where a presenter claimed it's the "easiest way to make money online."
Having tested and reviewed hundreds of fake cash games on this blog, I know how to identify all the red flags.
Unfortunately, none of them lived up to the hype the developer advertised.
You don't want to go through the disappointing experience of playing this game for hours only to discover the dollars are fake.
So, is One Two Spin legit or fake? Will they transfer the money, or is it merely "spinning our wheels"? Let's find out!
Before leaving, check out the strategy that turned my laptop into a $2,000/month income machine. Click here for the blueprint to success!
One Two Spin Review
Name: One Two Spin
Developer: Centermind
Eligibility: Worldwide – Android
Price: Free
Payout Threshold: $1000
Overall Rating: 0 
Access Your Free Guide to Dodging Fake Cash Games! 
What is One Two Spin? 
One Two Spin is an Android game designed to mimic the experience of playing a real slot machine.
The game is free to download and play and promotes itself as risk-free.
In One Two Spin, you'll find a standard 5-reel slot machine that you can activate with a simple tap.
You're in for a cash reward if you see cash symbols on the reels. Plus, you will collect coins if you get winning combinations.
One noteworthy aspect of this game is that it encourages players to watch advertisements in exchange for claiming prizes.
These prizes accumulate in your game balance. Later, you can supposedly exchange them for cash through methods like PayPal, WorldPay, and more.
Get this: One Two Spin has been downloaded over 5 million times from the Play Store. That's ridiculous!
But, and it's a big but, the game is still in early access. This means you can't yet find player reviews on the Play Store.

How Does One Two Spin Work? 
One Two Spin is available worldwide and claims to be suitable for ages ten and up.
This is a serious concern, especially for teenagers!
The game's premise of easy money through a slot machine can be addictive and sends a troubling message to young minds.
It promotes the false idea that making money is easy and requires no effort.
This can be incredibly detrimental to their understanding of financial responsibility and work ethic.
Discover the best reward apps for gamers here! 
Gameplay
When you launch One Two Spin, you're greeted with a slot machine in landscape mode.
Your task is simple: tap the spin button to set the reels in motion.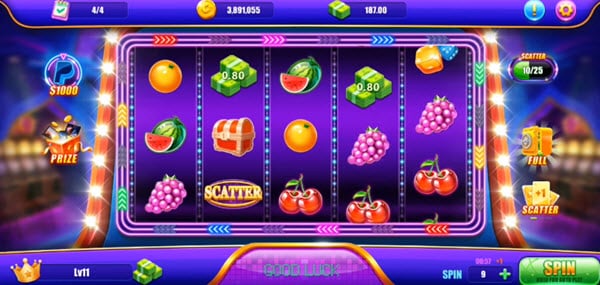 The game offers possibilities to win both cash and coins as you play.
After about five spins, a 'claim' button pops up, tempting you to watch an advert to collect more rewards.
This is a smart way the developers generate revenue from the game.

As you play, landing cash notes on the reels increases your cash rewards, which are displayed in US dollars.
When you land cash notes, you accumulate cash rewards in US dollars.
As for coins, you will get them when you see a treasure chest on the reels or when you hit winning combinations.
Another way to get more coins is by tapping the Vault icon on the left side, followed by the "claim" button.
And again, this move will trigger the advert that the developer is particularly fond of.
That's because they receive excellent commissions from advertisers whenever you watch these videos.

This reward platform is going viral! Cash out via PayPal, Visa, Gift Cards, and in-game currencies - Click here to find out how to generate an extra $10+ per day! 
The adverts you will be exposed to while playing One Two Spin are nothing short of exaggerated.
Most will try to grab your attention by offering a quick path to riches through another casual game.

How to Cash Out? 
You can only withdraw the money after reaching a minimum of $1000 or accumulating 30 million coins.
These 30 million coins are allegedly equivalent to $1000 in value.
You can choose from popular payment platforms like PayPal, Line Pay, and Worldpay.
One Two Spin Legit? Does it Pay? 
The truth about One Two Spin is that it doesn't reward players!
This prize is so unrealistic that no developer could realistically afford it.
It's important to understand that the game generates revenue primarily through advertisements, and the income generated per user from these ads is minimal.
The game's profitability lies in the fact that millions of people are playing it, which creates significant revenue potential.
However, this doesn't translate into the capability to pay out $1000 to every player.
If the offer were legitimate, each individual would have to generate more than that amount from watching the advertisements.
Let's consider a realistic scenario:
First, let's assume the developer earns an average commission of 0.02 for a 30-second video view.
In this case, the developer would need a whopping 50,000 views to earn $1000 from a single player.
This is not what happens – the developer gives lots of cash, allowing you to reach a balance of $1000 with not more than 1 hour of gameplay.
After you've met the requirements for the payout, the developer will inform you that your payment is being processed.
However, they'll also mention that thousands of players are in a queue waiting to receive their money ahead of you.
Your position in this queue supposedly gets refreshed every minute.
But don't be fooled! This queue is as fake as the dollars accumulating in your virtual cash balance.
The intention here is to create a sense of anticipation and keep you hooked for longer.  
In the end, you won't receive any money!
User Testimonials
Since One Two Spin is currently in early access on the Google Play Store, users cannot post reviews on the platform.

This limitation can make it hard to accurately measure user experience and sentiment towards the app.
I ventured beyond the Play Store to gather insights from other sources to overcome this.
A valuable resource for user opinions can be found in the comment sections of YouTube videos.
I delved into numerous videos, analyzing the comments for any signs of authentic user experiences.
The overwhelming majority of comments echoed a similar sentiment: skepticism and disbelief.
Not a single user reported any real earnings from the app. Instead, many labeled it as 'fake' or a 'scam.'
This aligns with the typical pattern observed in many similar apps promising easy money with minimal effort.
Conclusion 
One Two Spin is a well-disguised trap that profits from player engagement without delivering on its promises.
In this game, you will keep spinning and watching many adverts that only benefit the developer.
So, don't waste your time filling up their pockets while your time slips away!
If you want to follow a clear and realistic path to making money online, I encourage you to explore the world of online entrepreneurship.
I started my journey back in 2015 with the invaluable support of Wealthy Affiliate (WA).
These guys took me by the hand and helped me create a lucrative site from scratch.
It's not a shortcut to instant riches but a genuine opportunity to build a sustainable income gradually.
Final Words
Thank you so much for joining me on my One Two Spin review!
Please feel free to share your thoughts on this game and warn as many people as possible.
Peace!