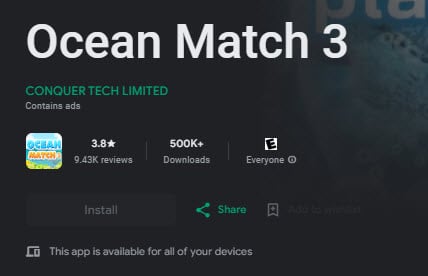 Welcome to my Ocean Match 3 review!
Ocean Match 3 promises real cash rewards for every level you complete.
At first glance, this might sound like a dream come true for puzzle enthusiasts and online earners alike.
But as we all know, when something sounds too good to be true, it often is.
Ocean Match 3  is all about tapping blocks of the same color to eliminate them and collect US dollars.
Complete a level, watch an advert, and voilà – a few cents are added to your balance!
That's what I call "free money" because all it requires is sacrificing your time, sanity, and possibly your faith in humanity.
Jokes aside, you are probably wondering – Is it legit or a clever tactic to keep advertisers happier and wealthier?
You're right to wonder and search for information before wasting more time. So, let's explore the depths of Ocean Match 3 and see what lies beneath the surface!
Before leaving, check out the strategy that turned my laptop into a $2,000/month income machine. Click here for the blueprint to success!
Ocean Match 3 Review
Name: Ocean Match 3
Developer: CONQUER TECH LIMITED
Eligibility: Worldwide – Android
Price: Free
Payout Threshold: $0.01
Overall Rating: 0 
Outsmart the tricksters! Grab Your Free Guide to Identifying Fake Cash Games here! 
What is Ocean Math 3? 

How Does Ocean Match 3 Work?
Ocean Match 3 is available worldwide; anyone can play it immediately without registration.
It's rated PEGI 3, so the developer says even young kids can play it.
A profitable game that appeals to children and teenagers? That's where things start to feel a bit off.
Introducing young minds to the idea of earning money through gaming can blur the lines between entertainment and financial gain.
This could potentially instigate unhealthy attitudes towards money at an impressionable age.
Another major concern is the game's lack of data encryption.
Data encryption is like turning your information into a secret code.
This oversight could become a privacy nightmare, opening doors to identity theft and misuse of personal data—a blatant disregard for privacy rights.
Click here and learn how to protect your data from intruders! 
The Gameplay
Now, let's talk gameplay. Tap tiles where at least two of the same color are side by side.
They pop, others rearrange, and sometimes bombs appear to help clear the level.
The mission? Eliminate a specific number of different colored tiles to complete the level. Sounds simple, right?
After leveling up, you get a pop-up offering a cash reward of up to $17.

They entice you to click the "Open" button and watch an advert to claim it.
However, you often end up with coins worth a penny or even less. Yep, I am talking about fractions of a cent!
Want to double that? Then, you must tap the "Double" button and… you guessed it – another advertisement!
How to Withdraw the Money
Once you've earned your first cash, a message appears, inviting you to withdraw it.
Tapping the withdraw button leads you to a page where you can choose from Binance (USDT), PayPal, or Polygon (OGC).

This reward platform is going viral! Cash out via PayPal, Visa, Gift Cards, and in-game currencies - Click here to find out how to generate an extra $10+ per day! 
The minimum cash-out requirement is just 10,000 coins. 
This amount translates to USDT 0.01, USD 0.01, or 0.01 OGC.

For someone not familiar with specific financial terms, here's a quick explanation:
USDT is the digital currency type known as a "stablecoin." It's designed to have a stable value by being tied to the US dollar. So, 1 USDT is usually equal to 1 US dollar.
OGC is another type of digital token used within the Polygon platform.
You must enter your full name, phone number, and email linked to your payment processor.
That's a red flag, given the lack of encryption and potential data breach risks.
Is Ocean Match 3 Legit? Does it Pay? 
The truth behind Ocean Match 3 is a bit of a mixed bag.
Surprisingly, unlike many similar games, it actually does pay out, a rarity in the world of money-making games.
Numerous users have reported receiving money, which certainly sets it apart. However, this isn't the whole story.
Because the developer's revenue comes from advertisements, the payouts to players are minuscule.
You'd need to watch a mountain of videos to earn a handful of pennies.
This reality dampens the initial excitement of earning real money. But it gets more disappointing!
Remember the feature that promises to double your reward for watching another video?
It turns out that this doesn't make any difference. Instead of increasing, the coin earnings decrease over time, just like hundreds of reward applications.
This diminishing return can frustrate players who invest much time into the game.
Also, many people report network anomalies when trying to activate the advert. So they end up not collecting any reward after the level.
And then there's the inconsistency in payouts. While some players receive money, others never get their promised rewards.
It's a hit-or-miss situation, making the prospect of earning very unreliable!
So, what should players realistically expect? If you're playing Ocean Match 3 with high hopes of buying a yacht, think smaller. Much smaller!
You may not even be able to buy a rubber duck to float in your bathtub.
Conclusion 
After diving deep into the game's mechanics and payout system, here is my verdict.
Ocean Match 3 indeed pays and is, therefore, a legit game!

However, the amount is so small that it's unlikely any player is making over USD 1.
It requires an incredible amount of time and patience to accumulate enough coins to make any significant earnings.
Earn a Full-Time Income Online
You want to make a substantial income online, right? Well, who doesn't?
One of the best strategies is to build an online business and publish content!
I started this journey back in 2015 and have had no regrets.
The key is to reach top positions by targeting specific terms people search on the internet.
This strategy can attract a vast audience and open up different monetization opportunities.
The beauty of building an online business lies in the ability to work remotely, offering you the time and location freedom.
This approach not only provides a potential for a substantial income but also offers a sense of autonomy and fulfillment that's hard to find in traditional jobs.
If you want to embark on this path, I highly recommend a comprehensive, step-by-step program that offers a clear plan to put into practice.
It's the platform I used to build my site and thrive as an online entrepreneur. Click here to learn more! 
Final Words
Thanks for diving into my Ocean Match 3 review!
If you have questions or want to share your adventure with the game, I'm all ears.
Peace!