Welcome to my LootUp review!
I was browsing the Play Store yesterday when I found a promising reward app called LootUp.
It was developed by Adscend Media LLC, behind a famous offer wall found on many GPT platforms.  
LootUp claims you can earn cash, gift cards, and even cryptocurrencies by completing simple daily tasks.
As a member, you will get points by watching videos, playing games, taking online surveys, and more!
Later, you can redeem these points via PayPal, Amazon gift cards, and various withdrawal methods.
I've tested countless reward platforms in the past few years, and most of them didn't live up to my expectations.
Although LootUp has a 4.1 rating on Google Play, many bad reviews may turn people off.
I decided to try and investigate this app to find out whether it's legit or fake. Does LootUp pay you for your time and effort? Let's find out!
This step-by-step program helped me create a lucrative site and reach $2,000 per month. Join for free and start your first ten lessons here!
LootUp Review
Full Name: LootUp
Developer: Adscend Media LLC
Payout Threshold: $1
Price: Free to join
Overall Rating:

2/5
What is LootUp?
LootUp is a reward app operated by Adscend Media, a company known for offering advertising solutions.
If you are familiar with GPT (get-paid-to) programs, you may have come across the Adscent Media offer wall.
The platform connects users with advertisers and marketing research companies willing to pay users for simple tasks.
For example, you can get points for installing and playing a game until you reach a specific level.
Or, you can participate in surveys that will help companies get insights into consumer behavior.
These points will accumulate in your wallet, and you can withdraw via gift cards, PayPal cash, and cryptocurrencies.
How Does LootUP Work? 
Installation and Registration 
LootUp is available for free through the app or the official website LootUp.me.
Therefore, you can complete tasks and earn points through your Android device or desktop.
You can join the platform by providing your name and email or signing in with your Google or Facebook account.

The registration is free, and you must be at least 18 years of age to participate.
One of the best perks of joining LootUp is that it will give you 5000 points ($5) once you get 10,000 points within 30 days.
Point System
LootUp operates a points-based system where 1000 points = $1.
I prefer when reward platforms show the exact value in US dollars since it makes it easier to spot the best offers.
But LootUP's conversion rate is pretty straightforward. So, it's not a big issue for me!
Getting Started
After signing in for the first time, you will find a list of tasks to help you get started on the right foot!
Verify your email – 10 Points
Complete your profile – 50 points
Subscribe to push notifications – 10 points
Watch a video – 10 points
Enter a giveaway – 10 points
Visit LootUp on Facebook, Instagram, and Tiktok – 5 points.
Earning Points with LootUp
LootUp's provides different ways to collect points redeemable for cash rewards.
In the "Earn" tab, can you participate in surveys, watch videos, and complete sponsored offers.
Here is a brief description of what you can find and how many points you will earn in each section.
Participate in Surveys
LootUp has partnered with some marketing research firms that allow you to earn points for sharing your opinions.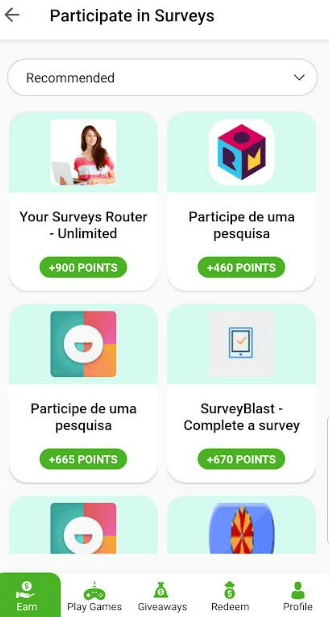 For example, "Your Surveys" is a router where you can complete an unlimited number of surveys. Other companies on the list are Yuno and SurveyBlast.
Although there are many opportunities, it may be challenging to qualify for surveys depending on your profile.
The reason is that most of them are designed to target specific audiences based on age, income, preferences, etc.
So, if your answers indicate that you are not a good match, you will be screened out and redirected to another study with no compensation.
You can waste half an hour completing qualification questions only to be rejected.

This reward platform is going viral! Cash out via PayPal, Visa, Gift Cards, and in-game currencies - Click here to find out how to generate an extra $10+ per day! 
If you are a good match, you will be allowed to answer all the questions and receive points at the end.
You should always provide honest answers even though you think they will disqualify you.

That's because the company will always check the previous answer to see if you are consistent and trustworthy.
Most surveys pay less than $1 (1000 points) and take anywhere between 10 – 20 minutes.
Watch Videos
Watch videos from Hideout and up to 9 points 3 points for every three commercials.
You can earn more points by watching the videos in an active window.
There are different Hideout channels such as desserts, sports, pets, music, celebrities, etc.
The downside is that you may watch several videos and not see a single advert. Therefore, you are consuming data for nothing!
Complete offers 
This is where you may get the most points using LootUp. There are three sections dedicated to offers.
Complete offers: these are general offers where you get points by participating in contests, subscribing to services, etc.
Sign-up offers: this section is dedicated only to offers where you must submit your contact information for marketing purposes. Most of them are contests to win vouchers and other excellent prizes.
Mobile app offers: Get points for downloading and installing applications on your device. You will find different apps such as games, banks, streaming services, VPNs, etc.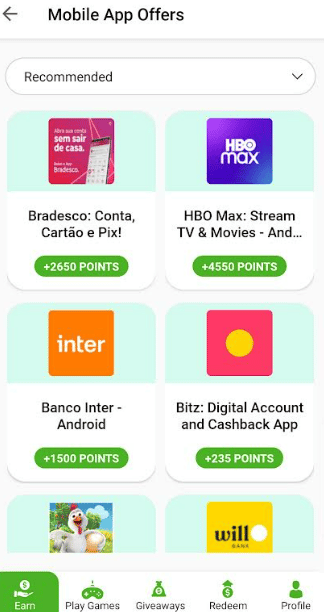 The number of points you earn varies drastically between different offers.
For example, opening a free investment account can earn you thousands of points, whereas entering contests will earn you less than 200 points.
Play Games
LootUp connects users with a third-party platform operated by adjoe GmbH. It gives you a list of sponsored games and allows you to earn points for every minute of gameplay.
Many applications perform similarly to adjoe. Mistplay, JustPlay, Cashy, Playsmart are just a few examples.
Before accessing the Adjoe, you must allow usage tracking from your app settings.
This allows the platform to track the time you play the game and reward you accordingly.
After installing the game, make sure you open it from the "Your Apps" section, or the points won't be credited.
Keep in mind there is a limit to how many points a game can provide. As a result, the more you play, the longer it takes to get the same number of points.
Eventually, you will have to install another game to restore your earning rate.
Giveaways 
LootUp organizes regular giveaways with four different prizes:
125,000 points – Free (no points needed)
2,500 points – entry fee is 50 points
5,000 points – entry fee is 100 points
25,000 points – entry fee is 500 points
Each contest award 50 lucky winners.
How do You Get Paid? 
You can withdraw your points using three methods: PayPal, gift cards, and cryptocurrency.

PayPal
To redeem your LootUp points for cash via PayPal, you need at least 1000 points.
This is great news because you don't need to complete too many tasks before transferring the money to your account.
The company promises to transfer the money within 1 – 2 business days.
Gift Cards
You can redeem points for gift cards for major retailers such as Amazon, iFood, Walmart, Starbucks, and Visa.
I like the Visa Prepaid card since it allows people to shop anywhere that accepts Visa debit cards.
The available options and the corresponding point requirement depend on your country. For visa debit cards, you can withdraw between $5 and $1000.
Crypto
You can exchange at least 5100 LootUp points for Bitcoin, Litecoin, Dogecoin, and Shiba Inu.
As of writing this review, 1 point is equivalent to 0.00003414 BTC.
To receive cryptocurrency, you must provide your email linked to your BitPay account and pay a 1% transfer fee.
This excellent app also rewards users with cryptocurrencies. The minimum payout is just $0.10 via Coinbase!
Is LootUp Legit? Does it Pay? 
LootUp is a legitimate reward app that rewards players for their online activities.
Many users are praising the app for receiving several payouts with no issues.
However, there is no shortage of complaints on Google Play about account bans, missing payments, and glitches.
People claim they have been banned even though they have done nothing to break the terms of service.
Many say the app cannot let them log in or verify their accounts. The list of problems is extensive!
Conclusion 
LootUp may be legit, but I am not confident enough to recommend this application to my readers.
Different issues may arise and prevent you from cashing out.
Many complaints about banned accounts and missing payments are very concerning.

According to the Terms of Service page, the company may terminate or suspend your account at their sole discretion.
Since they can ban users for no reason, they could suspend your account to maximize profits.
It's so unfair because companies get richer by refusing to pay people who just want to receive the money they deserve.
That's why you need to do proper research before investing your time in reward apps.
If you think it's worth taking risks, go ahead and complete LootUP tasks. Otherwise, skip it and focus your time and energy using reputable GPT sites.
Click here and discover the best reward site! I have been using it for more than four years and have already cashed out thousands of dollars!
Final Words
Thanks for reading my LootUp review. I hope it was helpful!
Feel free to leave us a comment if you have any questions or want to share your experience with this app.
Peace!