YourSayPays Review – Does it Really Pay?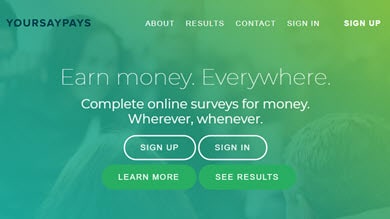 Welcome to my YourSayPays review!
YourSayPays is another online community that allows you to complete surveys and get paid for your opinions.
The platform invites UK residents to take part in marketing research studies and help clients gather valuable feedback and insights.
Since I created MyRoomIsmyOffice.com, I reviewed several survey sites that are a complete waste of time.
Although they are technically legit, the large number of complaints gives us sound evidence of what's going on behind the curtains.
In this review, I will show you what you can expect from YourSayPays so you can make an informed decision. Is it a scam or a legit site? How much money can you make?
When I first started taking surveys back in 2015, I was thrilled by the opportunity to earn money whenever and wherever I wanted. Luckily, I discovered a much better strategy that allows me to earn a full-time income online. Click here and check out my top recommendation!
YourSayPays Review Summary
Name: YourSayPays
Website: https://yoursaypays.co.uk/
Eligibility: UK (+18)
Price: Free to join
Payout Threshold: £20
Payment Method: PayPal, and Amazon gift cards
Overall Rating: 2.5/5
What is YourSayPays? 
YourSayPays is a survey panel that rewards UK residents for taking part in marketing research studies.
The platform is operated since 2008 by The Leadership Factor Ltd., a company with offices in the UK, USA, Australia, Portugal, France, and Spain.
Your opinions are valuable as they help clients identify trends and aspects that can improve their products and services.
Therefore, you can benefit from these marketing research investments and earn some extra cash on the site.
According to the homepage, YourSayPays pays £1,000+ to its panelists every month. However, without knowing the number of active members, we cannot estimate the
Is YourSayPays Legit? Does it Pay?
YourSayPays is 100% legit and will process your payment once you reach £20.
Since 1996, Leadership Factor has been measuring customer experience and providing quality data to big brands like Visa, Nationwide, Chelsea FC, just to name a few.
YourSayPays is, without a doubt, run by a reputable marketing research firm. However, it doesn't mean you will have a positive experience as a panelist.
Members are struggling to reach £20 because they rarely get email invitations. Besides, it's not always easy to qualify for surveys that pay a mealy 10p – 50p.
Heck, some surveys are worth £0.00! What is this? Donation?
One reviewer on SurveyPolice.com said she never made it to £20, even though she joined 3 years ago.

The company knows that a large percentage of people will eventually give up. So, why not reduce the payout threshold to £5 or £10 to help them withdraw the money? They deserve it!
There are many reward sites that process payments with at least £5. So, it's not only possible but a sign of respect and common sense.
How Does YourSayPays Work? 
Registration
To become a member, click on Sign Up and connect with your Facebook or PayPal account. Alternatively, you can create an account by providing your name, email, and postcode.
Don't forget to check your email and click on the confirmation link.
Complete Your Profile
The first step is to click on "Profile" and answer a few basic questions about your age, gender, employment section, etc.
We will get 20p to when you complete this profile page and choose a profile picture, or upload your own photo.
YourSayPays will use your profile to match you with relevant surveys, which is why you want to to complete it. It only takes 2 – 3 minutes anyway!
Read: 10 Best Survey Sites in The UK
Take Surveys
YourSayPays will send you survey invitations to your email account. However, it's important to log in regularly and check for new opportunities in the "Available Surveys" tab.
Most surveys take only 5 – 10 minutes to complete, which is why they are worth 10 – 15p.

The problem is that after answering some qualification questions, you may get a message you are not eligible. It's so frustrating!
You may waste a lot of time trying to qualify as each study targets only a specific group of people. For instance, a baby food company will disqualify you if you're not a parent.
That was the major reason I gave up surveys and decided to build my own online business.
Another downside of YourSayPays is that it doesn't show you the survey length, which is a bummer!
How Do You Get Paid? 
As I mentioned, you can only request your payment once your cash balance reaches £20. There are three payment options available: PayPal, Amazon vouchers, and donations.
According to the FAQ, it processes PayPal transfers and Amazon vouchers within 14 business days.
Keep in mind that any amount over £20 will remain in your account until you reach the next payout threshold.
I recently reviewed another UK survey panel that delays payments for months! That doesn't seem the case with YouSayPays.
The only problem is that the minimum payout is too high, especially considering the low rate of pay.
Is Your Privacy Respected? 
YourSayPays promises to never share my personal information with third parties. All the answers you provide are anonymized, meaning that your responses are not tied back to you as a person.
As the platform operates in the UK, you can expect your privacy to be respected under strict GDPR regulations. Otherwise, the company will be in trouble!
YourSayPays Alternatives
Yes, there is an incredible number of survey sites for UK residents!
I always recommend Prolific Academic, as they do not disqualify participants and pay at least $6.50 per hour.
Unfortunately, competition is high and you may not receive as many surveys as you would like.
Therefore, you may also want to sign up with a decent GPT site that will connect you with several marketing research companies.
>> Check out my top-rated GPT site here!
You can generate an extra £150 per month by completing surveys and sponsored offers.
Pros and Cons
Pros
Earn points after completing your profile.
Short surveys.
No point-based system.
Get paid through PayPal and Amazon vouchers.
Earn 20p just after filling up your profile.
Cons
The minimum payout is too high.
Surveys are scarce.
Low pay.
Conclusion
YourSayPays is a legit site, but it can take over a year to cash out. So, you must be patient!
I like the fact that most studies are short and varied. However, you can waste a lot of time completing qualification questions that lead you nowhere!
The site doesn't seem to delay payments or block accounts for no reason like other companies do.
I would have given 4 stars had they provided more surveys and a lower minimum payout. For now, 2.5 is the most I can give!
Verdict: Legit
Earn a Full-Time Income Online
Five years ago, I pictured myself working remotely and making money while traveling the world. So, I committed to the process and jumped with both feet!
I'm glad I put in the time and effort to make my dream come true.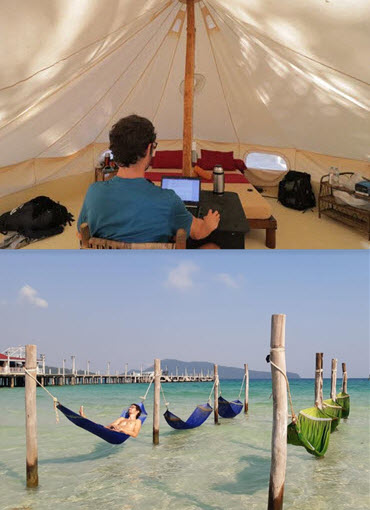 The business model I use is based on providing helpful content through and promoting products as an affiliate.
It's not complicated, but you need to learn the proper strategies to get visitors and scale your business. You can do it!
This excellent step-by-step program helped me create an affiliate site from scratch and get enough traffic to earn £1,300+ per month. Sign up for free and get started today with no strings attached!
Final Words
Thanks for taking the time to read my YourSayPays review. If you have questions or thoughts about this site, leave us a message below.
Peace!