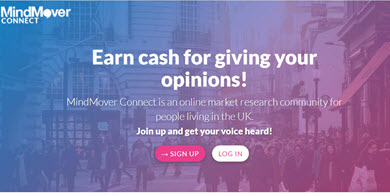 Welcome to my MindMover Connect review!
If you live in the UK, you may have come across a survey panel called MindMover Connect.
As a panelist, you will take part in marketing research studies and get paid for sharing your views on various topics.
Every time you complete a survey, you will earn points that you can redeem for money via PayPal and Amazon vouchers.
Who doesn't like the idea of earning cash just for ticking a few boxes?
However, it's crucial to do some research and read reviews before joining any survey site.
I am here to uncover everything you need to know about MindMover Connect. What users are saying? Will they pay you for your time and opinions? Should you join or not?
Also, don't forget to check out the step-by-step training that helped me build an online asset and generate over $1,600+ per month. It's newbie-friendly and free to get started!
MindMover Connect Review Summary
Name: MindMover Connect
Website: https://mindmover.co.uk/
Eligibility: UK
Price: Free to join
Payout Threshold: £20
Payment Method: PayPal, and Amazon gift cards
Overall Rating: 2/5
What is MindMover Connect? 
MindMover Connect is a UK-based market research community operated by MindMover Limited.
The survey panel is only available for residents in the UK and it's completely free to join.
As a member, you will receive survey invitations by email and earn points by sharing your opinions with companies such as Sainsbury's and Halfords.
Big brands are always trying to identify new trends, understand consumer's needs, and remain competitive in the market.
Therefore, you'll be able to make your voice heard and help clients improve their products and services.
As part of the community, you may also answer mini polls and take part in online discussions. However, you won't receive any points for these activities.
How Does MindMover Connect Work?
Registration Process
To join MindMovey, click on the "sign up" button and follow the instructions.
First, you must agree to letting your responses be recorded confidentially and used for research purposes.
Then, complete the MindMover registration survey, which asks for some basic information such as your address, education level, and employment.
It takes around 5 – 10 minutes to answer these profiling questions.
Finally, you will receive an email from MindMover asking you to validate your email address. Log in to your email account and click the activation link.

Points and Rewards
MindMover operates a point-based system where 1 point is worth 1 penny. 
Once you accumulate 2000 points (£20), you can redeem for cash via PayPal and Amazon gift cards. This is a very high minimum payout requirement!
You can complete more surveys and cash out much faster ($5 min) with my top rated survey site.
Keep in mind that once you pass the £20 mark, your point will expire after 12 months.
In the FAQ, the company suggests that you allow 30 days to receive the payment. But as you will see later, many people are complaining about delays. 
Completing Surveys 
MindMover may invite you to take part in a survey right after you complete your registration.
You can always check for new survey opportunities via the dashboard or your email inbox.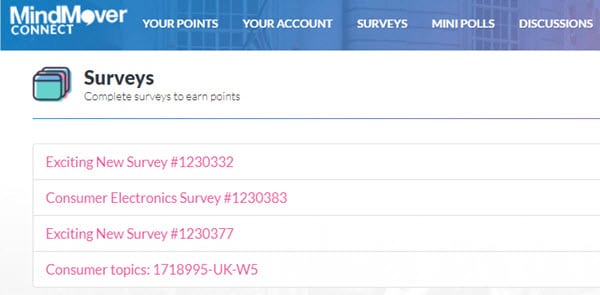 Before you begin the survey, the client will ask you some qualification questions to see if you are an eligible candidate.
It's not uncommon for a company to disqualify you because you are not a good match for the study.
Therefore, you may waste a lot of time just to qualify for a single survey which won't pay you much, anyway.

According to MindMover, surveys are worth anywhere between 50p and £10.
I have already joined hundreds of platforms and I can tell you that most studies actually pay 30p – £1.50.
Never in my life I have seen an online survey paying more than the national minimum wage. In fact, you may earn one-fourth or one-third of that if you take into account the qualification process.
MindMover used to send lots of survey invitations, but now, opportunities are scarce and panelists are struggling to reach £20.
What Are People Saying About MindMover?
I searched for user reviews on two reputable sites: Trustpilot and Survey Police.

This reward platform is going viral! Cash out via PayPal, Visa, Gift Cards, and in-game currencies - Click here to find out how to generate an extra $10+ per day! 
Unfortunately, MindMover has a poor rating on both platforms (1.5 and 1 star) as most people complain about payment issues.
It used to be an excellent site, but based on lots of reviews, it seems like the company is not processing payments on time.

Here are two reviews published on Trustpilot: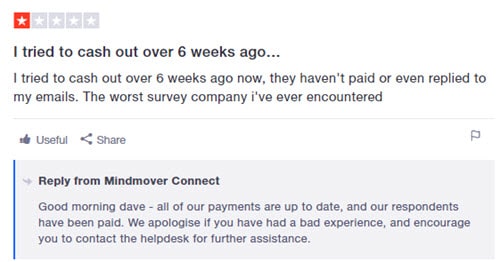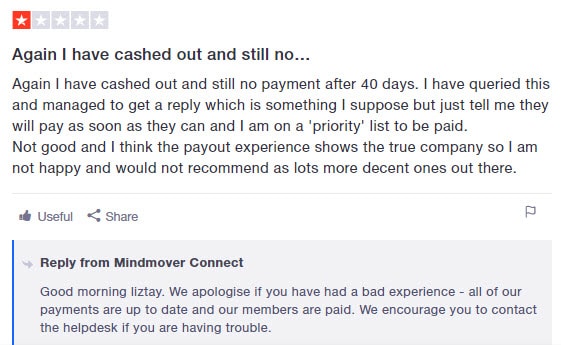 Another issue that some people raised a few months ago was about expired points. 
In May 2020, MindMover Connect changed its Terms and Conditions and expired points that were not redeemed within 12 months.
People lost their points just because the company wished so!
Now, if you check the Terms of Service, they assure you that your points will not expire while you have less than 2,000 points.
Is There an Alternative to MindMover Connect? 
Absolutely! There is no shortage of survey sites on the internet for UK residents.
Prolific is perhaps the best survey site as it doesn't disqualify participants and pays at least $6.50 per hour.
The problem is that competition is high, and you may not get many survey invitations.
Therefore, I recommend supplementing Prolific with one of the best GPT sites called PrizeRebel. Check out my in-depth Prizerebel review here! 
This reputable platform will not only connect you with 3rd party surveys but also lots of offer walls.
That means you can collect points by installing apps, playing games, subscribing to free trials, and much more! People who spend a lot of time on this site can make an extra $200 per month! 
Pros and Cons
Pros
Get paid via PayPal and Amazon vouchers.
Cons
Low pay.
Payment delays.
There are lots of complaints on the internet.
High payout threshold.
Conclusion 
MindMover Connect is a legit site, but receiving the money is usually a long and painful journey.
It takes a long time to reach £20. Besides, there is a good chance you will have to wait for 4 weeks or more to get your money.
With so many excellent survey panels out there, I suggest giving preference to sites with higher user ratings and lower payout thresholds.
I am sure you won't regret using those two sites that I mentioned.
Earn a Full-Time Income Online
I used to spend hours in front of my computer completing surveys only to make an extra £15 per week.
Over time, I lost my motivation mainly because of frequent disqualifications.

Everything changed when I discovered content marketing and the possibility to earn thousands of dollars per month working from home.
By building a website and providing helpful content, you can attract an online audience and earn affiliate commissions.
That's the business model that allows me to generate over $1,600/mo! The best part is that I can work from anywhere, anytime I want.
If you dream of making a full-time income online and live the so-called "laptop lifestyle", check out my #1 recommendation. 
This is the same platform that gave me proper training and support to achieve my goals.
Final Words
Thanks for taking the time to read my MindMover Connect review. If you want to share your experience using this site, please use the comment section below!
Peace!