Welcome to my VETRI app review!
I just came across a new survey app that claims to pay up to 300% more than other marketing research companies.
What makes this application unique is that VETRI is run by a non-for-profit organization.
That means you will receive 90% of the money paid by companies who are funding the studies. The other 10% is used to cover operational costs of the app.
Since I created this website back in 2015, I reviewed hundreds of survey sites and apps.
Unfortunately, a large portion of them don't live up to people's expectations. Some even use sneaky tactics to avoid payments.
So, does VETRI pay you or not? How much money can you earn? Is it legit? Keep reading to find out!
Recommended: This step-by-step program helped me build an online business and generate $1,600+ per month. Free membership available! 
VETRI App Review
Name: VETRI – Highest Paid Surveys
Developer: VETRI Foundation
Type: Online surveys
LEGITIMATE
Overall Rating: 3.4/5
What is VETRI? 
VETRI is a survey app governed by VETRI foundation, a not-for-profit organization based in Zurich.
It allows you to make money by sharing your data and honest opinions with over 100 leading marketing research agencies.
While companies get valuable insights while you earn a fair compensation for your time and opinions. It's a win-win situation!
As a not-for-profit, VETRI is not allowed to charge any commission fees for the surveys you take. That's why they pay about 300% more than other survey apps.
How Does VETRI Work? 
Installation and Registration. 
VETRI only woks on Android devices. So, after installing the app on Google Play, you need to read and accept the Privacy Policy and User Licence agreement.
If you received an invitation from a friend, click "yes" and enter his code.
Complete Surveys
The first step is to complete the "Welcome" survey, which consists of a few profiling questions like your age, gender and postcode.
You can also select the best time to receive the survey, the frequency of invitation and the longest survey you are willing to take.
Next, VETRI will show you a list of studies that match you are more likely to qualify for.
In front of each survey, you can see the estimated time to complete, the number of tokens (VLD) and the equivalent value in your currency.

For example, the Welcome survey is worth 683 VLD = $2.28.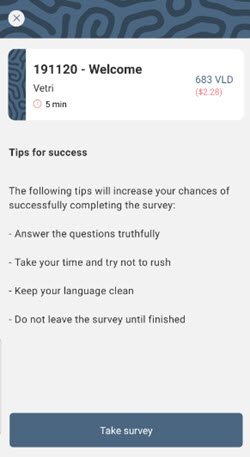 The following tips will increase your chances of successfully completing the surveys:
Answer the questions truthfully.
Take your time to answer the questions and try not to rush.
Keep your language clean.
Do not leave the survey until it's finished.
Points System & Rewards
After answering all the questions, VETRI will give you reward points called VLDs.
VLD is actually a cryptocurrency and serves as a payment method on the VETRI marketplace. However, users cannot withdraw your VLD to an external wallet yet.
You can exchange them for gift cards from major retailers such as Amazon, Google Play, Tesco, PizzaExpress H&M and UBER.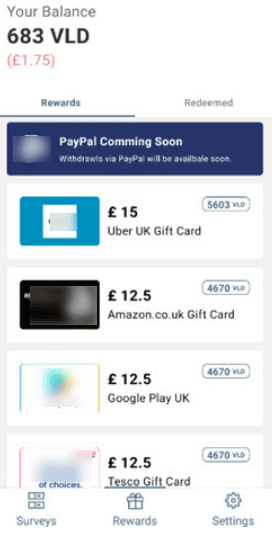 The minimum payout threshold is 4670 VLD (£12.50) if you choose to withdraw via Google Play, Amazon or Tesco gift cards.
VETRI still doesn't process payments to PayPal, but this option may be available soon. Check out the top 10 survey apps to earn money via PayPal! 
How Much Money Can You Earn? 
It's impossible to estimate because every person will have a different experience based on their profile.
Companies are searching for a specific group of people to answer the questionnaires. Therefore, you may not be allowed to answer as many surveys as you wish.
Besides, they can screen you out halfway through the survey and leave you empty-handed.

It's true that VETRI pays fairly well compared to other most survey apps. It ranges from $2 to $5 per survey, which is excellent! However, the opportunities don't last long, so you need to act fact.
It's important to be realistic and understand that you won't make a living completing surveys.
If your profile appeals to a large number of companies, you can expect to earn over $50 per month. But I wouldn't be so optimistic! 
This survey app pays $0.25 per question! 
Is VETRI Safe? 

This reward platform is going viral! Cash out via PayPal, Visa, Gift Cards, and in-game currencies - Click here to find out how to generate an extra $10+ per day! 
Yes! VETRI is a legitimate and safe application to use on your phone or tablet. According to the foundation, the app uses advanced technology to keep high standards of security.
Furthermore, the company encrypts all the data you provide to respect your privacy.

Is VETRI Legit? Does it Pay? 
Yes, VETRI does pay out, but you may struggle to reach the cashout limit. Besides, some people are experiencing payment delays.
Some people are disappointed because they haven't received a single survey for more than a week.
One person reported waiting for 9 days to receive his gift card, to which VETRI replied they run out of rewards because of rapid growth.
Pros and Cons
Pros
Excellent rates of pay.
Large survey supply from over 100 leading marketing research firms.
Decent referral program.
Choose how often you want to get survey notifications.
Cons
There are not many surveys.
PayPal is not available yet.
Surveys don't last long. So, as soon as you receive an invitation, you have to complete it immediately.
It can take a long time to cash out.
The company can run out of rewards and delay payment request.
Conclusion 
VETRI is a legit survey app, and it does pay if you reach the payout threshold.
The best thing about VETRI is it pays more than most survey apps out there. But unfortunately, many panellists struggle to qualify for surveys and receive the payment.
If you are into surveys, I think it's not a bad idea to keep this app installed and answer the questions in your spare time.
Yes, VETRI probably offers the highest paid survey! However, there is a website where you can earn even more. It's called Prolific Academic.
Another impressive aspect of this site is that they don't disqualify participants lightly.
But just like VETRI, competition for surveys is high since they pay over $6.50!
Final Words
Thanks for checking out my VETRI review. If you have questions about this application, leave me a comment below, and I'll be more than happy to help!
Peace!