Welcome to my Winkel Play Daily app review!
Winkel Play Daily is a new Android application that allows you to earn money by scratching cards.
The company awards virtual dollars and tokens redeemable via PayPal and Reward Link gift cards.
I lost count of how many similar apps I reviewed in this blog. But I keep discovering and testing new ones to help people find the games that truly pay!
App reviews are extremely important since millions of people are wasting copious amount of time for nothing.
So, is Winkel Play Daily legit? Can you cash out $10 or more? Keep reading to find out!
Recommended: This step-by-step program helped me build an online audience and generate $1,600+ per month. Join for free and get started today! 
Winkel Play Daily App Review
Full Name: Winkel Play Daily (Early Access)
Company: Winkel Limited
Eligibility: Worldwide
Price: Free or £4.99 ($5.49) to remove the ads
Overall Rating:

2.2/5
What is Winkel Play Daily? 
Winkel Play Daily is an Android app where you can play free games and enter sweepstakes for a chance to win real cash.
The application offers scratchers, and daily raffles. As you play, you will be enticed to watch video ads in order to collect virtual items such as "Dollars", coins and blue tokens.
Winkel Play Daily does not promise you can make hundreds and even thousands of dollars. But still, the $10 payout is very unrealistic for this type of business.
How Does Winkel Play Daily Work? 
Installation Registration
Winkel Play Daily in only available on the Play Store. Upon launching the app, you will be prompted to register using your Google account or email address.
Keep in mind you must be 18 or older to use the application. So, the next step is to enter your date of birth and accept the Terms of Service.
Subscription
Although you can play it for free, the developer offers a subscription plan for £4.99 that removes all forced ads. Pay attention to the word "Forced" because it doesn't mean the developer will remove all ads.
If you upgrade, you still have to watch lots of videos to collect the rewards.
Next, I will explain briefly every opportunity to earn cash and tokens from Winkel Play Daily.
Scratch Cards
Select the card and swipe your finger to reveal the images. If you match the 3 featured items, you will earn the jackpot worth up to $50.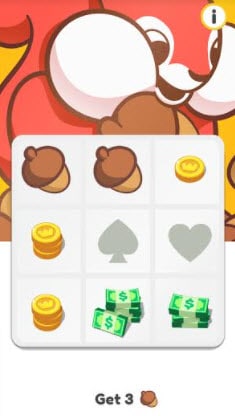 You can also win small amounts of cash, coin and blue token if you match 3 symbols. It's possible to double your winnings and get more scratch cards by watching an Ad.
If you run out of cards, you should wait for about an hour and a half to get more.
Match to Win is another legit app for scratching cards and winning cash prizes.
Sweepstakes
Winkel Play Daily organizes daily and weekly sweepstakes. You can win tokens and cash prizes depending on the number of matches. Here is the prize list:
1 Match = 20,000 coins
2 Matches = 125,000 coins
3 Matches = 500,000 coins
4 Matches = $10
5 Matches = $100
6 Matches (Jackpot prize) = $10,000
Prizes will be split among winners with the same matches.
The downside is that players are not allowed to pick the numbers they want. Instead, Winkel Play Daily chooses 6 random numbers for you to use in the next draw.
In other words, they control the entire process with no transparency whatsoever. If you want to take part in trustworthy prize draws, check out the Daily Raffle app!
Daily Draws
Winkel Play Daily allows you to get 1 free entry into the $2 and $10 prizes. Unlike the alternative app recommended above, you don't need to watch any ads to collect tickets.
Winners are drawn from all entrants, and each winner receives the full prize.
Discover the best sweepstakes apps for Android here! 
Daily Contest
If you are among the 3 users who earned the highest number of coins, you will receive $10, $20 and $30, depending on your position on the leaderboard.
There are also coin prizes for the top 10 until top 100,000.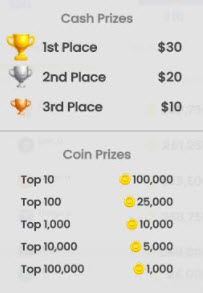 How Do You Get Paid? 
There are currently two payments methods available for those who meet the requirement.
You need to reach $10 to receive your winnings to PayPal. Another option is to trade 6,600,000 coins for a $5 Reward link gift card, which can be redeemed at a vast selection of retailers such as Waitrose, Tesco and TK Maxx.
As for the blue squares, the Winkel states there is nothing to purchase with them yet. So, they are useless!
After you request the payment, the company will send you an email saying the money will arrive within 7 business days. However, one person reported they took 9 days to pay him.
Is Winkel Play Daily Legit? Does it Pay? 
Yes. Winkel Play Daily is a legitimate app! I have checked the Google Play reviews and was happy to see that many players received the money.
However, that doesn't mean the app is free from issues as many people are struggling to cash out. Therefore, I firmly believe the game just reward some players.
If you are not one of the lucky ones, you may get stuck on a specific amount. Since you need at least $10 to withdraw, you won't be able to cash out.
But who knows? Perhaps some people need to play for much longer than usual to reach $10. Sadly, many of them give up on the reward since they don't want to take the risk of wasting more time.
Another problem is that Winkel Play Daily was subtracting coins from users. Apparently, this was a glitch that the company already fixed.
Conclusion 
Winkel Play Daily one of the few apps of its kind that actually pay. I have seen lots of positive testimonials and people praising the app on social media.
Unfortunately, not everyone who tries to transfer the money will be able to do so. Those who can cash out once, may fail the second or third time.
I don't think someone can make an unlimited amount of money with this app.
Besides, I wouldn't recommend subscribing since the company doesn't remove all ads. You sill have to watch videos to collect virtual dollars.
Earn a Full-Time Income Online
Are you dreaming of the day you could finally make a decent amount of money from home? Then, I suggest you grow your own online business as I did!
In 2015, I joined this excellent step-by-step program, which helped me grow this website from scratch and generate over $1,600/mo.
It gives me the flexibility of working whenever and wherever I want. That's me in the beautiful Koh Rong Island in Cambodia!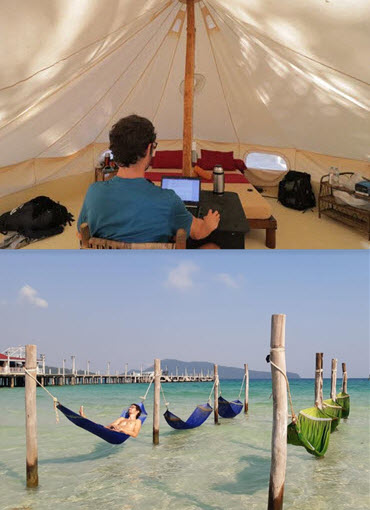 The strategy consists of providing content that solves people's problems. You will earn excellent commissions when people click on your links and purchase the products you promote.
Join for free and take your first steps today! 
Final Words
Thank you for reading my Winkel Play Daily review. I hope it helps!
So, have you made any money with this app? Did you reach $10 or got stuck? Share your experience in the comment box below.
Peace!