Welcome to my Throw Chip app review!
Perhaps you discovered Throw Chip while playing your favorite game!
The developer promotes his application as if anyone could redeem Roblox, Candy Crush, PUBG Mobile and many other in-game currencies.
All you have to do is merge same number chips and accumulate 10,000 diamonds.
You can also exchange puzzle pieces for Free Fire, Mobile Legends and Boblox skins.
So, why spend your hard-earned money on these games if you can get free credits by throwing chips?
In this review, I will explain in detail how Throw Chip works and give you my honest opinion. Is it legit or fake?
Let's find out!
Before you leave this site, check out my top-rated GPT site. Members are raking up $200+ per month by completing simple tasks and referring friends. Cash out via PayPal and gift cards!
Throw Chip App Review
Full Name: Throw Chip
Developer: quinbystuart
Price: Free (no in-app purchases)
Overall Rating: 1/5
What Is Throw Chip? 
Throw Chip is a casual game in which you release the poker disks from the top so they collide with the ones at the bottom.
The goal is to merge two identical chips and unlock a higher number, larger chip. It's very similar to this popular merge food game. 
From time to time, you will receive diamonds with the condition that you watch the sponsored video.
Speaking of which, it's important to know the developer is making profits by promoting other apps!
But is the revenue enough to reward all players who accumulate 10,000 diamonds worth $80+?
How Does Throw Chip Work? 
You can access Throw Chip immediately after you install the game on Google Play.
Right off the bat, you will receive a sign in bonus of 2,000 diamonds. Collect more gems by launching the game for 7 consecutive days.
Tap anywhere to throw your first chip. Then, try to combine as many discs as possible to unlock higher and higher numbers.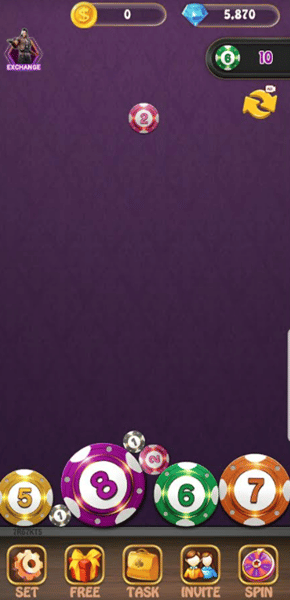 You will get diamonds from time to time after you merge the chips and watch the video.

When you combine multiple chips at once, you get a combo bonus.
You can collect more rewards after you merge 8 times. Here, Throw Chip will offer you 4 gift boxes to choose from. Select all of them to earn more diamonds!
The game is over and restated when any disk reaches the top limit line. The good news is that your virtual earnings won't be lost!
How to Redeem Diamonds? 
Open your wallet and choose the game you want to redeem. Here is the full list of titles available:
Roblox, Brawl Stars, Free Fire, PUBG Mobile, Candy Crush, Mobile Legends, Coin master, Clash of Clans, Pokemon go, Rov, and KartRider.
You will need to collect at least 10,000 diamonds to withdraw the currency to your player ID.
You can also exchange gold coins for diamonds at the following rate: 12,000,000 coins = 50 diamonds. 
Is Throw Chip Legit? Does it Reward Players? 
No, it doesn't! There is no proof that Throw Chip is rewarding players who collect enough diamonds.
Once you try to redeem the game currency, it says you need to wait for 24 hours and watch 25 videos to activate order.
But they will never transfer the reward to your Player ID.

It's completely fake because once you meet the requirement, they will ask you to watch an extra 70 videos within 72 hours. Read more about fake games here. 
They keep asking for more videos views so that the developer generates more revenue. But unfortunately, the developer doesn't share his profits with players!
I checked the reviews on Google Play and coudn't find any player who received the in-game currency.
If it was real, you wouldn't find so many complaints!
Conclusion 

This reward platform is going viral! Cash out via PayPal, Visa, Gift Cards, and in-game currencies - Click here to find out how to generate an extra $10+ per day! 
Don't waste your time downloading and playing Throw Chip unless you enjoy the game.
The app targets the teenagers who love gaming and wish they could win free diamonds and skins.

Sadly, most players believe they can win excellent rewards and waste countless hours.
The only ones who benefit from the game are developers and advertisers!
It's a win-lose situation where and you are the one who loses! 
Be aware of similar games that claim to pay users a decent amount of money. They are all fake! 
How to Earn Real Cash and Gift Cards? 
Why not complete simple online tasks and get paid for it?
It's much better than winning in-game currency because you can use the money to buy anything you want!
There are many legit platforms you can join for free and start earning today. This has been my top recommendation for many years!
With this site, you can make an extra $200 per month depending on how many offers you complete.
Now, if you are searching for an opportunity to work from home, I suggest building profitable affiliate sites.
It's not difficult, but there is a learning curve.
Kyle's step-by-step program helped me create this lucrative site right in front of you.
After following the training and putting in the effort, I quit my job and travelled the world for a long time.
You can also achieve your dream of working remotely! Check out my #1 recommendation and join now for free! 
Final Words
Thanks for taking the time to read my Throw Chip app review. I hope it was informative enough!
If you want to share your thoughts about this game, leave us a comment below.
Peace!