Welcome to my EMMO Emoji Merge app review!
Perhaps you are playing this casual game because they said you could redeem robux, diamonds and other game currency.
Google Play is jam-packed with applications that claim to give away real cash prizes.
But now, developers are targeting the young audience who want free currency to use in their favorite games.
Unfortunately, over 99.9% will just ignore your existence once you play for long enough and try to redeem.
So, will EMMO Emoji Merge transfer the reward to your Player ID? Is it legit or fake? Let's find out!
Before you leave, don't forget to check out my #1 reward platform. Members are making over 200 USD on the side just by completing simple tasks. Exchange points for PayPal cash or real in-game currency. 
EMMO Emoji Merge App Review
Full Name: EMMO Emoji Merge
Developer: Zebra Fun Game LLC.
Eligibility: Worldwide
Price: Free
Overall Rating: 2.4/5
What Is EMMO Emoji Merge?
EMMO Emoji Merge is another elimination game similar to candy-crush.
The key difference is that players earn diamonds that can supposedly be redeemed for in-game currency.
Here are the available titles you can choose to redeem:
Coin Master
Free Fire
ROBLOX
PUBG Mobile
Mobile Legends
Candy Crush
Clash of Clans
Pokemon GO
ROV
Brawl Stars
KartRider
The app went viral during the past few months and reached the remarkable number of 5 millions installations! 
To my surprise, the developer hasn't blocked the reviews using the "Early Access" excuse. So, it's not difficult to find out the true colors of this application.
Check out the best site to earn Free Robux here! 100% Legit!
How Does EMMO Emoji Merge Work? 
You can access EMMO Emoji Merge right after installing the game on the Play Store.
It's important to know the app has your permission to access content in your USB storage.
Therefore, they can read, modify, and delete personal files, such as photos and videos on your phone.
Right off the bat, you will receive a bonus of 2,000 gems just for signing in. Get more diamonds by playing the game for 7 consecutive days.
How to Play EMMO Emoji Merge? 
Just swap emojis and try to match at least 3 identical blocks to eliminate them.

All identical emoji blocks with the same number will merge and be replaced by a higher level emoji.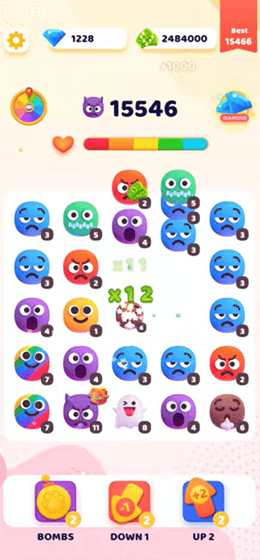 After merging a couple of EMOs you may receive diamonds with the condition you watch the sponsored video.
Sometimes you will lose a heart because you couldn't match the emojis. You have only 5 hearts!
Don't forget to use props to eliminate, rank down 1 or rank up 2.
EMMO Emoji Merge also features the Lucky Spin that allows you to collect more gems!
How to Redeem Diamonds? 
Open your diamonds wallet and choose your favorite game from the list.
You can only redeem game currency when you collect 10,000 gems, which may take over 1 hour of gameplay.
The reason is that they force you to watch a video in exchange for the virtual items.
According to the app instructions, your diamonds will be issued to your Player ID within 3 – 5 business days.
You can also convert banknotes for diamonds at the following rate: 1,200,000 coins = 5 diamonds.
Is EMMO Emoji Merge Legit? Does it Pay?

No, i doesn't! EMOO Emoji Merge does not transfer any game currency as advertised. The rewards are totally fake!
You can check for yourself by visiting the official page on Google Play and reading the app reviews.
Most people report they watched hundreds of videos, waited for 7 days and didn't get the reward.
Here is what you can expect from this joke of a game:
Once you collect 10,000 diamonds and ender your Player ID, they will ask you to watch 100 videos to activate the order. The order delivery time is 72 hours! 
Great! You may think watching 100 videos is not that bad, considering 10,000 Robux costs $99.99.

This reward platform is going viral! Cash out via PayPal, Visa, Gift Cards, and in-game currencies - Click here to find out how to generate an extra $10+ per day! 
But after watching all those videos, they change your status from Processing to Verifying and now, they want you to watch 300 videos! 
Here is the proof: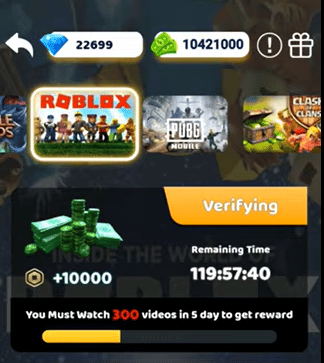 I hope you didn't reach this stage because you won't get the reward.
Many players who met all the requirements and were told to wait 7 days.
However, EMOO Emoji Merge didn't transfer the currency to their Player ID. They simply ignore everyone because there is no legal agreement between the player and the developers.
Therefore, there is no obligation to provide the rewards!
If you search for an opportunity to earn free Robux, check Freecash! Check out my full Freecash review here before you join! 
Conclusion 
Don't install EMOO Emoji Merge with the expectation to earn game currency. You won't get rewarded!
It's a shame that app developers entice people with excellent rewards that don't actually exist.
They are getting paid by advertisers while you are just wasting your time and mobile data.
This is wrong on so many levels!
The game is nice, but there are many similar alternatives that don't entice players with fake dollars and diamonds. Play them instead!
Final Words
Thanks for taking the time to read my EMOO Emoji Merge app review. I hope it was informative enough!
If you want to share your thoughts about this game, leave us a comment below.
Peace!