Welcome to my Galaxy Tree app review!
The developer of Galaxy Tree is trying to convince players that money does grow on threes! 
Over 100,000 people have downloaded this application with high hopes of making at least 704.10 GBP.
If you don't live in the UK, this is equivalent to around 1000 USD! 
The crazy thing about this application is that you just have to tap the money tree and watch sponsored videos.
Once you reach the cashout limit, you can request the payment via PayPal. It can't get any easier than that!
There are countless apps designed to make profits by enticing users with fake rewards. So, is Galaxy Tree legit? Does it pay or not?
Let's find out!
Before you leave, don't forget to check out my top-rated GPT site. Members are making $200+ on the side by completing simple tasks and referring friends. Cash out via PayPal and gift cards!
Galaxy Tree Tree App Review 
Full Name: Galaxy Tree: Wealth Life
Developer: libluceabc
Payout Threshold: £704.10
Price: Free (no in-app purchases)
Overall Rating: 1/5
What Is Galaxy Tree? 
Galaxy Tree is another get-rich-quick simulation where players get cash rewards just by growing the money Tree.
It's a "copy and paste of many Android apps like Fairy Tree, Huge Lemon Tree and many other games! Check out my huge lemon tree review here. 
As you click, you will collect virtual banknotes to level up your tree and increase its earning potential.
It also awards random PayPal cash whenever the progress bar is completed.
Galaxy Tree is not an "Early Access" game, and therefore, users can share their valuable thoughts on Google Play.
How Does Galaxy Tree Work? 
Galaxy Tree generates revenue by displaying frequent video commercials about other apps.
It entices players to watch those sponsored videos by suggesting they can eventually withdraw the money.
This business model is wrong on so many levels because no app developer can afford to pay everyone thousands of dollars!
How to Play Galaxy Tree? 
Tap the money tree to accumulate banknotes and drop the PayPal "fruits".

Use the power button to upgrade fruits, grow your tree, fertilize, and earn more rewards.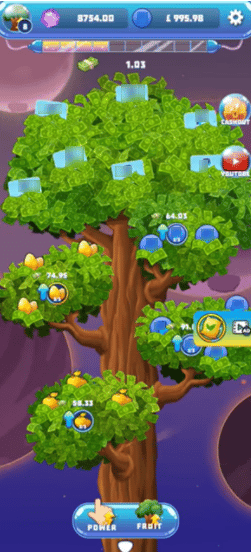 Fruits that grow on the tree can bring you extra income. Therefore, you are encouraged to use the banknotes to collect golden apples, eggs, pigs and bell for additional money.
Every time you receive a random PayPal bonus, you must tap "get" and watch the video to collect the prize.
Keep upgrading your money tree and watching videos to reach the payout threshold as soon as possible.
It won't take long to reach £704.10 and submit your payment request. But the story doesn't end here…
Get paid for playing games with these top apps! 
How do You Get Paid? 
You can cash out after collecting £704.10 or the equivalent in your country.
After tapping the "Cash out" button, they ask you to provide your real account.
Since there is a big PayPal logo at the top, I can only suppose they want you to bind your PayPal email.
Unfortunately, they will update the cash out requirement soon after you request the payment.
Is Galaxy Tree Legit? Does It Pay? 

No, it doesn't pay! Galaxy Tree is another fake cash "machine" designed to maximise profits for app developers and advertisers alike.
The more videos you watch, the more money they make. It's that simple!
So, what happens when someone reaches the cash-out limit and tries to collect the reward?
They will show you another progress bar with the saying: "You must watch more 30 videos to activate order."
The order delivery time will remain as "pending" for 24 hours. Then, once the countdown finishes and you watch all the misleading commercials, they increase the requirement.
Now, you must watch an extra 80 videos to activate order.

This reward platform is going viral! Cash out via PayPal, Visa, Gift Cards, and in-game currencies - Click here to find out how to generate an extra $10+ per day!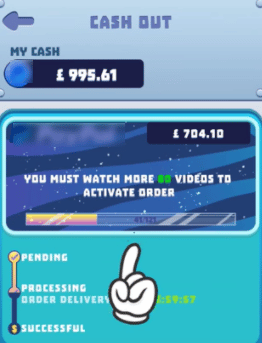 Of course, this is another lame excuse to help the developer earn generate more revenue at the expense of your time and data.

If you check the reviews on Google Play, you may find people that supposedly cashed out thousands of dollars.
Don't trust anyone who claims to have received money from this company! There are many platforms that provide fake reviews for a small fee.
Conclusion 
I advise you to stop tapping this money-tree because the game is not working in your best interest.
Don't waste your precious time with Galaxy Tree or any app that seems too good to be true.
Those who get richer for selling an illusion instead of a service or product should be ashamed of themselves!
But since these people lack a sense of empathy, I just wish justice will eventually prevail.
There are countless Android games offering fake cash rewards. This needs to top!
Verdict: Not Recommended
In order to make real money online, I highly recommend a GPT site called Prizerebel.
This 14-year-old platform connects members with marketing research willing to pay for your opinions. You can also get paid to download and try sponsored apps.
Some members are making over $200 per month just by completing simple tasks and advertising the site on social media. 
Earn A Full-Time Income Online 
Lots of people wish they could work online and earn a job-replacing income.
It takes time, but if you are motivated enough to make your dreams come true, it's possible to build a profitable online business as I did.
By becoming a content creator, you can make money on your own terms! This means FREEDOM!
This step-by-step program helped me set up a WordPress site, grow a significant online presence and generate life-changing commissions!
Today, my affiliate site allows me to work whenever and wherever I want.
>> Check out my #1 recommendation and start now for free! <<
Final Words
Thanks for taking the time to read my Galaxy Tree app review. I hope it was helpful.

Have you played this game? What do you think about it? Leave us your honest review in the comment box below.
Peace!