Welcome to my Cash Empire app review!
You found the opportunity to earn real money by playing a coin pusher simulation on your phone.
It feels like a dream to earn cash rewards just by tapping on your screen and dropping the nickels.
Perhaps you already spent a decent amount of time playing this game with no money to show for it.
You are not alone!
In this review, I will explain how this game behaves and why you should avoid it. Will they pay you once you collect enough coins? Is it legit or fake?
Keep reading to find out!
Top recommendation: This excellent program helped me generate over 2,000 US Dollars per month online and quit my job for good in 2019. You can make it happen by joining the Free membership here and taking massive action.
Cash Empire App Review
Name: Cash Empire
Developer: Furry Touch Studios
Membership Eligibility: Worldwide
Price: Free (no in-app purchase)
Overall Rating: 1 star
What Is Cash Empire?
Cash Empire is a coin pusher game in which you earn virtual cash by pushing nickels off the platform.
You can drop either token or dollar coins and request the payment once you've reached the payout threshold.
The app developer claims you don't need to go to Vegas, as Cash Empire gives you a real sensation of winning many coins.
But if you pay close attention, it doesn't mention you will be able to withdraw actual cash via PayPal.
Pusher for Cash also allows you to play third-party games and earn extra tokens for each minute you play.
How Does Cash Empire Work?
Installation
Cash Empire is available on Android devices and is 100% free to play.
Before installing this app on your phone, be aware that it can read sensitive log data.
As I am no specialist in-app permissions, I cannot assure you whether your passwords or other personal information are safe. But it's something to keep in mind!
How to Play Cash Empire?
Simply tap to drop the coins on the platform where the dozer moves back and forth.
As the dozer pushes the coins off the edge, you will earn virtual dollars and tokens. It depends on whether you drop the green or gold coins.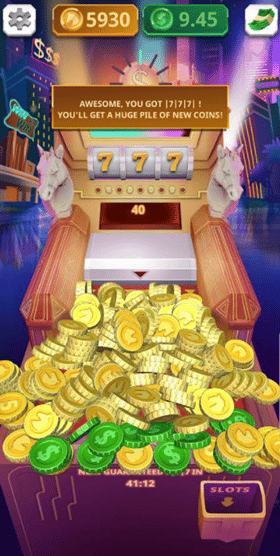 For example, dropping a dollar coin with the number 10 will give you $0.10. 
The game begins with 40 coins, and a new one is added every two or ten seconds.
If you don't want to wait, you can refill by tapping the "free" button and watching a sponsored video.
Try to push the coins into the golden slot box to play the slot machine. You can get more green and gold coins if you match 3 symbols.
If you are fortunate and match triple 7, you win $777!
Once you collect enough coins, you can unlock new features such as the Car collection, Spin Wheel, etc.
Get 3x cars in the slot machine and receive a vehicle. Then, collect and merge all cars to get the helicopter and win the jackpot of $1000.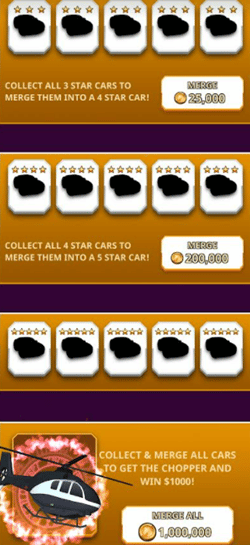 Bonus Games
Cash Empire also allows you to earn extra tokens by downloading and playing third-party games.
The longer you play, the more tokens you earn!
You need to allow Cash Empire to track your app usage to receive the reward.
You will earn tokens for each minute you play, like Greedy Dragon, Cashyy, Cash Alarm, and many other apps.

How do You Get Paid? 
Players can order PayPal payments once they collect enough gold coins and dollar coins. Here are the payout requirements:
1 Million gold coins = $2
5 Millions gold coins = $15
100 dollar coins = $100
Triple 7 in the slot machine = $777
1 Helicopter = $1000
Is Cash Empire Legit? Does It Pay? 
No, it doesn't. Cash Empire won't transfer the cash reward to your PayPal account.
They engage players by saying if they earn enough coins or collect the helicopter, they can withdraw real money. But it's just impossible!

This reward platform is going viral! Cash out via PayPal, Visa, Gift Cards, and in-game currencies - Click here to find out how to generate an extra $10+ per day! 
The reason is that once you reach $70 – $85, rewards drop to $0.01, and the slots won't give you green coins anymore.
So, you may have to fill up the pinata and earn just $0.01 at a time.

One person reported that the app wouldn't recognize his achievement even though he collected enough coins.
Another player said he got an error message saying he needs more tokens!
I checked the reviews on Google Play and couldn't find a single person who was able to cash out. And even if I did, it would be a drop in the ocean and probably fake.
Conclusion 
Cash Empire is just another fake money game. There is no evidence that the developer is rewarding players who meet the cash-out requirements.
Note that this app generates profits by exposing players to an insane amount of advertising.
Some advertisers are actually multi-million dollar companies.
They are the ones supporting Cash Empire and should also be ashamed, along with the network that handles the commercials.
Unfortunately, this coin pusher simulation does not offer real money, and you will waste your time.
The game is very addictive, but unfortunately, you will waste your time and mobile data!
Verdict: Not Recommended 
Earn A Full-Time Income Online
More and more people the opening their eyes to the opportunity to become content creators.
You can make thousands of dollars per month if you provide valuable content and grow an online audience.
There is a wrong belief that you need to be an influencer or knowledgeable to make it work.
This couldn't be further from the truth!
My crucial strategy to earn a decent amount of money is to rank articles on the first page of Google.
I suggest you follow this excellent step-by-step program and build your own online business as I did.
Just be aware this is not a get-rich-quick opportunity, and you need to put in the work to succeed.
Final Words
Thanks for taking the time to read my Cash Empire app review. I hope it was helpful.
So, what do you think about it? Please leave us your thoughts in the comment box below.
Peace!