Welcome to my Survey Rewardz review!
I was browsing Instagram yesterday when I found an advertisement about Survey Rewardz.
They claim to be one of the most popular marketing research companies that pay you to take surveys.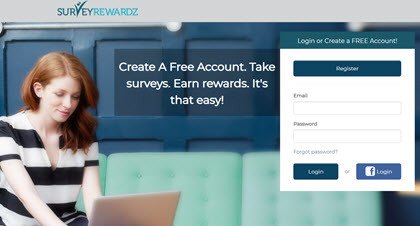 There are lots of sneaky sites out there trying to make a huge profit at the expense of your personal information and time.
So, is Surveys Rewardz is a scam or a legit website? Does it pay for your time and opinions?
It's important to make thorough research into sites and apps that promise to pay you for easy tasks online. That's why I am here for!
In this post, I am going to reveal all you need to know about this Survey Rewardz and give you my honest opinion about it.
But before we dive in, let me ask you. Would you be willing to put in the work and generate a job-replacing income from home?
If so, check out my #1 recommendation! This is the same program that helped me reach $1,300 per month, quit my job and buy a one-way ticket to South East Asia! 
Survey Rewardz Review
Name: Survey Rewardz
Website: https://www.surveyrewardz.com
Company: Points2shop, LLC
Type: Online Surveys
Membership Eligibility: Worldwide
Minimum Payout Threshold: $1
Price: Free to join
Overall Rating:

1

/5
What is Survey Rewardz?
Survey Rewardz is a survey site owned and operated by a US-based company called Points2Shop, LLC.
This company also operates a GPT (get paid to) platform called Points2Shop. You can read my Points2Shop review here!
The website reward users for sharing their opinions with different survey panels such as Samplicio, OnePoll, Cint, among others.
Therefore, Survey Rewardz is also considered a survey aggregator because they connect you with different survey providers.
In other words, they act as the middle man between survey takers and marketing research companies.
Different from GPT sites like Prizerebel, InstaGC, and Rewarding Ways, there are no trial offers, videos, cashback or microjobs.
However, it's possible to invite other people to join Survey Rewardz and earn affiliate commissions.
Is Survey Rewardz a Scam?
I don't have any proof to claim Survey Rewardz is a scam.
However, the number of complaints that I have seen on Trustpilot raised a big red flag for me!
Many people report missing payments and blocked accounts, which can cause a lot of frustration and anger!
One person had been taking surveys for over one year, but when he/she tried to make a withdraw request, his/her account was blocked.

Many panellists experience the same issue!
Here are a few reviews that I collected from both Trustpilot and Paid Survey Update: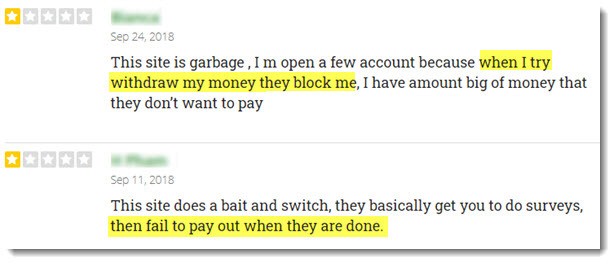 Source: https://www.paidsurveyupdate.com/programs/surveyrewardz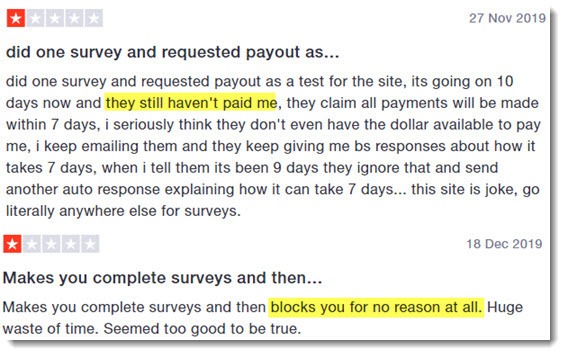 Source: https://uk.trustpilot.com/review/surveyrewardz.com
Unfortunately, many people who complete online surveys end up with no money because the company think or "pretend" to think you are cheating.
If you want to join Survey Rewardz, be aware that you may not get paid for your time and effort.
Pros and Cons
Pros
There are many surveys available.
Most surveys are short.
The minimum payout threshold is only $1.
Payments are processed via PayPal and other methods.
Cons
Low pay rate.
Many people have their accounts blocked after trying to cash out.
70% of people have rated it 1 star on Trustpilot.
You will waste a lot of time trying to qualify for surveys.
There is no signup bonus.
How Does Survey Rewardz Work? 
Registration and Profiling
If you want to join start taking paid surveys, you must create a free account first.
Registration is open worldwide, but you may not receive many survey invitations depending on your country.
Creating an account with Survey Rewardz is quick and super easy. You can sign up using your Facebook account or email address.
Next, you have to answer a few profiling questions so that the system can select the survey that best fits you.
There are no bonuses, and they don't pay you for completing your profile.
Taking Surveys
Survey Rewardz will send you new survey opportunities via the dashboard or email address.

I noticed right off the bat there were lots of surveys available in the UK, which is great!
You may get very few survey invitations because of insuficient investment in marketing research studies in your country.
If that's the case, I suggest looking for other strategies to make money online survey as freelancing writing or affiliate marketing. Personally, I prefer the last one as it can be way more profitable!
They will tell you in advance how much the survey is going to pay you in US dollar as well as the survey length.
Most surveys pay less than $1 and take less than 15 minutes to complete. Here are two examples: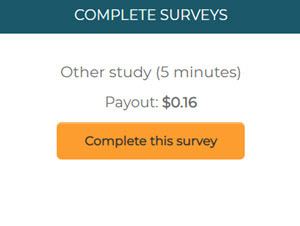 This reward platform is going viral! Cash out via PayPal, Visa, Gift Cards, and in-game currencies - Click here to find out how to generate an extra $10+ per day! 
When you click on "complete this survey" button", the website will redirect you to the company responsible for the study.
Then, have to go through a screening process.

The screening process consists of one or more questions designed to select the right candidate.
The profile survey is usually not enough to cherry-pick the ideal participant, which is why they need to ask more questions.
For example, a marketing study about travel packages may only want to invite people who have travelled at least three times in one year.
In that case, you would get disqualified for this particular survey if you travelled less.
So, unfortunately, you will get disqualified depending on your answers.
When that happens, Survey Rewardz will direct you to another survey opportunity. And no, you won't get paid for trying!
Here is a message that you may get when you are not a good match:

Avoid Survey Disqualifications
Beware that you can also get disqualified if you rush through surveys or provide inconsistent answers.
What's worse, you can get banned if they suspect that you are pretending to be someone else.
Quality Score
Every time you complete a survey, Survey Rewardz will increase or decrease your quality score.
Your quality score increases if you give complete, honest responses, and decreases if you speed up or give incorrect responses.
The quality score is used to ensure clients get the highest quality data for their market study.
For example, the same question can be asked more than once, and if your answers don't match, you will lose points.
It's important to keep your score above 100, otherwise, they can block your account and you won't be able to cash out.
Referral Program
Many people don't know that they can actually make money by inviting people to join Survey Rewardz.
When someone signs up through your link, the person will become your referral and you can earn affiliate commissions.
You will get $3 plus 15% of your referral earnings when your referral earns $3.
The platform provides a referral link that you can copy and share wherever you want.
They also provide an automated system to spread the message on Tweeter, Facebook or via email.

Payment
One of the best things about Survey Rewardz is the incredibly low payout requirement.
You can withdraw your money via PayPal when you reach just $1.
Other reward sites and apps hold people's balance until they reach $10 or even $20. So, it takes ages to cash out!
With Survey Rewardz, you can withdraw after completing your first 2 or 3 surveys.

Keep in mind that other payment options such as Amazon gift cards, Global Virtual Visa Reward, and Check has a minimum threshold requirement of $5.
You can reach $5 relatively fast too!
Final Thoughts
Survey Rewardz had everything to be a great survey website. The minimum payout threshold is very low and there are many survey opportunities.
However, most people have rated it 1 star (bad) on Trustpilot, mostly because of payment issues and blocked accounts.
When people reach the minimum payout threshold and try to cash out, the company block their accounts.
People always say they have done nothing wrong to deserve getting blocked.
I know this is a very common issue among hundreds of reward sites that I reviewed on my blog in the last 5 years.
People put in their time and effort, but don't get rewarded!
I used to take surveys in the past with other survey panels to earn some extra cash and pay the groceries.
Eventually, I got fed up of making pennies online and discovered a much better strategy, which I am going to reveal in the next section.
If you decide to follow this method and work consistently as I did, you can reach a full-time income online!
How to Make a Full-Time Income Online
In 2015, I discovered the possibility of earning a job-replacing income from home, and achieve time and location freedom.  
I would not have to report to a boss or meet deadlines because I would operate my own internet business.
I don't sell any products, so I wouldn't have to deal with customer complaints.
Of course, I need to work hard to promote products as an affiliate, but there is no pressure at all!
I work whenever and wherever I want.  
Now, instead of making less than $3/hour with surveys, I grow an internet business that earns me over $1,300 per month in passive income.
I can stop working for months, and the money will keep coming!
I started as a complete newbie, but thanks to this great step by step training created by Kyle and Carson, I learned the ropes.
They showed me the right way to build a website, attract visitors and start making commissions.
Keep in mind this is something that takes time and long-term commitment.
You can join for free and watch the first 10 lessons to learn about this business strategy and build your foundation.
For more information on this program, read my full review by clicking on the link below:

Check Out My #1 Recommendation Review HERE
Final Words
Thank you so much for reading my Survey Rewardz review. If you have any questions, please let me know in the comment section below.
Peace