Welcome to my Pocket City review!
Welcome to the glittering world of Pocket City, where building an empire can be as simple as tapping on your screen.
In this new idle game, you're not just playing for fun but for a chance to become a real tycoon.
I am talking about earning real money!
According to the overhyped advertisement, you spend 10 minutes to pocket $500 a week.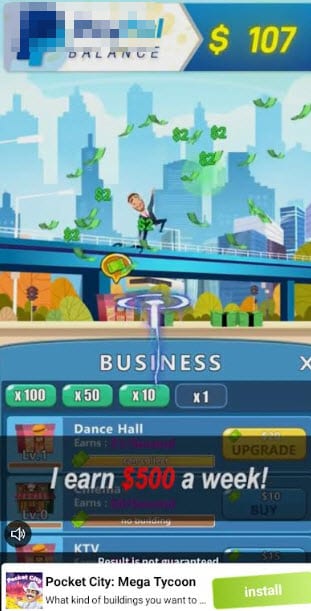 Also, they promise direct PayPal payments without even needing to withdraw.
The prospect of getting rich quickly by playing games like Pocket City is tantalizing.
However, such audacious claims often come with a caveat and make you wonder:
Is Pocket City legit, or is another fake cash game trying to exploit your time?
Will they transfer all that glittering dollars to your account, or is it just useless pixels on your smartphone?
Let's uncover the truth together.
Unlock the secret to $2,000+ monthly! Dive into my proven, beginner-friendly program to grow passive income streams. No expertise? We've got you! Click here!
Pocket City Review
Name: Pocket City: Mega Tycoon
Developer: Dam Nhipy Life
Payout threshold: 
Price: Free
Overall Rating: 0 stars
Find Out How to Report Fake Money Games! 
What is Pocket City? 
Pocket City is an idle game where players embark on a digital journey to grow wealth.
By simply tapping the screen, you can build and upgrade businesses, aiming to accumulate a steady stream of passive income.
Its gameplay draws parallels with popular games like Tap Tycoon and Adventure Capitalist.
I reviewed two similar games in this blog: Vegas Tycoon and Zootopia Carnival.
As you play Pocket City, you earn a special currency adorned with the PayPal logo, suggesting the possibility of cashing out through PayPal or Visa.
However, some red flags arise when delving deeper.
The game is developed by Dam Nhipy Life, a name already associated with several "fake money games" such as Pop Block Jewel and Click Card 3D.

To make things worse, Pocket City is still in early access on the Play Store, so players can't leave reviews.
Without them, newcomers can't determine if the game's money-making promises are real or just a gimmick.
How Does Pocket City Work? 
You can find Pocket City on Google Play, and it's free for users worldwide.
But before diving into the gameplay, there's a significant red flag you should be aware of: the app doesn't encrypt data. 
In the age of cybercrimes, not encrypting data can expose your personal information to potential breaches.
Hackers are always on the lookout for such vulnerabilities, and they can exploit this lapse in security to access your details.
Even the developers or anyone with access to the app's backend could view sensitive information.
How to Play Pocket City
Diving into the game mechanics: Pocket City kicks off immediately – no registration, no lengthy introductions.
You only need to tap the screen to drop cash, and a character rushes to collect it.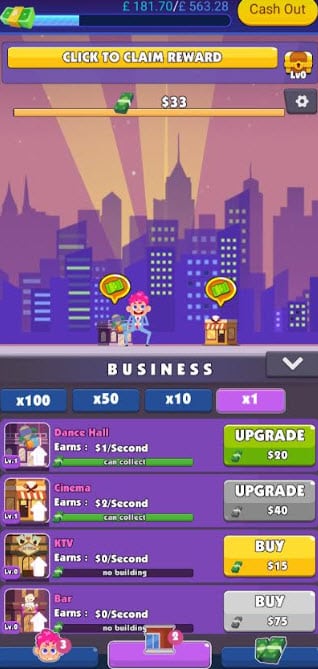 It's your initial step towards accumulating wealth.
The digital cash you earn can be used to upgrade and earn cash per second.
Furthermore, the game allows you to invest in businesses, like setting up a cinema that adds $2 to your coffers every second.
And the best part? You can upgrade these businesses to boost those earnings.
Special Rewards: Real Cash? 

This reward platform is going viral! Cash out via PayPal, Visa, Gift Cards, and in-game currencies - Click here to find out how to generate an extra $10+ per day! 
Occasionally, you'll spot a cash bubble floating above a business.
Tap it, and Pocket City offers special cash rewards with a shiny PayPal logo.

As you can see, there are two balances in the game:
The regular digital cash you use for in-game investments and upgrades, and the PayPal balance, which you can supposedly cash out.
Initially, these PayPal cash prizes are enormous, and claiming them is as easy as hitting the "Get" button.
But, as your balance nears £400, this button starts triggering adverts.
That's a clever strategy by the developer to monetize your gameplay.
Cashing Out: Tread with Caution
To cash out, you're supposed to accumulate at least £211.23.
Once there, you tap the 'withdraw' button, choose between PayPal or Visa, and voila, press 'Cash out.'
But a word of caution: DO NOT enter your bank details. Remember the unencrypted data issue?
By providing your banking info, the developer may obtain unrestricted access, exposing you to significant risks.
Is Pocket City Legit? Does it Pay?
Pocket City entices people with big payouts, but the truth is that they don't pay a single dime!
Those cash rewards are completely fake!
The developer is just exploiting your time for big profits by making you believe in easy money.
Here's how they reel you in:
You start the game, and almost instantly, you've got £211. Sounds great, right?
But once you try to cash out, they use a strategy called bait-and-switch. 
The game demands you to watch but 30 videos before you can receive the money.
And you've got just 24 hours to do it, or you risk losing that cash.
Think that's all? Think again. They might ask you to watch even more videos. It's a never-ending cycle.
What's truly alarming is their audacity to gather sensitive personal details.
They go as far as requesting visa card details with no data encryption.
And once they have your data, it's locked in – there's no option to delete your information.

You're essentially handing over personal data to someone you don't know, unaware of their true intentions.
These operators can manipulate and misuse your data in countless, potentially harmful ways.
Conclusion 
Temptations like Pocket City are everywhere online, flashing bright promises that often fall flat.
Don't be lured into these traps; protect what's valuable: your data, time, and peace of mind!
Now, there's a world of opportunity waiting for those with a genuine hunger to succeed online.
Why settle for pennies when you can build a whole digital empire?
I am talking about building a profitable online business where you partner with real companies.
Remote work isn't just a trend – it's the future, and anyone can do it!
Thanks to this excellent step-by-step program, I could rank high on Google, grow a large audience, and generate life-changing commissions.
It's been working like a charm for me since 2015, so the business has stood the test of time!
Final Words
Thank you for reading my Pocket City app review. I hope you found this post just in time!
We would like to hear your opinions about this game. How was your experience?
Leave us a comment below and help warn others!
Peace!