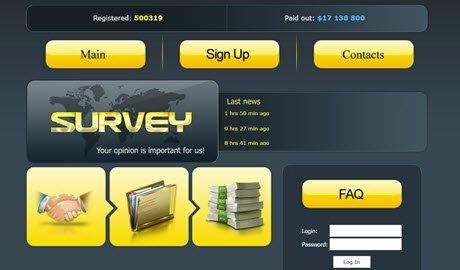 Can you imagine earning over $40 a day just for completing three easy surveys? This site could be the path to your financial freedom, but deep inside you know this is just too good to be true. So, is Part Survey a Scam or legit?
Check out this Part Survey review and discover how it works for the owner at the expense of your precious time.
If you want to learn the same strategy that is earning me over $600/month in passive income, check out my #1 recommendation.
Part Survey Review
---
Platform: Part Survey

Website: partsurvey.com

Price: Free
Overall Rating:

0/10

Recommended?

No
What is
 Part Survey? 
In a first glance, Part Survey looks like another online survey website.
Scroll down the page, and you will see a welcome message with some basic instruction and the following eye-catching claims:
You will get $14 for doing a survey
Get $15 to your account for each involved partner
Get 20% from your partner's earnings
First of all, no survey company pays a fixed amount of money for every survey. The payout depends on the length of the survey, and how targeted it is towards a particular audience.
Also, $14 per survey is ridiculous! I have never seen a legit site paying that much for a simple questionnaire.
Not to mention the site has no "Terms and Conditions," which makes matters even worse!
So, what exactly is Part Survey?
Part Survey is just a platform that is making revenue by showing you ads.
You will waste your time answering questions, but there is no evidence that you will get paid.
How Does Part Survey Work?  
In a real survey platform, you will get paid to share your opinions and demographics for marketing research purposes.
However, Part Survey doesn't provide real surveys, and the site apparently just makes money by displaying Google Ads and Youtube videos.
After you sign up for free, the first thing you will see is this: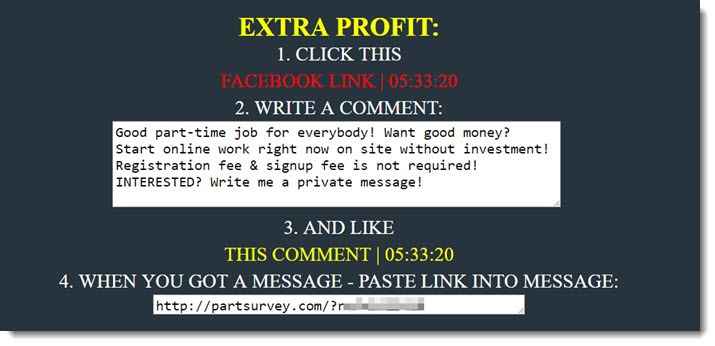 They are basically telling you to promote Part Survey on a Facebook fan page. To be more precise, they are encouraging you to spam, which is not nice.
Then, if someone joins Part Survey through your link, they say you will earn $15. Not only that, you will make 20% of everything they earn within the platform.
When you click on "Survey," you are asked to view a video and then click "start."
Well, the video was not available, and all I could see was an advertising just below…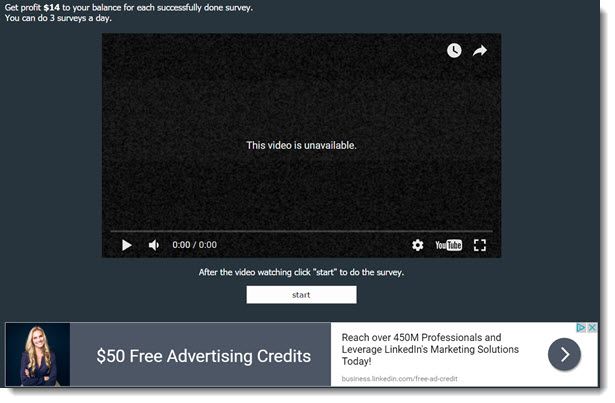 Even though you can't play the video, you can still click "start" and take the survey. By answering questions like:

Have you seen This video before?
Have you been interested in the product you watched in the video?
$14 will be credited to your account as magic!
But guess what? You can't cash out until you reach $700.
By that time, you will probably have wasted a lot of time promoting your link and answering those questions. But the thing is, you just can't expect to get paid as it's too much money for such an easy job. Heck, there is not even a "Terms and Conditions" to confirm that they can ban your account before you reach that minimum balance!
Final Thoughts 
Part Survey doesn't provide real surveys, nor connects you with other marketing research companies. Therefore, I am confident there is no way to make real money from it!
I am still trying to guess the purpose of this site for the owner. I guess they are just making money showing ads to you, but who knows?
Verdict: Not Recommended
If you want to complete surveys for some extra cash, I can recommend legit platforms like such as Prizerebel, PanelBase, and OneOpinion.
However, online surveys is not my favorite method to make money online. There is a much better alternative that I would like to explain in more detail below.
Discover How I Prefer to Make Money Online
In 2015, I found out an intelligent and legit way to make money online. It's called internet marketing!
There are many ways to make money with internet marketing, but I highly recommend you build a website and start by helping other people in a niche of your choice.
There are thousands of profitable niches you can tap into, but you should always choose the one you have genuine interest
Things like…

Traveling on a budget
Knitting
How to fix drones
Dog grooming
And so many other niches!
By writing informational articles your niche, you can attract a huge audience to your site. Then you can promote other people's products as an affiliate, and eventually sell your own info product.
That's the strategy that I recommend because I believe it's the safest and most efficient for those starting out.
Of course, some people succeed using other online marketing strategies. But I can only recommend the one that has been working for me and for a lot of people that I know of.
You can start by working in your spare time and grow until eventually, it becomes your primary source of income.
With an online business, you will be able to work whenever and wherever you want, without having a boss to tell you what you should or should not do. That, my friend, is FREEDOM!
For step-by-step training, expert support, and state-of-the-art website builder check out my number 1 recommendation.

This reward platform is going viral! Cash out via PayPal, Visa, Gift Cards, and in-game currencies - Click here to find out how to generate an extra $10+ per day! 
It has a free membership with a step-by-step video course, so you have nothing to lose if it doesn't appeal to you.

I hope this article helps you make an informed decision. If you need a hand with anything, just drop me a message below or send me an email at [email protected].
See you next time!
Stefan