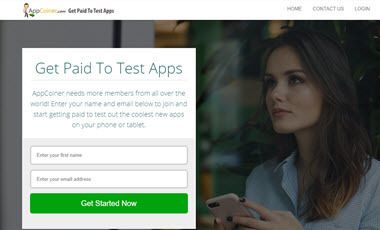 At first glance, App Coiner seems like an excellent opportunity to make money online by testing and reviewing apps.
However, I discovered this website is trying to hide relevant information that can disappoint you and maybe prompt you to ask for a refund.
So, is App Coiner a scam or legit opportunity?
In this post, I am going to explain in detail how App Coiner works, and give you my honest opinion about it.
Tired of scams and false promises? Click here to see my no.1 recommendation for making money online
App Coiner Review
---
Website: https://appcoiner.com/
Price: $27 + Upsells
Founder: Unknown
Overall Rating:

0.6/5

Recommended? 

No
My First Impression 
---
I discovered App Coiner yesterday while I was reviewing a misleading website called Second Income Center.
The creator is trying to convince you that getting paid to test apps with App Coiner is a straightforward process.
All you have to do is follow these 3 simple steps:
Choose an app from the App Coiner's database.
Download the app, test it, and write an honest review on your App Coiner review site.
Get paid!
Note that the video presentation claims App Coiner is a new platform that pays you to help apps get found.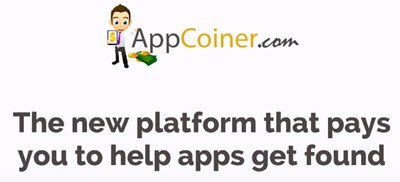 What I understood from this statement was that App Coiner was directly rewarding users to reviews apps, just like bestreviewapp.com does.
So, my first impression was that the company could be acting as the middleman between reviewers and App developers (clients).
The client would pay a fee to App Coiner, which in turn would provide a review written by members of the platform (you and me).
Pretty straightforward, right?
Well, forget about it because App Coiner is an entirely different business model!
RECOMMENDED: Click here to see my no.1 recommendation for making money online
What is App Coiner All About?
---
App Coiner is an info product for sale at a digital marketplace called Clickbank.
It doesn't pay anyone to test apps because it's not a free platform that connects app developers with reviewers.
The money actually flows the other way around as you are the one who will pay $27 for a membership fee.
So, that statement in the video is quite misleading!
The fact that they are not responsible for payments is only exposed in the small print below the green "buy" button.
Unfortunately, some people will probably miss that vital piece of information and end up paying the price in hopes to start making money.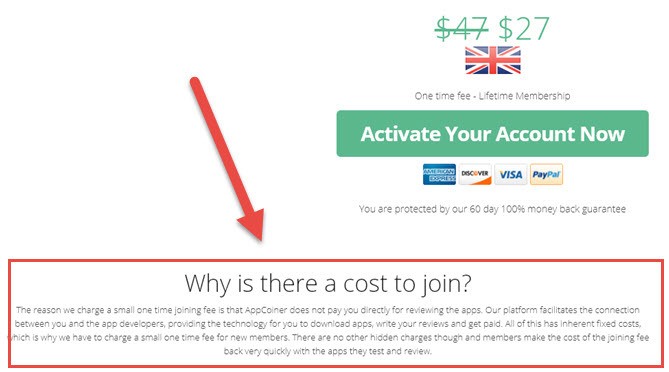 They say App Coiner doesn't pay you directly for testing apps.
So, who is responsible for the payment then?
Well, they are not willing to tell you.
App Coiner only facilitates the connection between developers and reviewers, providing the technology to download apps, write reviews and get paid.
According to the website, this technology has a cost, and thus, they will charge you a small fee.
Bear in mind App Coiner is a business, and as such, is making profits by selling these memberships.
Also, they claim members recover the cost of their investment very quickly by writing reviews.
Well, there is no proof that members are making money quickly, and as you will see in the next section, the strategy takes a significant amount of time and effort!
Besides, there are no guarantees that you will make any money!
RECOMMENDED: Click here to see my no.1 recommendation for making money online
Pros and Cons
---
Pros
You will leverage affiliate marketing, which is a legit business model.
There is a 60-day money back guarantee.
Cons
You will need website traffic (visitors) to start making money.
Unrealistic expectations – You won't recover your $27 quickly.
There is no training on how to write and optimise your reviews.
The website isn't yours. You will use a subdomain to write reviews, which is not easy to rank high on the search results and get the necessary traffic.

How Does it Work? 
---
After you click on "activate your account now", you will land o the checkout page where you will pay $27 for the App Coiner membership.
If you live in the UK, the total price including VAT is £27.
Ok, Stefan, so who will pay for my reviews? Tell me once and for all!
Well, the answer is no one! No one is hiring you to write reviews!
The truth is that you will write reviews for "your" website, which contains affiliate links in the form of ad banners.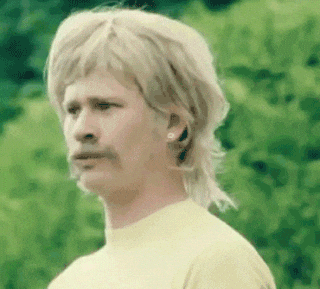 This reward platform is going viral! Cash out via PayPal, Visa, Gift Cards, and in-game currencies - Click here to find out how to generate an extra $10+ per day! 
When people visit your website to read the review, they can take 3 different actions:
Click on a link to download the app.
Click on any of the ad banners that direct people to buy a Clickbank product.
Subscribe to your newsletter through the opt-in form.
Here is the done-for-you website you will get: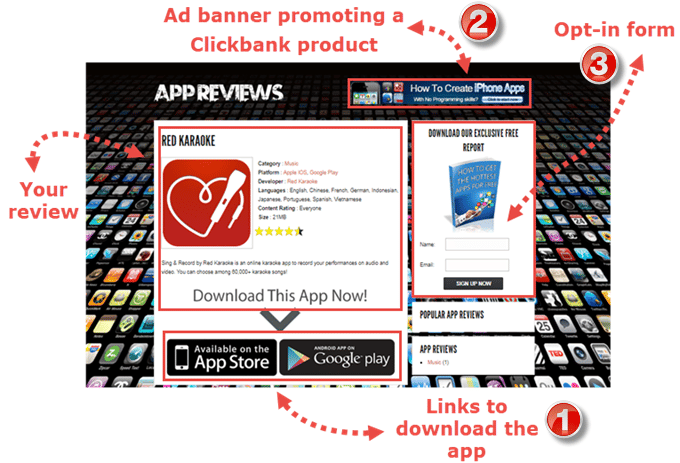 Whenever someone purchases a Clickbank product through your affiliate links, you will earn a commission.
This business model is called affiliate marketing, which is the same that I use to make money online.
You must sign up to Clickbank and integrate your affiliate links to your site.
Most affiliate programs in this marketplace pay 50% – 75% commission, which is very high and can be very lucrative!
However, it's important to understand that you will only make money if someone visits your site, clicks the banner, and buys the product.
That explains why you are not paid to review the app, but to promote Clickbank products via your website.
No visitors to your site means no money in your pocket!
You Will Need Website Traffic 
---
The main problem with App Coiner is that you will need website traffic (visitors) to earn money.
That wouldn't be a problem had App Coiner been upfront with you and given you proper training to get this traffic.
So, even if you write hundreds of reviews, you can still end up with empty pockets if you don't know what you are doing.
I make money by reviewing apps, products and platforms on my website, so I know what it takes to succeed.
It takes a significant amount of time and effort before your site starts bringing in some revenue.
To give you an idea, I was publishing 3 reviews per week on average, and still, I didn't get any visitor to my site before 2 or 3 months. Besides, I made my first dollar only after 8 months!
So, don't believe App Coiner when they say members recover their $27 quickly.
RECOMMENDED: Click here to see my no.1 recommendation for making money online
The Website is Not Yours! 
---
Another big issue is the fact that the review website is not yours.
The URL has the extension ".popularreviewer", meaning you will be working with a subdomain that is the property of App Coiner.
Working with a subdomain is too bad in the long term because:
You have no control over it: If App Coiner shuts down, you can lose all your content. You can't sell it later or make significant alterations.
There is no trust: It's more challenging to build trust and get higher Google rankings.
Integration With App's Affiliate Programs
---
App Coiner will automatically add the app download buttons at the end of your reviews (see the image above).
When people click on it, they will be directed to a page that has another ad banner with your Clickbank affiliate link.
After waiting for 10 seconds, people can click on another button to finally download the app.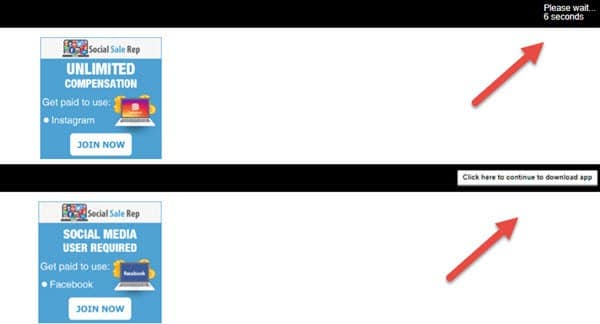 I am not 100% sure if you can add an affiliate link to that download button.
If not, then you can only earn commissions through your Clickbank ad banner, and not through the app's affiliate program.
Can You Make Money With App Coiner?
---
There are no guarantees because as I already mentioned, it depends on how much traffic you get to your site.
In my opinion, the best traffic source is from Google search results, known as free organic traffic.
For example, if you write an article about the App Flame and it ranks on the first page of Google, you can rest assured people will start flocking to your site.
By the way, search for App Flame review on Google, and you will find my article right on the first page.
My site gets around 1000 visitors per day, but take a close look, and you will notice the amount of work I have put into it during the last 4 years.
There are over 500 reviews, and I make over $1,000 per month promoting different courses and platforms that I trust.
So, yes. You can make money reviewing apps and promoting different products as an affiliate.
However, it takes time and effort to start getting traffic and sales.
And if you use the App Coiner's subdomain website, it will probably be even harder!
The reason is that you don't own the domain name (website's URL address), so it's a bit harder to rank your reviews on the first page of Google.
Conclusion – Is App Coiner a Scam?
---
App Coiner hides important information from potential customers, who may think they will get paid directly for reviewing apps.
Only those who read the small print after the "buy" button will discover they are not responsible for payments.
Still, App Coiner won't explain or even mention the business model people are going to use, which is called affiliate marketing.
In affiliate marketing, you get paid from merchants only if you are responsible for a sale or an action.
Therefore, members may be surprised to find out the challenges of attracting an audience to their sites before they start making money.
Even though App Coiner gives people the false idea they will get paid per review, I wouldn't call it a scam.
However, you will pay $27 for a subdomain website that is very difficult to rank high on the Google search results.
Therefore, it can be even harder for you to attract an audience and start making sales.
Besides, App Coiner doesn't provide any training which, in my opinion, is essential for anyone who is trying to grow an online business and earn affiliate commissions.
Verdict: Not Recommended 

How to Get Paid For Reviewing Apps?
---
If you want to get paid for the review itself, and not indirectly through your website, then I have good news for you.
There are legitimate sites that work with App developers that are interested in your honest reviews. These are legit sites you can try:
Bestreviewapp.com
Testbirds.com
Usertesting.com
Testworker.com
UserTesting and Testbirds pay $10 per review that usually takes 20 minutes. It's one of the best pay rates on the internet for a job that doesn't require any special skills.
However, don't expect to earn a lot because there are not many opportunities. I would say you can get 1 or 2 apps per week at best.
As for Betreviewapp, you will earn $0.5 – $1 per review. The reason their pay rate is low is that reviews are much easier and quicker to do.
How I Make Money Online
---
In 2015, I discovered an excellent training program that helped me build a website, attract an audience and start making affiliate commissions.
Yes, I use the same business model proposed by App Coiner, but I have my own domain and thus, which gives me total control and more website authority.
I had zero experience, but their step by step lessons and helpful community helped me overcome the challenges and achieve my goals.
After putting the time and effort to grow my business, I don't need to rely on a job to pay my bills anymore.
I can work whenever and wherever I want!
There are many success stories, and you can follow the same path to reach a full-time income from home!
The first 10 lessons are completely free and will help you create a solid online business foundation. No strings attached!
I hope this post about App Coiner was helpful to you. If you have any questions, feel free to leave me a comment below.
Stay safe and peace out!