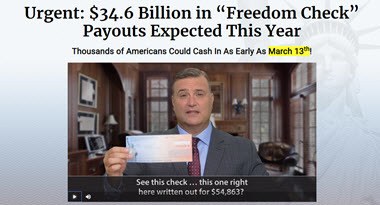 Imagine getting freedom checks that are 10 times bigger than the average annual return from all U.S. retirement accounts?
According to Matt Badiali, from freedomchecks.com, there are two types of companies that use a tax loophole to pay most of their revenue to investors.
Depending on how much you invest, you could earn $1,000, $10,000 or even $100,000 per month!
I know you are probably thinking Freedom Checks can be the perfect solution for your retirement and a life of freedom as the name suggests.
But is it really THAT easy? Is Freedom Checks a Scam or legit?
I am about to show you the truth behind the beautiful facade and give you my opinion.
By the way, if you want to learn the same method that earns me $1,000+/mo from my laptop, check out my #1 recommendation!
Newbie friendly and free to get started! 
Freedom Checks – Quick Summary
---
Website 1: www.freedomchecks.com
Website 2: https://pro.banyanhill.com/p/FREEDOM17/P190U6CE/?h=true
Price: $47 + Upsells
Founder: Matt Badiali
Overall Rating:

1/5

Recommended? 

No
The Hype
---
The owner of Freedom Checks is suggesting you can easily earn BIG FAT paychecks from companies that operate tax-free.
The opportunity is very well marketed by Matt, who is trying to convince visitors that Freedom Checks is ridiculously more profitable than CDs, junk bonds and stocks.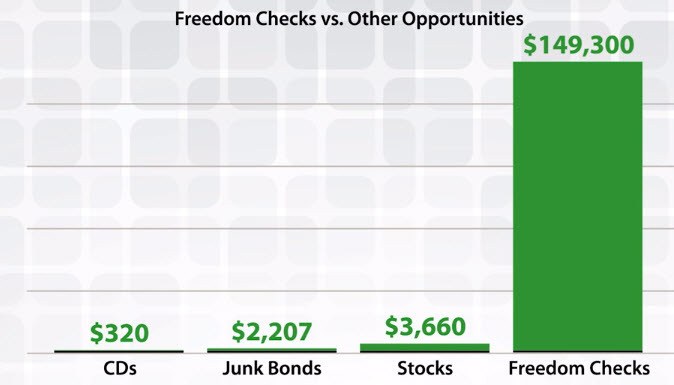 Matt claims that 568 companies with a special designation are expected to pay a total of 34.6 billion over the next year.
These are mostly companies that control billions of dollars worth of raw materials such as oil, mineral and power companies.
You can start investing with as little as $10 and take advantage of extremely profitable dividends.
I have reviewed hundreds of overhyped websites, and I know Freedom Checks is doing an excellent job in making this opportunity more appealing than it really is.
One of the main persuasion tactics is the use of testimonials from people who supposedly earned hundreds of thousands of dollars in a year.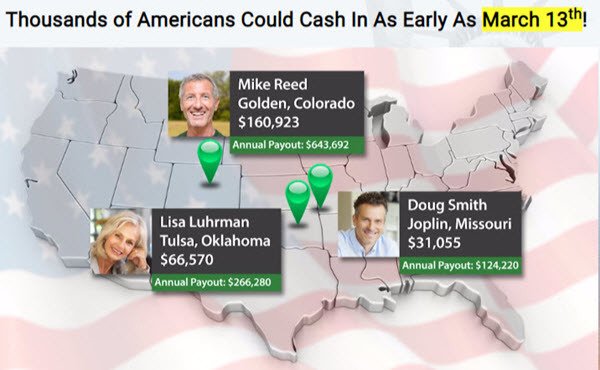 However, these photos were acquired from stock photography sites.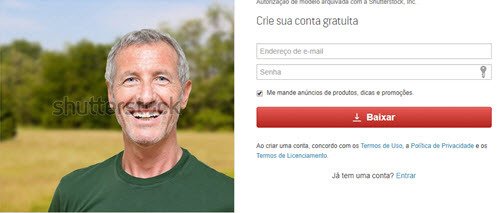 I tried to find a social profile of any of these investors but couldn't find any!
I understand that many people don't feel comfortable exposing their real identities and earnings to the internet.
However, the use of stock photography and fake names without any disclosure is typical of hundreds of misleading and scammy sites I have reviewed in the past.
It's not nice!

So, for this reason alone, Freedom Checks doesn't seem like a trustworthy website to join.
But let's dive deeper and understand the full story!
What is Freedom Checks All About? 
---
Freedom Checks is the elegant name that Matt has given to dividends paid out by MPL (master limited partnership) companies.
Most of these MPLs are owned by energy companies in the oil and gas industry, which trade just like normal stocks on securities markets.
An MPL is a publicly traded company that requires a lot of capital to operate, and whose structure allows take breaks.
The MPL designation allows this type of company to pass all the tax burden to its shareholders.
Some companies are more profitable than others, and that's where Matt comes in to help you figure out the best companies to buy.
By subscribing to Matt's Real Wealth Strategist newsletter, you will have access to his research and expertise in identifying the best stocks opportunities.
What You Will Get? 
---
For $47 (standard subscription) per year, you will get:
Special Reports
You will get 3 reports, including the $34.6 Billion Payout.
This special report will show you how to start with just $10 investment, how much you can expect each month and how much you can expect your payments to rise.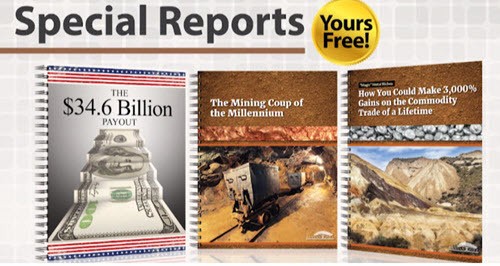 Access to Matt's Model Portfolio
Discover every stock that is in his "buy now" list and get additional 12 stocks recommendation every year.
Matt will show you what to buy at what price and when to sell it.
According to his advertising video, the portfolios are expected to generate annual returns of 55%, 83%, 105% and 132%.

This reward platform is going viral! Cash out via PayPal, Visa, Gift Cards, and in-game currencies - Click here to find out how to generate an extra $10+ per day! 
Trade Alerts
Receive trade alerts via email on the best time to trade a position. You will be able to trade via your desktop or phone.

Monthly Briefing
Every month you will receive articles about a specific topic, usually about a new investment opportunity.
You will also have access to the Real Wealth Strategist website with more resources and support from his team.
Matt promises to do his best to help you find the best stocks make huge profits.
Will You Make HUGE Freedom Checks? 
---
The reality of investing in MLP is far from what is advertised by Matt, which is creating unrealistic expectations to sell his membership.
I don't doubt he is an expert investor and can help you make more informed investment decisions.
The problem is that he is overestimating the average annual returns that you could make.
Besides, he doesn't give much attention to the fact that your capital is at significant risk and that you may need to invest a fortune to earn $100,000+ per year.
From my research, I noticed most stocks gives an average of 4 – 10% annual return, which is not extraordinarily high.
Matt claims that he was able to beat the market on various occasions and get 100% – 300% annual returns!
One example is when he suggested buying stocks from ATAC Resources in 2009 for around $1 and sell them at approx. $4 in 2010.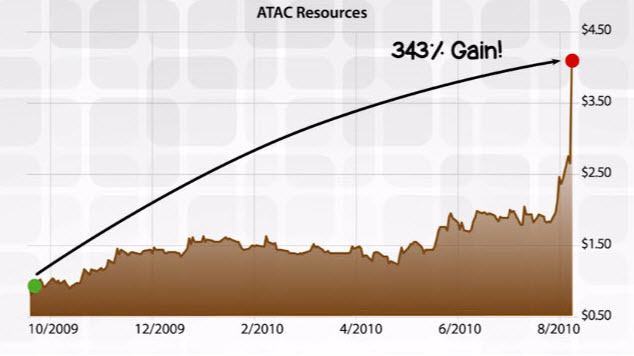 Yes. It's possible to reach amazing returns, but how often can you beat the market like that?
Not always, that's for sure!
It's important to understand that no one can predict the markets, always buying low and selling high.
Remember that you are dealing with individual stocks, which carries significantly more risks than investing in indexes and mutual funds.
Personally, I would not rely on individual stocks as a way to bring in consistent income.
You can make informed guesses based on different market factors, and there is no doubt you can make better decisions with the Real Wealth Strategist membership.
However, there are no guarantees, and you can lose most or all your capital!
Again, I wouldn't put my life savings at risk in such a volatile market, unless I could afford to lose some money.
Take the ATAC Resources as an example again.

Notice what would happen if you had bought stocks in 2012 and sold in 2014.
Yep! You would lose money!
The stocks of that company dropped dramatically in 2012 and still haven't recovered after 6 YEARS!

Conclusion – Is Freedom Checks a Scam? 
---
Websites like Freedom Checks gives people the wrong idea of what it's like to invest in a volatile market.
You need to be very lucky to earn more than 30% ROI and accept the risks of losing most of your investment.
In my opinion, Freedom Checks is not a scam but the sales pitch is atrocious.
Heck, they don't even provide an Income Disclaimer!
Creating an overhyped sales page that gives people unrealistic expectations only demonstrates greed and irresponsibility.
There are better ways to promote a newsletter designed to inform and suggest investment opportunities.
That's why I don't recommend Freedom Checks!
Verdict: Not Recommended
How I Make Money Online
---
I love the idea of earning passive income, but I don't like the risks that investing in stocks entails.
Me, personally, I prefer to invest time into building passive income sources that pay me over and over with little risk.
So, the way I make money online is basically by creating content for my website and promoting products and platforms that I trust.
You see, a website is a real online asset. The more value you provide in the form of content, the more money you can make.
Setting up and operating a website is not difficult but it takes time and effort to attract an audience to it.
There are many things you need to learn behind the scenes, and it's easy to get lost with so much misleading and incomplete information on the internet.
That's why I highly recommend a structured course and expert support that will help you keep on the right track.
If this is a type of business that appeals to you, check out my top recommended program.
I was a complete newbie when I joined, but I worked hard, persisted and achieved remarkable results.
This is not only a course but a community where you can ask for help 24/7, and learn valuable skills from successful online entrepreneurs.
They also provide a complete platform with useful tools where you can set up and grow your websites.
Click the button below to learn more about this platform and my story.
I hope this post about Freedom Checks was helpful to you. If you have any questions, feel free to leave me a comment below.
Stay safe and peace out!