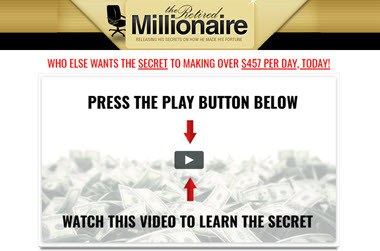 The creator of The Retired Millionaire wants to show you the secret to becoming extremely rich and start earning $457+ per day online.
There are lots of testimonials in the video, but still, you are not convinced about the wild income claims and overnight results.
How does it work? Is The Retired Millionaire a scam or legit opportunity?
Keep reading to discover what is behind the curtains!
By the way, if you want to learn the same method that earns me $2,000+/mo from my laptop, check out my #1 recommendation!
Newbie friendly and free to get started! 
The Retired Millionaire – Scam or Legit? 
Product: The retired Millionaire
Website: http://retiredmillionaire.co/
Price: $47
Founder: Greg Larson (fictitious?)
Recommended? 

No
The Hype
---
Greg Larson offers the opportunity of a lifetime to get his money making websites that generate $1000 and even $10,000 per day.
According to him, the site contains every secret and trick he used for 15 years to retire as a millionaire.
Best of all, it's completely automatic!
Once you set up the website, you can sit back, relax and start collecting big checks while you enjoy life or sleep.
Well, not so fast!
I have seen hundreds of overhyped and misleading websites like The Retired Millionaire. Here are just a few samples that I reviewed recently:
They prey on ingenious people and those who have little information about how the internet works behind the scenes.
The deceitful sales pitch gives false hope for easy and fast money.
However, none of them lives up to the hype, causing frustration and hopelessness.
RECOMMENDED: Click here to see my no.1 recommendation for making money online
What is The Retired Millionaire? 
---
The Retired Millionaire System is basically an info product that will show you how to set up a done-for-you website and make money with affiliate marketing.
Now, how this product is advertised gives people the illusion that they will start making money automatically, without putting in the time and effort.
That is complete BS!
Trust me. There is no secret or shortcut to making money online, and it's not easy to even reach $1,000/month, let alone $10,000 per day!

Pros And Cons
---
Pros
30-day money-back guarantee.
Cons
You won't earn $500 at the end of the video as advertised.
Unrealistic income claims.
Fake testimonials.
False scarcity (there are not only 50 spots.
There is no information about the owner.
How Does it Work?
---
After you provide your email, you will see another video encouraging you to pay $47 for the following:
Certified money-making website.
Step-by-step instructions.
Coaching.
Now you are probably wondering, if the website is done-for-you and runs on autopilot, why would you need a coach?
Well, that's because the website will not attract an audience automatically.
Your job is to promote your site, which requires some knowledge of different traffic sources.
You see, setting up a website is the easiest part. Even an 8-year-old can do that with some basic instructions nowadays!
The challenge lies in building trust and growing website traffic.
No traffic = No Money!
Red Flags
---
Next, I am going to show you the main red flags, which are strong reasons to avoid The Retired Millionaire at all costs.
Red Flag #1 – Get-Rich-Quick Mindset 
The owner of The Retired Millionaire is trying to convince you that you will easily make hundreds of dollars per day, spending less than 1 hour per day on the internet.
Although you can earn hundreds and even thousands of dollars with internet marketing, it's not going to happen overnight.
Also, you should not expect to work just 1 hour each day and make this income level unless you provide extraordinary value.

I have been creating web content for almost four years, so I can assure you that it's not as easy and as quick as they say.
Now, here is a reality check.
If you scroll down the page, you will see a Disclaimer which says:
The typical purchaser does not make any money using this system. retiredmillionaire.co does not guarantee income or success, and examples shown in this presentation do not represent an indication of future success or earnings. 
RECOMMENDED: Click here to see my no.1 recommendation for making money online
Red Flag #2 – No Transparency
They don't explain what exactly you will be doing and how you are supposed to make money.

This reward platform is going viral! Cash out via PayPal, Visa, Gift Cards, and in-game currencies - Click here to find out how to generate an extra $10+ per day! 
Also, I couldn't find any information about the owner because many people on the internet have the same name.
There is no transparency, which can cause a lot of confusion, doubt, and frustration.

Red Flag #3 – Lie! 
The owner claims you will make $500 guaranteed by the end of the video, which is a LIE!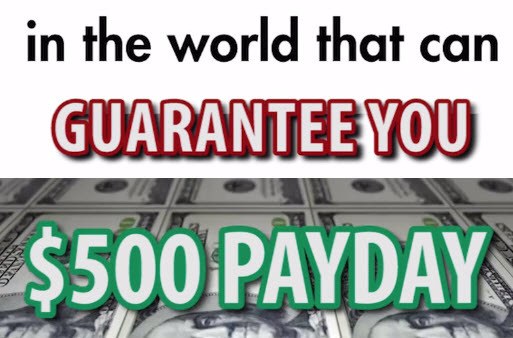 You will not make any money unless you work hard like any other successful internet marketer.
Red Flag #4 – Fake Testimonials 
---
Like most get-rich-quick websites, the retired Millionaire is using fake testimonials.
They search for spokesperson services on platforms like Fiverr and pay those freelance actors to say whatever script they want.
This woman, for example, has already been hired many times by other suspicious get-rich-quick websites.
You can find her profile at Fiverr.com.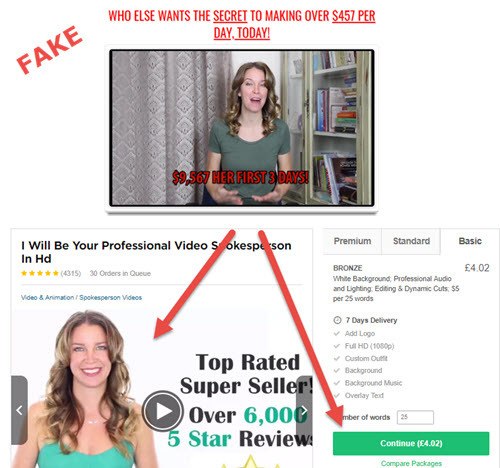 Red Flag #5 – Scarcity Tactic
---
Another marketing tactic used by The Retired Millionaire is the use of false scarcity.
Greg urges you to act fast as there are only 50 spots available, and you are one of the lucky ones.
In reality, there is no limit to the number of people that can buy this product.
Think about it. If he only intended to help 50 people, then there would be no reason to create a website to sell this product worldwide.
The reason he is doing this is simple. He doesn't want you to search for information like you are doing now.
Many people are desperate for quick money and thus, buy low-quality info products without doing their homework.
Conclusion – Is Retired Millionaire a Scam? 
---
The Retired Millionaire uses deceptive advertising to entice people to buy a money-making website.
First, they say you will make $500 guaranteed at the end of the video, which is a LIE! The is no other definition for it.
I watched until the end and am still waiting for the check.
Second, you may get a website and make money with it, but you should not expect to make $400+ on the first day as they suggest.
It takes significant time and effort to make money with a website.
Done-for-you sites don't generate revenue alone without web traffic, and to get traffic, you must invest your time or money. No internet business is 100% automated!

So, in my opinion, the Retired Millionaire is a scam.
My TOP Recommendation 
---
In 2015, I discovered an excellent educational platform that helped me build a lucrative website from scratch.
I was a complete newbie, but their step-by-step training and helpful community helped me achieve remarkable results.
Thanks to my internet business, I no longer need to rely on a job to pay my bills.
I am not rich, but I can work whenever and wherever I want, which is the kind of freedom I was looking for.
The first 10 lessons are completely free, and with the starter membership, you also get:
2 Free websites
Support from me, the owners, and the entire community.
It's a great place to build affiliate sites! But of course, there are no shortcuts, so you will need to put in the work.
Click here to learn more about this platform and my success story!
I hope my post about The retired Millionaire was helpful to you. If you have any questions, feel free to leave me a comment below.
Stay safe and peace out!