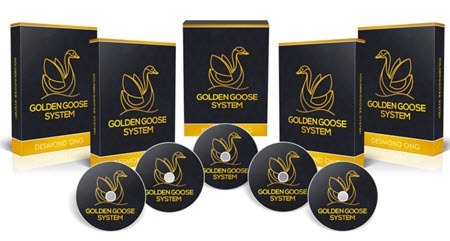 In this review, I am going to walk you through Desmond Ong's Golden Goose System and give you my honest opinion about it. Is it a scam or legit?
Let's find out!
 Golden Goose System Review
---
Product Name: Golden Goose System
Website: goldengoosesystem.com
Price: $19 + Upsells
Owner: Desmond Ong
Overall Rating: 6/10
What is The Golden Goose System? 
---
The Golden Goose System is a video training course on how to build an internet marketing business.
The course was developed by Desmond Ong, which is also the creator of 2017 Blueprint, ZenViral and many other IM products.
Now, there are many ways to build an online business, but Desmond wants to sell you training without full transparency.
So, you are tempted to buy a life-changing course without knowing the subjects covered. That's not the ideal situation!
All you know is that after you set up this business, you can expect to work 20 minutes per week and make thousands per week. Which is nonsense!
From my extensive experience with internet marketing products, the more hype you find on the sale's page, the less value you get from the training.
Besides, you should never expect to make $9,000 in a week for just 20 minutes of work.
Pros & Cons
---
Pros
The training is easy to follow
You can make money if you take massive action – Don't expect quick results
Cons
Solo ads is too risky for beginners
Basic training
Upsells
No free trial
Too much hype that can lead to frustration
How Does it Work? 
---
According to Desmond, once the system is in place, it will keep laying golden eggs for you every single day.
In his analogy, golden eggs are basically affiliate commissions and internet sales that can amount to $1,000's per day!

The training will teach you how to make money as an affiliate marketer and also as a product owner.
As an affiliate marketer, you can promote other people's products for commissions. It is a great method if done correctly.
The Golden Goose System is focused on promoting "internet marketing products" mostly through solo ads, social media, and list building.
Now, although you can make money following Desmond's strategies, I don't think it's the best way to get started.
Solo ads is a very expensive way to get traffic. Therefore, you will have to be very effective in promoting your offers and lucky to find a high converting list.

That's why I don't recommend solo ads for a newbie. It's too risky!
Golden Goose System Upsells
---
As with most IM products, you will be enticed to buy more expensive products that are said to make you more money with even less work.
There are three upsells after you buy the $19 frontend product:
These upsells will give you several done-for-you marketing campaigns that you can use to promote Golden Goose System itself and other affiliate offers.
Desmond will also offer you his private mentorship, which may be a good option if you want a personalized plan of action for your business.
Final Thoughts
---
Despite of the hype, Golden Goose System is not a bad affiliate marketing training.
However, I am not a big fan of shortcuts, and I don't think Desmond's strategy will help you build a solid online business. The reason being that you won't learn how to create a WordPress site to get free organic traffic from Google.
You will have to rely mostly on social media and solo ads, which can be both inefficient and risky ways to promote your business.
In conclusion, you can make money with this system. Just don't expect to achieve fast results and be prepared to work much over 20 minutes per week.

Verdict:  Legit but Not Recommended!
What Now? 
---
In order to secure a job replacing income every month, you need attract lots of free and targeted traffic to your site.
It takes a lot of time and effort but achieving a full-time income with this method is not a matter of if, but when.
If you want to get free step-by-step lessons on how to get started, check out my recommended training platform below.
Click Here for My #1 Work at Home Recommendation

This reward platform is going viral! Cash out via PayPal, Visa, Gift Cards, and in-game currencies - Click here to find out how to generate an extra $10+ per day! 
Thanks for reading. If you have questions or thoughts on Golden Goose System, feel free to leave a comment below.

See you next time!
Stefan