Welcome to my Coin Town app review!
One of my readers has recently asked if I knew whether Coin Town was a legit or fake money game. I remember watching one of their adverts suggesting that players could win hundreds of dollars via PayPal. However, I hadn't had a chance of installing and playing it, so I couldn't give him a definitive answer.
So, today I decided it was about time I reviewed this game in order to help as many people as possible. Can you trust Coin Town will pay you real money after so many hours watching their videos Keep reading as this post can save you a lot of time and even help you bring in a decent income online.
RECOMMENDED: Check out the step-by-step program that helped me build an online business from scratch and earn $1,600+ per month. No special skills required! 
Coin Town App Review
Developer: Knife Crazy Studio
Price: Free (no in-app purchases)
Eligibility: Worldwide (18+)
Payout threshold: $3
Overall Rating: 3/5
What is Coin Town?
Coin Town is a mobile game in which you must develop your town by merging building of the same level. There are countless games that use the same mechanics such as Merge Money, Puppy Town, and Lucky Fruit.
With Coin Town, you keep merging and unlocking unused land to grow your city. As you achieve higher levels, the game rewards you with virtual dollars. The developer claims that once your balance reaches $100, $150 and $200, you can easily cash out through their efficient services.
How Does Coin Town Work? 
Installation and Registration
Coin Town is only available on Android devices. There is a game with the same title on the App Store, but it's a different one. Upon installing and launching the app, it prompts you to register using your Facebook or Google account. You can join as a guest, but there is a higher risk of losing your progress if you do. I noticed that money doesn't add up properly when you play as a guest.
Recommended read: TOP Game Apps that Pay You Real Money in 2021
How to Play Coin Town
Coin Town can intimidate you in the beginning because of the visual pollution. There are many features and it has no tutorial. But don't worry, as it's not that complicated!
The first step is to purchase your first level 1 building, which is actually a Kombi. It will generate coins automatically, which can be used to buy more constructions at the same level. Keep in mind that you can only merge structures of the same level. So, the next step is to get another Kombi so they both merge and upgrade to level 2.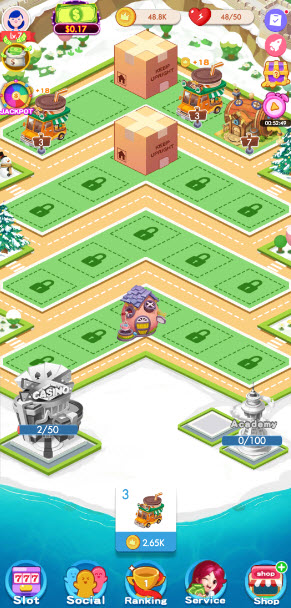 The higher the level, the more coins you will earn! Once you upgrade and unlock a new building, Coin Town will give you $0.01 – $0.03. You can double your earnings after tapping on the "Profit" button and watching a sponsored video.
Sometimes, Coin Town will let you skip a few levels and upgrade faster if you watch the advert. Just keep developing your town by acquiring land and upgrading buildings.
The game has many other features that you can use to boost your earnings, such as slots, cash rain and jackpot.
Recommended read: Top 10 Secret Shopping Apps To Earn a Side Income
Big Prizes in Jackpot 
When your level gets to 20, 30, 70 and 90, you will activate the amount of jackpot, which will be added to the total amount of cash rewards. Now, when you get to Lv. 50 or 100, you will get a chance to open the Jackpot and take the reward for it. According to Coin Town, there could be a big cash prize and even high-tech products waiting for you.

Missions and Activities
There are two kinds of missions producing cash rewards. The daily Cash Missions and the Slots missions. Both of them offer a stable amount of cash, but don't expect a lot! Cash rain and other festival activities will also let you collect some extra cash.
Inviting Friends
Coin Town also rewards users for inviting friends. You just need to share your exclusive link or code and ask the person to install and use the app. When any referral gets to Lv. 30, the first part of your reward will be credited to your account. The higher the level your invitees get to, the bigger the amount of cash you will earn. The good news is that the cash you win using this method can be withdrawn instantly with no limitations.
How Do You Get Paid? 
If you tap on your cash balance at the top, it says you need to have at least $30 to redeem $3 via PayPal. That means virtual dollars are worth ten times less than actual currency.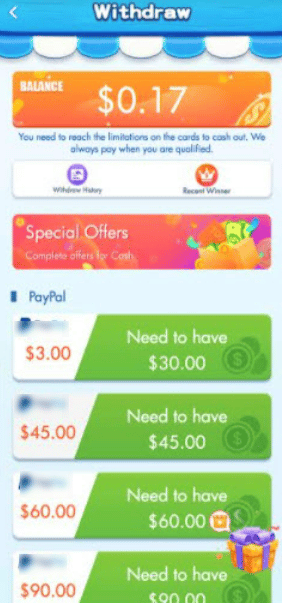 The truth is that you must play Coin Town for a very long time to cash out. To give you an idea, I spent almost 30 minutes to go from level 1 to level 8 and made only $0.18. 
After conversion, that's not even 2 cents! Therefore, saying that you can earn over $100 from Coin Town is an overstatement. It would probably take ages to reach this amount, but only if there are enough levels to keep playing for that long.
Is Coin Town Legit? Does it Pay? 
I am always very busy writing articles for this website, which makes it hard for me to play games for a very long time. Therefore, I visited the reviews section on the Play Store to see what players are saying about Coin Town.
After reading lots of testimonials, I realized that very few people reach the minimum cash out amount.  Yes, it takes a very long time because unlocking additional levels give you less than $0.03. So, you must take advantage of many other features that the app provides.
I went through all the reviews and only found 2 users that supposedly received the $3 payout.


Unfortunately, some people reported they didn't get any money. I believe Coin Town is legit, and you have a good chance of receiving the payment if you persist. However, there is no guarantee! 
I want to draw your attention to the fact that you have no right or title to Virtual Items. Also, the Terms of Use states that Coin Town may regulate, manage, change and delete virtual items whenever then want.
Pros and Cons
Pros 
Nice graphics.
It helps to pass the time.
It's very addictive, which can also be a negative thing.
Con
The game is very slow and glitchy even if you have a good internet connection.
The cash out requirement is too high.
There are many ads, but that's how the devs can reward users and also make profits.
The support team is responsive.
It consumes a lot of internet data.
Conclusion 
Coin Town is probably the only merging game that pays. But just like most money games and reward apps, it doesn't make any promises. They can control your earnings and reject your payment for no reason at all.

This reward platform is going viral! Cash out via PayPal, Visa, Gift Cards, and in-game currencies - Click here to find out how to generate an extra $10+ per day! 
The app description says that you can make anywhere between $100 and $200, but that's very unrealistic. It takes a very long time to reach $30, which is actually worth $3 when you make a payment request.
Keep in mind that you may have to watch hundreds of videos before cashing out. Therefore, it will consume a lot of mobile and wi-fi data, which is not free unless you are using public internet. Therefore, I don't think it's worth playing Coin Town for money because the reward is so small that it may not even cover your data.

Final Words
Thanks for reading my Coin Town app review. I hope it was informative enough! If you have questions, feel free to leave us a comment below.
Peace!