Welcome to my Coin Carnival app review!
In today's post, I am going to expose another coin pusher app that supposedly awards big jackpots. It's called Coin Carnival! The developer says nothing about earning real cash rewards. So, could it be just a simulation!?
Well, many people are playing this game with the expectation of transferring their virtual balance to PayPal. It's human nature to this type of game pays actual money.
After all, what's the point in dropping coins and playing slots only to earn virtual currency that doesn't put food on the table?
In this review, I am going to show you how this game works and give you my honest opinion. Does it pay? Is it legit or a fake money game? Let's see…
Before you leave, check out the step-by-step program that helped me reach $1,600+ per month from my laptop and quit my job in 2019. No special skills are required! Click here for full details and free registration! 
Coin Carnival App Review 
Developer: Triwin Games
In-app purchases: $0.99 – $49.99 per item
Eligibility: Worldwide
Price: 100% free to play
Overall Rating: 2/5
What is Coin Carnival? 
Coin Carnival is an arcade coin machine game where you must push coins off the edge to collect rewards. The game is free to play, but it has lots of in-app purchases to get more coins, cash and props.
The Play Store is jam-packed with similar apps that entice players with excellent rewards! This is probably the most popular coin dozer for Android. 
I really hope nobody is spending their savings with the expectation of winning actual money with Coin Carnival.
How Does Coin Carnival Work?
Installation and Registration
Coin Carnival is available for Android devices. After launching the app, it encourages you to sign in with Facebook to ensure the preservation of your game progress. You will also get 50 coins if you do so.
They ask permission to access your location, photos, and files on your device. However, you can just click "Deny" and carry on.
How to Play Coin Carnival
Just tap your screen to drop the coins on the platform. The dozer moves back and forth, pushing the pile of coins off the front edge. It's weird because whenever a coin falls, you will get another coin that you can drop again. So, in practice, you are just reusing the same coins repeatedly.
There is a recipient at the bottom that keeps moving left and right. If a coin falls into it, the game will activate the slots machine for a chance to win more coins, cash and objects.  When are out of coin, you can watch a video or buy more with actual money.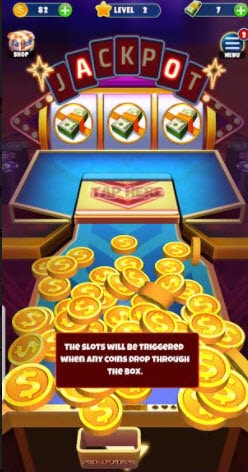 With Coin Carnival, you can also play the scratcher, fortune wheel, and puzzles. For example, in the scratch card section, it says you can win up to $4,000 if you match the winning numbers.
One of the worst things about Coin Carnival is the insane number of ads! As you probably know, the devs are generating revenue whenever you watch those videos.
Coin Carnival has many other features that speed up your earnings such as props and boosters. You can even spend your money on these perks. Find out why I don't recommend spending money on this game in the next section.
Recommended read: The Best Free Sweepstakes Apps – 100% Legit – Real Prizes
Does Coin Carnival Pay?

I noticed right off the bat that Coin Carnival doesn't let users withdraw money to PayPal or any other method. When I tapped the cash balance, I expected it would show me the minimum cash out requirement, but no…
Instead, it gave me a few options to buy digital currency, not cash out. The cheapest option costs $1.99 and will get you 15 "cash". The question is – Why would anyone spend their hard-earned money considering Coin Carnival doesn't organize sweepstakes? You can get those virtual "Cash" for free if you watch videos. But what's the point?
Keep in mind that Coin Carnival doesn't provide a "Terms of Use." I believe no company would give away prizes without a binding agreement regarding prize draw rules. If you are serious about making money online, discover my #1 recommendation.
Is There An Alternative to Coin Carnival? 
Yes! There is an excellent and very popular coin pusher app called Coin Dozer. The company Game Circus operates daily sweepstakes worth $100 and even $1000. It's 100% legit!
They select winners at random and process all cash rewards via Amazon Gift cards. All you have to do is collect free entries by playing the game and cross your finger. The odds of winning prizes are incredibly low, and unlike WINR games like Tow Town, you cannot exchange tickets for cash.
Check my full Coin Dozer review here.
Pros and Cons
Pros
Some people find it entertaining.
Nice graphics.
Cons
There are too many ads.
No "Terms of Use."
There are no giveaways.
Conclusion 
Coin Carnival makes people believe they can win big Jackpots, such as the $4,000 prize in the scratch card game. They encourage players to purchase coins, props, and other virtual items, which are worthless because there is no option to cash out.
The company provides no documentation regarding prizes, so I can only assume there is none! Some people think Coin Carnival is a fun game, and that's fine! You can play it to pass the time like a normal game, but don't expect to earn any money from it.

Earn a Full-Time Income Online
If you dream of making hundreds and even thousands of dollars from home, I suggest you to grow an affiliate site. It's not so difficult to set this up, but it's crucial to understand how to optimize your pages to rank high and get traffic.
I started by website back in 2015 thanks to this excellent step-by-step program. Today, it allows me to work remotely and whenever I want. You can join for free and start your first 10 lessons, but before you do, be aware that it requires time and commitment before you start making money.

This reward platform is going viral! Cash out via PayPal, Visa, Gift Cards, and in-game currencies - Click here to find out how to generate an extra $10+ per day! 
Final Words
Thanks for reading my Coin Carnival app review. If you have questions or thoughts about this game, use the comment box below!
Peace!