I am writing this review to warn people about another board game called Lucky bar. The developers are advertising this app as an amazing opportunity to withdraw real money via PayPal.
All you have to do is roll the dice and collect rewards with absolutely no effort! Then, you can supposed cash out after watching 100 videos and being active for 7 consecutive days.
You suspect Lucky Bar fake, but because it's available on Google Play, you still nourish hopes you will get paid. So, what's going on with this game? Does it pay or not? Read the full details before playing!
RECOMMENDED: Check out the step-by-step program that helped me build an affiliate site and quit my job in 2019. No special skills required! 
Lucky Bar App Review
Developer: Ma Zong
Eligibility: Worldwide
Payout threshold: Several options available
Price: Free
Overall Rating: 

1

/5
How Does Lucky Bar Work?
Lucky Bar is an Android app that allows you to play a Board game, Scratchers, Lucky Wheel, and Slot Machine. Just like most mobile games, it generates revenue by showing sponsored videos. The fundamental difference is that it entices users to play in exchange for cash rewards and a Samsung Galaxy S20.
Right after launching the game, you will see this message: "Your get $50 – Redeem Gift Cards or cash out." After you tap "Get", they credit your account with $50, and say you can cash out with Paypal once you get up to the specified amount. However, when you enter your cash balance, you find that you actually need to watch 100 videos and play for 7 days. 
Lucky Bar also gives you other virtual items such as Gems, Amazon cards, and fruits. You can supposedly trade these for cash rewards if you meet the following requirements:
100 Fruits = 100 USD PayPal
 5 Million Gems = 5 USD PayPal
100 Amazon cards = 10 USD Amazon voucher
100 777 = 1000 USD Amazon vouchers
Board Game
This is the main game inside Lucky Bar! You must tap the roll button to move the pin according to the numbers you get on the dice.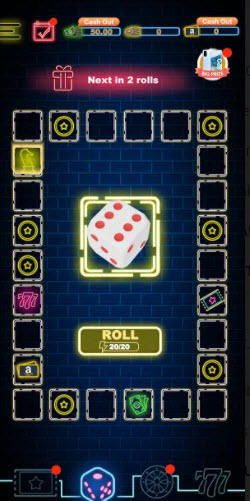 You start with 20 rolls, but you always get a free dice per minute. If you run out of dices, you can always watch a video to get more instantly. When you hit specific places on the board, Lucky Bard awards you tokens, virtual cash, and free spins. In addition, you will have the chance to win a gift after 3 rolls, but only after watching a video. You can also collect more rewards by playing the other games that I already mentioned.
Scratcher
There are 20 scratchers available daily. Swipe your finger to scratch the card and if you match 3 symbols, you will win the jackpot of $10,000.
Lucky Wheel
Spin teh Lucky Wheel for a chance to win cash, amazon cards, scratchers, coins, and more!
Lucky Reward
Play the slot machine and collect fruits, cash, and 777. Each spin costs 1000 coins. Keep in mind that coins cannot be converted to cash or used for anything else on Lucky Bar.
Lucky Spin
As if all that wasn't good enough, Lucky Bar has a Lucky Spin game that allows you to collect phone puzzles, cash and coin. Apparently, the company is giving away a Samsung Galaxy S20 for those who collect 10 puzzle pieces.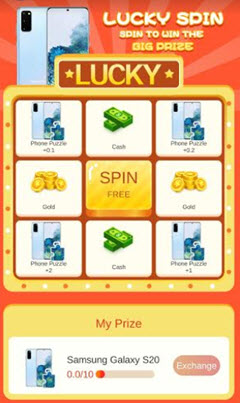 Does Lucky Bar Pay Real Money? Is it Fake? 
No, Lucky Bar doesn't pay. I am confident about it because the developer doesn't even provide the "Terms of Use". Besides, the cash rewards are very unrealistic for an app that only generates revenue from advertising.
I have reviewed hundreds of games that claim to pay via PayPal, but most of them are rigged and don't let players cash out. With Lucky bar, you may never collect the last fruit, puzzle piece, or card to redeem for real prizes.
They claim you will withdraw the money after watching 100 videos for 7 days! Well, you can request the payment, but I doubt you will get paid.
Think about it! Where is the money coming from? Advertsising!
But how can Lucky Bar pay you over $100 if 100 views may not even help the company make $10? It's impossible!
To make matters worse, the devs are preventing users from leaving honest reviews on Google Play. They do it by launching an incomplete version of the app (Early Access) and keep it like that forever!
Conclusion 
Lucky Bar is another gaming app that makes you think you will earn lots of money by completing their requirements. However, they provide no evidence that players are making money. So, in my opinion, it's an illusion to get you to watch their sponsored videos.
If it was a real, they would quickly remove the "Early access" badge and let people spread the word. Instead, they probably block reviews on Google Play in fear of criticism. The truth is that those who operate this app have no obligation to pay anyone. If you don't want to waste time and internet data, avoid Lucky Bar at all costs.
Is There an Alternative to Lucky Bar? 
If you wish you could earn a little extra cash by playing fun games on your phone, I suggest you to join a reputable GPT site. Prizerebel is my top recommendation!  There are also a couple of legit apps that reward user for trying sponsored games. Check out this updated list and give preference to those that are more likely to pay you.

How I Make Money Online
It all started in 2015 when I discovered the possibility of building an online business and becoming a digital nomad. I fell in love with this way of life and took massive action to achieve it! Today, I work from wherever I want and explore beautiful places without the constraints of a 9-5 job.
In short, I create helpful content for my own site, which attracts 2 thousand visitors per day from Google.
If you value time and freedom, why not check this business model more closely? With proper training and mindset, you can achieve remarkable result too. Here is the step-by-step program that will help you get there! 

This reward platform is going viral! Cash out via PayPal, Visa, Gift Cards, and in-game currencies - Click here to find out how to generate an extra $10+ per day! 
Final Words
Thanks for reading my Lucky Bar app review. If you want to share your honest review or ask any question, use the comment section below. Peace!