Welcome to my Candy Crack app review!
I just came across another addictive elimination game called Candy Crack.
The developer advertises the application as an opportunity to earn lots of PayPal money.
However, when you check the app description on Google Play, there is no trace of rewards. In fact, they even removed the cash balance from the game screenshots.
I guess you don't want to play this game and watch a ton of ads just for entertainment. So, is Candy Crack a legit or fake money game? Does it pay or not?
If you are searching for a legit platform that transfers real money to PayPal, click here and discover my top-rated gpt site. Members are making over $200/mo on the side just by completing simple tasks from their phone or laptop.
Candy Crack App Review
Full Name: Candy Crack
Developer: Sophia Games
Eligibility: Worldwide
Price: Free (no in-app purchases)
Overall Rating: 

1/5
What is Candy Crack? 
Candy Crack is a casual match-2 puzzle game where you tap at least 2 identical candies to eliminate them.
The game awards virtual dollars and coins that you can supposedly withdraw via PayPal, Amazon gift cards and cash app credits. However, you can only cash out once you reach $1000 or 50 million coins.
As you probably know, the developers profit off of the ads people watch during the game.
By claiming that players can make a decent amount of money, they entice people to watch countless videos.
How Does Candy Crack Work?
Candy Crack is available on Google Play for Android devices.
Be aware that as soon as you install the app on your phone, you grant access to your photos, and other files.
So, if you care about your privacy and data, think twice before installing Candy Crack. It's better to be safe than sorry!
Tired of fake money games? Join this Gpt site for free and earn real money today!
How to Play Candy Crack? 
It's very straightforward! Just click on 2 or more identical candies to destroy them and fill up the score bar. The more candies you eliminate at once, the higher your score.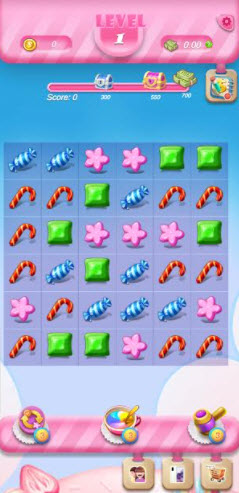 Once the progress bar hits specific milestones, you will earn virtual dollars and gold coins.
You can always claim the reward twice by watching a video ad, which is usually promoting a fake money game. Be careful with deceitful ads! 

Try to destroy as many candies as you can to open all the chests and maximize winning.
By playing Candy Crack, you will gradually unlock other games such as the slot machine, scratch cards and the lucky raffle. They allow you to collect more rewards and props.
Win Big Prizes
Candy Crack also gives you puzzle pieces so you can redeem PS5, Switch, iMac 2021, 0.85 Bitcoin, and many other prizes.
You may get the fragments by playing Candy Crack, Bubble of Puzzles and the Lucky Spin. This is another tactic for them to get you to watch even more ads!
How to Cash Out? 
As you already know, Candy Crack gives you coins and virtual cash during the gameplay.
They claim you can withdraw using PayPal or Amazon gift cards once you reach $1,000 or 50 Million coins, respectively.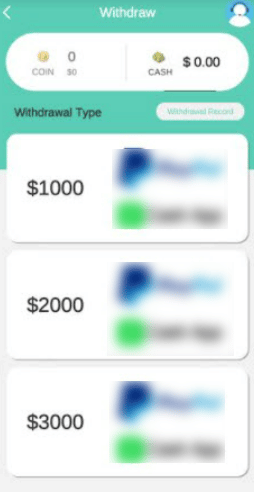 The Terms and Conditions state that if they can deny your payment request if they detect abnormal activities. However, they don't go into details as to what is considered "abnormal".
Is Candy Crack Legit? Does it Pay? 
No. Candy Crack does not offer real cash payouts! I checked the reviews on Google Play and coudn't find a single person who received the money.
Many users complain that the game stops giving cash prizes and freeze at a certain amount. Therefore, people cannot cash out since they need at least $1000.

Another person reported reaching $1,000, but when she tried to redeem, they said she had to log in for 400 days.
The same applies to puzzle pieces. You may never collect enough fragments to claim those prizes!
They can avoid payments with the excuse that they detected abnormal activities. But as they are not obligated to pay you, they don't even need to provide an explanation.
Don't trust any application when they say you can earn lots of PayPal money if you reach this or that requirement. They will never pay you no matter how long you play!
All they want is to make money off of advertising players are led to watch during the game.

This reward platform is going viral! Cash out via PayPal, Visa, Gift Cards, and in-game currencies - Click here to find out how to generate an extra $10+ per day! 
Is There an Alternative to Candy Crack?
Yes, there are at least six block puzzle games that actually pay. Here is the list:

Bitcoin Blocks: Developed by Bling. It transfers Bitcoin via Coinbase. Full Bitcoin Blocks review here. 
Bitcoin Blast: This game is also operated by Bling and provides the same payment method. Full Bitcoin Blast review here. 
Crypto Connect 3: Developed by Phoneum, the app pays PHT to your Phoneum wallet.
CryptoRize: This match-3 game allows you to cash out via Bitcoin, Litecoin, Etherium Ripple and USD satoshi.
Toy Town: This game gives you entries into the weekly prize draw worth $3,000. You can also exchange tickets for cash and withdraw $10 via PayPal.
Just remember these games provide a very low income potential. To give you an idea, most players earn pennies or even fractions of a cent.
Conclusion 
Don't waste your time playing Candy Crack with the expectation to earn real cash or big prizes. Make no mistake. You won't get paid.
The only ones making money with the app are the developers, who designed and promoted the game with vested interests.
Verdict: Not Recommended 
Earn a Full-Time Income Online
If you dream of working from home and earning a decent amount of money, I suggest you build an online business.
In 2015, I discovered this excellent step-by-step program that helped me create and scale a successful affiliate site.
I had no previous experience, but I applied all the strategies in the training and worked hard to achieve my goals. The result? Now, I have the freedom to work whenever and wherever I want.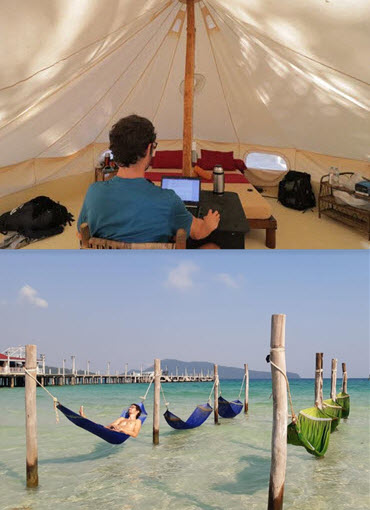 Take advantage of what the digital economy offers and pursue wealth in your life.
You don't need to be an expert nor reinvent the wheel to succeed. Just follow what others have already done and take massive action!
>> Click here for full details! 
Final Words
Thanks for your time to read my Candy Crack app review. I hope it helps!
So, what is your opinion about this game? How was your experience? Feel free to leave an honest comment below.
Peace!