Welcome to my Super Wow Solitaire app review!
Over 100,000 people are playing Super Wow Solitaire with the expectation to cash out $300 to PayPal.
The developers advertise it as if players could win hundreds of dollars in a few seconds, which is very unrealistic. 
It doesn't surprise me at all! There is an incredible number of card games on Google Play that supposedly dish out free cash rewards. But they never pay a dime! 
I writing this post to expose the game since it can help many people save time and energy.
So, is Super Wow Solitaire a legit or fake app? Does it pay once you meet the minimum payout threshold?
You won't regret the information I am going to share with you here!
RECOMMENDED: Check out the step-by-step program that helped me reach $1,600 per month and enjoy the laptop lifestyle. No special skills required! 
Super Wow Solitaire App Review
Full Name: Super Wow Solitaire
Developer: Szabo Kim
Eligibility: Worldwide
Price: Free (no in-app purchases)
Overall Rating: 

1/5
What is Super Wow Solitaire?
Super Wow Solitaire Pop is another classic solitaire game that dishes out virtual dollars and claims to pay when you reach $300.
The app was developed by Szabo Kim, an individual based in Hong Kong. Apart from his email and corporate address, there is no other information about him.
During the past two years, I've reviewed lots of similar games such as Cash Solitaire, Solitaire Bigwin and Solitaire Jackpot.
Unfortunately, none of them are processing payments for players who meet the requirements.
How Does Super Wow Solitaire Work? 
Games like Super Wow Solitaire are 100% free because the developer is making profits from the ads you watch. In fact, that's the major reason they are enticing players with cash rewards.
They now that this tactic will persuade more people to install and play the game for much longer. By doing that, they make money for themselves!
Installation and Permissions
You can install Super Wow Solitaire on Google Play and start the game right away.
If you already have this app on your phone, be aware that you are giving unrestricted access to your photos, videos and other files.
Another important piece of information is that Super Wow Solitaire doesn't provide a Privacy Policy. So, they definitely don't respect your data privacy! 
For this reason, I wouldn't keep this app on my phone even if actually paid a decent amount of money.

How To Play Super Wow Solitaire? 
Move the cards from one column to the other so as you arrange the cards, which must be in the correct order and alternate between red and black.
If you are not familiar with card, here is the sequence from low to high:
A, 2, 3, 4, 5, 6, 7, 8, 9, 10, J, Q, K.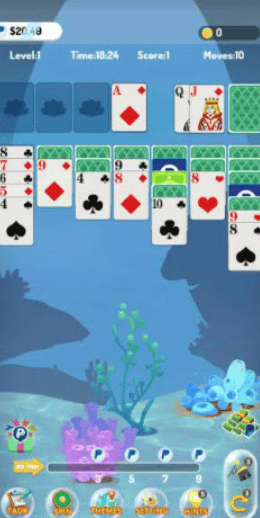 The goal is to place all the cards in the four foundations at the top. Each foundation can only contain one of the following suits: diamonds (♦), spades (♠), clubs (♣) and hearts (♥).
If you feel stuck, you can undo or get a "hint" to make the game easier for you.
How to Earn Virtual Cash
You may find blue cards with the PayPal logo between the other ones in the column. Once you flip this card, they will offer you virtual dollars as long as you tap "Collect" and watch the video ad.
You earn more rewards if you finish the game a specific number of times or tap the floating icon on your screen.
In this post, you can find the best survey apps to earn real PayPal money.
How Do You Get Paid?
Depending on your location need to reach $300 or $800 to be able to withdraw via PayPal.

Now, I will show you why these requirements is an utter nonsense!
Is Super Wow Solitaire Legit? Does it Pay?
Nope! Super Wow Solitaire will never pay you a dime. I have seen enough evidence on Google Play from users who cannot cash out despite playing the game for a very long time.
People experience different outcomes that prevent them from receiving the payment.
For example, one player reported that after he earned $300, Super Wow Solitaire came up with more requirements. The person had to play for another 7 days and complete the solitaire game for 1000 times.

This reward platform is going viral! Cash out via PayPal, Visa, Gift Cards, and in-game currencies - Click here to find out how to generate an extra $10+ per day! 
Another person claimed all his money disappeared when he finally made it to $800. Some players don't even see the cash out button!
There is no chance of earning real money from games that overuse the PayPal logo and claim to pay hundreds of dollars. That's pure illusion to get you to watch a countless videos in return for nothing.

Conclusion
Don't waste your time with Super Wow Solitaire if you are just playing for money.
Virtual dollars have no real currency value and the developer does not seem committed to reward anyone.
I don't like the fact that these guys don't provide a Privacy Policy for users. Seriously, I don't even know how Google allows such anomaly in the platform!
Don't fall for fake money games! There are many legit applications and sites that pay you for your online activity.
Verdict: Not Recommended
Earn a Full-Time Income Online
Growing an online business made an enormous difference in my life, especially because it allowed to quit my job and travel long term to incredible places!
You could work anywhere as long as you have a laptop and internet connection. It's all about providing value to the internet.
Me, personally, I created this website where I publish helpful reviews on mobile apps. Then I generate revenue by placing links and banners. You can do the same in any niche market you want!
In 2015, I discovered this excellent training that took me by the hand and showed me effective strategies to create a lucrative online business.
>> Click here to learn more about this unique platform!
Final Words
Thanks for reading my Super Wow Solitaire review! I hope this post helps to raise awareness and save your time. If you want to share your experience, please leave us a comment below!
Peace!