Welcome to my TopRich app review!
I was was on YouTube yesterday when I was recommended a video about this application called TopRich.
Since the title had to do with earning actual money, I thought this would be a relevant game to review on my blog.
With over 100,000 installs on Google Play, TopRich does not differ too much from other merging games such as this popular merging dogs app.
Players just have to combine same level cars to unlock new ones and collect virtual dollars.
Your cash balance will grow steadily as you play, but does will you receive the payment? Is TopRich a scam or legit application?
Keep reading to find out!
Don't forget to check out the step-by-step program helped me build an online business quit my job for good in 2019. It's 100% newbie-friendly and has a free membership to test the waters. 
TopRich App Review
Full Name: TopRich
Developer: ABCGameTeam
Eligibility: Worldwide
Price: Free (no in-app purchases)
Overall Rating: 

1/5
What is TopRich? 
TopRich is another merging game in which players unlock new cars by merging those at the same level. As you unlock new cars, you will collect virtual dollars that may be cashed out if you meet certain requirements.
There are also dividend cars that supposedly pay 20% of the platform's advertising revenue. The idea of earning a share of the company's profits just for playing their game seems too good to be true. 
How Does TopRich Work? 
Installation
TopRich is available on Google Play and it's 100% free to play. After launching the app, sign up using your Facebook account and enter an invitation code if you have one.
It's important to know that TopRich app has access to content in your USB storage. Meaning they can read, modify and even delete files in your phone.
So, if you care about your privacy and data, uninstall this application because there are no guarantees. Better be safe than sorry!
>> Click here for my #1 recommendation for making money online!
How to Play TopRich? 
It's very simple! Buy cars using Gold and combine identical cars to unlock new ones at a higher level.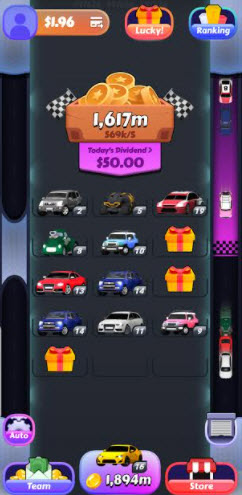 Every car will keep moving in circles and earn a specific amount of Gold at every turn. The higher its level, the more Gold it will generate per second.
For example, a car level 1 generates 1 Gold/s, whereas a car level 13 awards 8,191/s.

Although you are earning a lot more Gold with higher-level cars, it takes a long time to achieve progress.
Therefore, you will be enticed to watch a video ad in exchange for 2 hours' worth of gold. This will help you buy higher level cars and speed up the game.
Earning Virtual Cash
In the beginning, TopRich will give you $0.20 – $0.35 every 2 or 3 unlocked cars. Unlike other money games, you don't need to watch a video to collect the reward.
For time to time you, you will get a dividend car, which pays 20% of the company's ad revenue. There is a limit of 100,000 cars per day awarded on a first-come, firs-served basis.
According to TopRich, you can get dividends by merging two top level cars or through continuous gameplay.
While I was testing the game, I earned three dividends worth $0.20 each.
How Do You Get Paid? 
TopRich provides see six withdrawal amounts: $0.05, $0.20, $10, $50, $100 and $200. For example, to redeem $0.05, you must watch 5 videos and reaching level 10.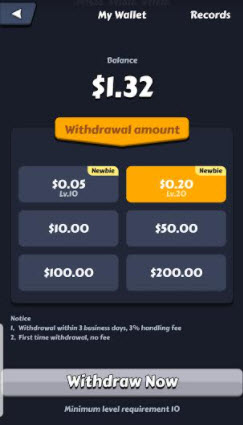 When you fulfil the requirements and activate the payout, the app will show you 8 payment options.
Currently, the only ones available are DOGE coin, Litecoin, USDT and TRX Tron. PayPal is not available yet, so you should install the specific wallet to redeem your crypto.
Another downside is that when you try to cash out Litecoin or DOGE coin, they say you cannot do so because the minimum withdrawal amount it $0.07 and $0.70 respectively.
However, my balance was $1.91 when I tried to cash out. So, there is probably a glitch!

If they let you cash out, all you have to do is submit your wallet address in the space provided. If you don't have one, you need to install a wallet on Google Play and create a free account. I used TronLink Pro to receive Tron.
Is TopRich Legit? Does it Pay? 
I was surprised that TopRich allowed me to cash out $0.05 to my Tron Wallet. However, they only sent me 0.196 TRX, which is equivalent to $0.015.
I thought the reason I got just 1 cent instead of $0.05 was that I was charged a transaction fee. TopRich claims to charge only 3% of handling fees, so I am still wondering why they paid me three times less.
After I cashed out, they removed the $0.05 and $0.20 payouts, increasing the minimum threshold to $10.

This reward platform is going viral! Cash out via PayPal, Visa, Gift Cards, and in-game currencies - Click here to find out how to generate an extra $10+ per day! 
You see, the problem is that it takes an incredible amount of time to unlock higher level cars and collect virtual dollars.
Not only that, but the more you play, the less money you will earn. For example, they gave me just $0.10 for unlocking car number 19.

Lots of people reported they are struggling to cash out. One person said that he no longer received rewards from lvl 18 to lvl 27.
If I am lucky, I believe it will take me one or two months to reach $10 and receive the funds.
However, even if I get there, it doesn't mean they will pay me for the second time. There are no guarantees!
I would say TopReach is legitimate, but I suspect players are unable to redeem $10 or more.
Conclusion 
Despite a few glitches, I think TopRich is a nice game for killing time. They will probably let you can out the smaller amounts via three cryptos: Tron, Doge coin and Litecoin.
It doesn't take too long to receive your first payment, but when you try to cash out $10, then it's another whole different story. You will probably have to play for months and watch so many videos!
I think they are only rewarding 1 cent to build up confidence and get people to play for longer. But unfortunately, there is a high chance you won't receive the higher payouts.
I coudn't find any evidence that TopRich pays over $10, and besides, the developer is not obligated to reward anyone.
>> Click here to find game apps that actually pay! 
Final Words
Thank you for reading my TopRich app review. I hope it was informative!
So, did you play the game? If so, how much money did you make? Share your results in the comment box below.
Peace!