Welcome to my Words Tour: Jourvey Review!
Google Play is jam-packed with Crossword puzzle games that will challenge your brain and keep you entertained for many hours.
Some of these apps have added a key ingredient to the fun: MONEY!
Words Tour: Jourvey is advertised as an opportunity to earn cash rewards just by playing the game.
There is no information about rewards in the app description, but users play the game in hopes to convert virtual dollars to real money.
So, does Words Tour offer a real opportunity to earn money? Is it a scam or a legit application?
Check out my brief review to find out!
Before you leave my blog, you may want to discover the step-by-step program that helped me reach $1,600+ per month from my laptop and quit my job. It's free to get started.
Words Tour: Jourvey App Review 
Name: Word Tour: Jourvey
Company: niketopame
Type: Word puzzle
Membership Eligibility: Worldwide
Price: Free
Overall Rating:

1.7

/5
What is Words Tour: Jorvey? 
Words Tour: Jourvey is another word puzzle game where players must swipe the letters to form hidden words. it's very similar to Wordy Word, Word Connect, Word Peace, Word Relax and the list goes on and on.
The app is operated by Niketopgame and has been installed over 1 million times. Why is it so popular? Well, probably because of the way Words Tour was advertised in other money-making games.
I haven't seen the ad, but I can imagine a PayPal balance going up and reaching hundreds of dollars.
The game is all about connecting letters and forming hidden words.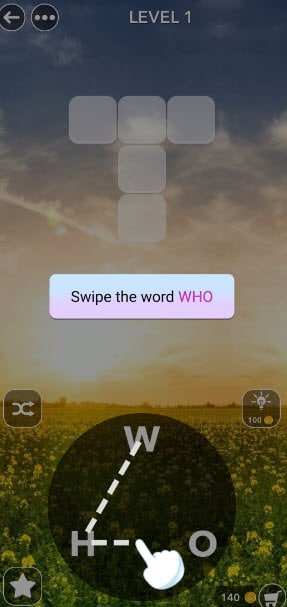 Once you guess all the words and pass the level, you will earn virtual currency that you can supposedly cash out once you reach $100.
The question is – will you ever reach this amount?
Is Words Tour: Jourvey Legit? Will They Pay You?
Thousands of people are playing Words Tour with the expectation to reach $100 and cash out via PayPal.
I installed the app on my Android, but it does not give any cash rewards after passing levels. There are only coins that I can use to buy hints.
However, when I check the reviews on Google Play, I can see lots of people are still getting virtual currency. If you installed the app recently, let me know if you can get cash or just coins.
The number of negative reviews is mind-blowing!

After months, users still cannot make any money because the game is programmed to give smaller and smaller incentives as they approach $100. At some point after $90, you will be making 1 cent after each level or more.
Understandably, people end up very frustrated and angry with this pattern.
So, it doesn't matter how long you play, Words Tour: Jourvey will likely never pay you.
Does it mean Words Tour is a scam?
Well, they are not making any promises, so in the eyes of the law, I don't think they are doing something illegal.
Nevertheless, it's causing too much disappointment as you can see in hundreds of negative reviews on Google Play.
How Does Words Tour: Jourvey Work? 
Words Tour: Jourvey is a free game available for Android devices in all countries.
There is a monthly subscription of $29,99 per month just so you can play with no ads and collect 1000 coins daily.
I think that's very expensive!
Once you install the game, you can start playing right away. Simply swipe to connect letters and form hidden words.
The crossword puzzles get more and more challenging at higher levels when you will have to connect 4 or even 5 letters.
By unlocking all the hidden words, you will level up and earn either cash or coins. There are 4,000 levels!

As you already know, the closer you get to $100, the less Words Tour will "pay" you.
Some people said that when they reached $96, they stopped adding cash and had to complete app offers in return for more cash.

That's ridiculous because they didn't mention anywhere that installing other apps would be necessary.
Still, even if you complete these offers, you may never get paid.

This reward platform is going viral! Cash out via PayPal, Visa, Gift Cards, and in-game currencies - Click here to find out how to generate an extra $10+ per day! 
Conclusion 
Words Tour: Jourvey is a fun and challenging game that exercises your brain and helps you pass the time.

However, it's not an app to make money. You may have to play thousands of levels and watch hundreds of videos only to get stuck at $96.
If people used this top-rated GPT site instead of playing this app for months, I am sure most of them would have reached over $100 during the same period.
How To Earn a Full-Time Income Online
Google Play has been flooded by money-making games that use misleading advertising to thrive at the expense of people's time.
Luckily, the internet is still an open space with a free flow of information, so more people are becoming aware of such apps.
If you want to supplement your income or even quit your job to work online, I recommend getting rid of apps and building your own online business.
For example, you can make thousands of dollars per month by becoming a content creator and promoting products as an affiliate.
Luckily, I found this step-by-step program that helped me create a lucrative affiliate site, which covers all my living expenses and travels.
This is me, working and enjoying life in SE Asia.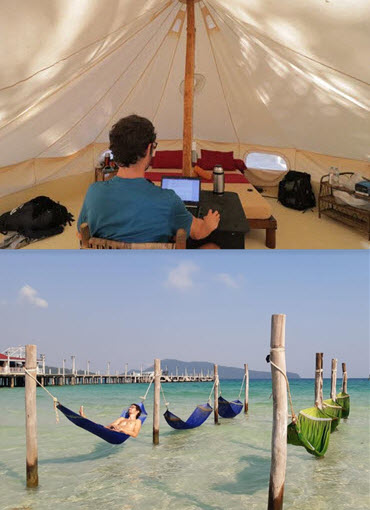 You can achieve great results too, but please remember that success doesn't happen overnight.
You have to take massive action for a long period of time before you can reap the rewards.
Final Words
Thanks for taking the time to read my Words Tour: Jourvey app review. I hope it was helpful!
If you have any questions or want to share your experience with this app, feel free to leave a comment below!
Stay safe and peace out!