Welcome to my Testerup review!
I stumbled upon Testerup, an app that boldly claims you can become a product tester and pocket up to $120 for each task.
You've probably heard this story before. Haven't we all seen countless apps and sites promising the moon and stars with easy money?
They paint a picture where you're some undercover agent, giving companies valuable insights and earning big bucks.
But what's the real deal? Are you truly being valued for your opinion, or are you just another cog in their marketing wheel?
Many of these platforms offer grand illusions to profit from your time while sharing a few pennies here and there.
Some are even downright scams, leading unsuspecting folks into a deep rabbit hole.
So when I saw an ad for Testerup, I was naturally skeptical.
Yet, curiosity got the best of me, and I dove headfirst to see what it was really about.
Are you curious too? Want to know if Testerup is the real deal or just another fake reward app?
Does it live up to its promises or fall flat? Dive into my review, and I'll spill all the beans so you don't have to waste your precious time.
Ready to trade in your 9-5 for a laptop lifestyle? This excellent step-by-step program helped me generate $2,000+ per month and can help you do the same. Click here to find out!
Testerup Review
Name:

 Testerup

Advertiser:

 aestimium GmbH

Eligibility:

 Worldwide

Payout Threshold:

$70

Overall Rating: 2.4
What is Testerup?
Testerup is an intriguing player in the world of online testing gigs.
Touted as Germany's premier platform for paid online tasks, it boasts an impressive roster of over 3 million testers.
That number can't easily be ignored, suggesting a vast community of Android and iOS users.
Testerup promises its user base regular invites to review and test the latest products, apps, and websites.
But as with many things that seem too good to be true, some aspects of Testerup raise eyebrows.
One glaring inconsistency is their claim of potential earnings. On Android's Play Store, they claim to pay up to $140, whereas, on the App Store, it is up to $800! 
It's a disparity people can't brush under the rug. 
Testerup is owned and operated by a German-based company called aestimium GmbH and has some strong backing. 
Testerup asserts it's backed by Verbraucherschutz.de, one of Germany's leading websites guiding consumers to smart decisions.

Moreover, the app says it's got the green light from TÜV, a respected authority known for its rigorous quality checks.
Such endorsements should make Testerup shine, right?
However, I couldn't confirm these claims after digging around on both platforms. 
How Does Testerup Work? 
Testerup is available on Android and iOS devices and caters to users around the globe.
Initial Setup and Dashboard
When you open the application, the system will prompt you to register using your Google or Facebook account.
After you've signed up, the dashboard displays your total credits and showcases a list of available offers.
For instance, one of the first offers I noticed was for Coin Master, which supposedly pays out 128 GBP.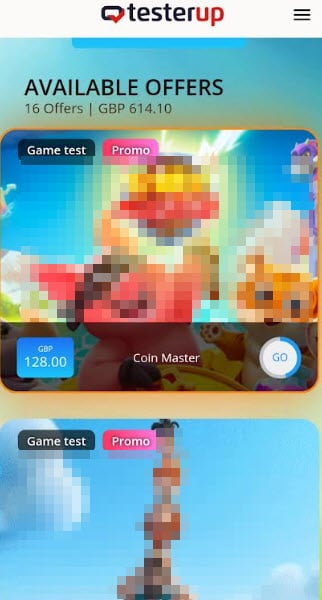 Starting a Task
Click "start offer now" for more details about the specific task and vital instructions.
Make sure to read and accept the terms of service, and then follow the given steps to earn your reward.

Some offers, like Match Master, will display a checkmark once you achieve certain milestones.
Most games have multiple goals, and how long you want to play is up to you.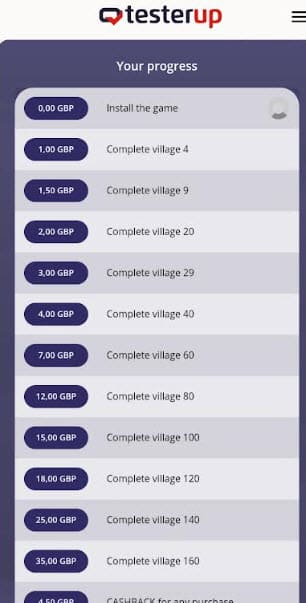 It's important to note that iOS users must agree to tracking. Otherwise, your progress will not be recorded, and you won't get paid. 
Be mindful! Games with substantial rewards might ask you to make in-app purchases, reducing your net profit.
Currently, in the UK, offers range between 2.50 and 128 GBP.

This reward platform is going viral! Cash out via PayPal, Visa, Gift Cards, and in-game currencies - Click here to find out how to generate an extra $10+ per day! 
Survey & Research Offers
Testerup also pairs you with marketing research firms.

You might be tasked with signing up for platforms like InCompass, earning you 2.50 GBP.
InCompass, in particular, lets you access the MediaCell + app to track and monetize your media interactions.
In essence, these research companies reward you for insights into your purchasing habits.
That helps businesses improve their products, marketing strategies, and overall customer experience.
Refer & Earn
You can also boost your earnings by recruiting friends.
For every recruit who completes an offer, you'll get 10% of their earnings for 345 days. 
First, you have to enter the refer a friend section in the menu. Then, you will find all the instructions with your unique referral link.
You should copy that link and send it to the person you want to invite.
When you click on the link and sign up, the system will automatically designate them as your referral.
You can use WhatsApp, SMS, Facebook Messenger, email, Twitter, and Facebook to recruit new members quickly.
How to Cash Out on Testerup
Cashing out your earnings on Testerup is straightforward:
Once you're on the main dashboard, look for the "Payout" section. This is your gateway to accessing your cash rewards.  
In the Payout section, you'll see a clear display of how much money you've accumulated so far.
This helps you keep track of your progress and determine how close you are to meeting the cash-out threshold.
Speaking of which, Testerup requires you to have at least 70 GBP, 70 USD or 70 CAD before initiating a withdrawal.
This threshold is on the higher side compared to many other apps. So, you'll need patience and persistence to reach this amount.
TesterUp processes payments through PayPal.
Although the company usually processes payments within 48 hours, be aware that funds can sometimes take up to 5 working days to reflect in your PayPal account.
Before you can cash out, Testerup might ask you to verify your liveness (identity check).
This could involve processing biometric data, often in the form of a selfie.
While this step ensures user authenticity and prevents fraudulent activities, it does raise privacy concerns for many.
Submitting biometric data, especially facial features can feel invasive for some users.
There's a growing concern about how companies store, use, and potentially share such sensitive data. 

Is Testerup Legit? Does it Pay? 
The validity of Testerup as a reliable platform is somewhat controversial.
Although certain users have reported positive experiences, they have also mentioned significant drawbacks.
The odds of cashing out appear to be a 50/50 split. Users need not only persistence but a pinch of luck to see the money roll into their accounts.
One user managed to earn roughly $160 in a month and succeeded in cashing out twice.
However, this achievement was overshadowed by recurring issues.
Error messages plagued their attempts to cash out, and the app began failing to track progress in downloaded games.
Although the person received their money, the repeated glitches left a bitter taste.
Another user had a more disheartening experience. Their progress in games was mysteriously wiped overnight.
Despite their best efforts to reach customer support, responses were slow and, when received, far from helpful.
They had to provide comprehensive evidence of their actions, but they did not receive compensation even after doing so.
What Many Users Don't Realize
Many users dive into Testerup without fully understanding their payment rules.
And here's the thing: Testerup says you're not guaranteed a "right to payment."
Simply put, they might decide not to pay you, and they don't have to say why.
But here's something interesting: If you delete your account, you can cash out all your money, even if it's less than the usual $70 minimum.
Still, remember, they might ask for a selfie check before they pay you. And there are no guarantees you will receive the money! 
Conclusion 
While Testerup has indeed paid out to some users, the journey to that payout is fraught with challenges.
The lure of high rewards is there, but the substantial time investment and the risk of not being compensated make it risky.
Add to that the reported glitches and unsatisfactory customer support, and the platform might be more hassle than it's worth for many.
You might find yourself wondering if there's a better alternative.
I suggest more reputable apps like JustPlay, Mistplay, and mRewards! 

But my top-rated platform is actually not an app but a website that has stood the test of time. It's called Prizerebel, and you can check my review here! 
If you're itching to become a digital entrepreneur like myself, check out my top recommendation.
This program helped me create this website that brings me a consistent income while I can work remotely.
Building an online presence and cultivating an audience have given me a consistent income and the freedom to live on my terms. 
In practical terms, that means I'm no longer tied to a 9-to-5 grind or limited by a fixed annual leave.
Final Words
Thanks for reading my Testerup review! I hope it was informative and eye-opening!
If you've got queries or insights you'd like to share about this app, drop them in the comment section below. 
Peace!