Welcome to my Forest Pop review! 
Today, we'll dive into the depths of Forest Pop, the latest Bubble shooting sensation making some staggering claims.
You might have stumbled upon it through an advert in the middle of another game or while browsing social media.
And how are they promoting this game? 
A cheerful woman adds stacks of dollar bills to her drawer, each supposedly earned by playing Forest Pop.
Monday? $1000.
Tuesday? Oh, just $5000.
By Wednesday? An astonishing $10,000.
Are your eyebrows raised yet? Mine shot up!
And if that wasn't enough, there's this irresistible hook at the top – win $500 every 10 minutes.
Wait a minute… every 10 minutes? Really?
Then, the commercial shows the gameplay video with even more bold declarations.
"This is a game software that can make money," it proudly states.
And there's more! Apparently, there's no minimum amount to withdraw, and you can zap your earnings straight to your payment wallet.
No strings attached, or so they claim. Play more, earn more – as simple as that!
Now, I have to ask – is it genuinely possible to make a mini-fortune off a free phone game? Or is there something more than meets the eye?
Is Forest Pop legit or fake? 
Keep reading, and let's uncover the truth together! 
Before you leave, click here and discover the step-by-step program that helped me build an internet business and generate over $2,000+ monthly. No special skills are required! 
Forest Pop Review
Name: 

Forest Pop

Developer: 

Witch Doctor

Payout threshold:

$500

Price:

 Free

Overall Rating: 0 
What is Forest Pop?
Forest Pop, available exclusively for Android, is more than just your typical bubble shooting game.
Here, you aim, shoot, and match 3 bubbles of the same color to eliminate them.

Simple and fun, right? But wait, here is why the game is going viral in the past few weeks:
While popping those bubbles, players are earning coins and cash.
And once you hit the magic amount of $500, they can supposedly cash out via PayPal. Sounds almost too good to be true, doesn't it?
But Forest Pop doesn't stop there. It also features "The Hall," a list of in-app games you can enjoy.
According to Forest Pop, this section can get you cash quickly. I mean, can it get any better than this? 
Now, here's where things start to get a bit concerning. The game is still in Early Access. 
You might be wondering, "So what? Many games are." True, but it's crucial to note users cannot share their reviews on the Play Store.
That means you cannot go and check from other players whether they received their dollars. 
Why? Are they afraid of players exposing the truth?
How Does Forest Pop Work? 
Download and Availability
Forest Pop is easily downloadable from the Play Store and is available for all Android devices.
This game is available worldwide, and it's absolutely free, so you won't risk losing your money. 

Getting Started: A Quick Walkthrough
Upon launching, the game lays out a clear roadmap to riches with three easy steps:
Play the Bubble shooter game to earn cash.

Visit the Hall for even more earnings.

Cash out effortlessly to your e-wallet.
Binding Your Account – Caution
Before you embark on your earning spree, you're prompted to bind your account details.
The game requests your full name and email address linked to your PayPal account.
But here's a concerning revelation: Forest Pop doesn't encrypt this data.
The implications? Your data is exposed and might be accessible to cybercriminals. 

This reward platform is going viral! Cash out via PayPal, Visa, Gift Cards, and in-game currencies - Click here to find out how to generate an extra $10+ per day! 
Furthermore, the app's claim that you can't delete your data alarmingly contradicts data protection laws in many countries.
Handing over this data means you're giving the developers unrestricted access, and there's no guarantee they won't abuse it.

In fact, many developers are probably making money by selling your contact details on the dark web. 
How to Play
To begin your bubble-popping journey, hit the 'Lv 1' button. Your primary objective? Aim, shoot, and connect a trio of bubbles of identical colors to make them disappear.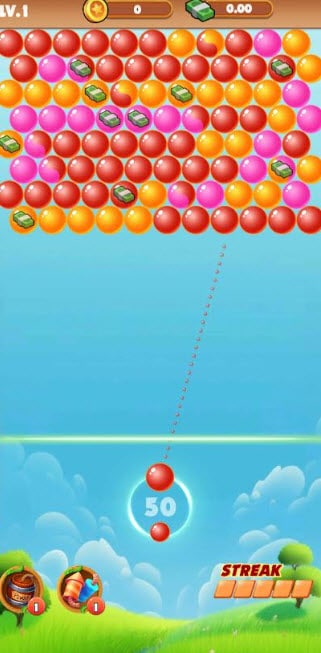 Miss a shot, and you lose a streak. Lose all your streaks, and a new row of bubbles appears, ramping up your challenge.
Look out for bubbles with coin or banknote symbols.
Pop these, and coins and virtual cash fill your account.
Every completed level presents you with a reward screen. Want to up your earnings? Simply watch a commercial.
Or, if patience isn't your virtue, advance to the next stage.
The Hall: Quick Cash? 
"The Hall" is presented as a treasure trove where you can get more cash quickly! 
Contrary to expectations, playing the games within doesn't shower you with cash. The real earnings lie behind the clickable cash icon.
But every click comes at a cost: enduring yet another advertisement.
Developers deploy this clever strategy to boost their profits because they get paid whenever you watch them!
Cashing Out
When it's time to reap the fruits of your gameplay, you have two avenues.
Either reach $500 or gather 100,000 coins to withdraw a disappointing $0.50 via PayPal.
Is Forest Pop Legit? Does it Pay? 
No, it doesn't! The alluring promises of cash rewards in Forest Pop are only pixels on your screen with no real-world value.
You're essentially playing and wasting precious time, all to make the developers richer by the minute.
That's right, you are being exploited!
They use a powerful psychological strategy, hooking you with the prospect of easy money, only to have you play ad after ad.
The more you play, the more they earn. 
Remember the advert claiming no threshold to withdraw? They lied!

No surprises here, folks; these adverts are notorious for bending the truth.
Yet, even though it takes a while to reach the $500 threshold, using the Hall can speed up the process.
After collecting the magic $500, I navigated to the cash-out page and submitted my withdrawal request.
Not trusting the developers with my data, I used a fictitious name and email.
Next, I was met with another condition: spending 20 minutes in the Hall. Since I already did, hit the redeem button straight away. 
They claimed a 3-day processing period, but then a new requirement emerged! Watch 20 videos!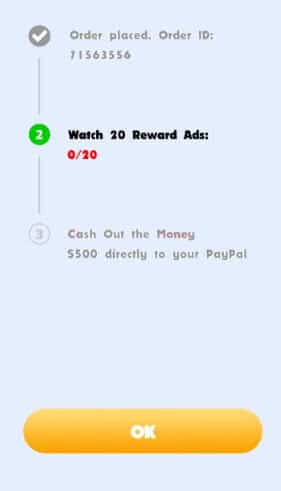 By now, you must see what's happening. They make you jump through endless hoops to increase their advertisement profits.
The cold truth is that you won't get paid. Click here and learn how to spot fake cash games like a pro! 
Conclusion 
So there you have it, the grand tale of Forest Pop, where the bubbles burst not only on your screen but also on your dreams of quick riches.
The rewards you receive in the game are not actual cash. Therefore, any attempt to acquire them is futile and a complete waste of time!
My recommendation? You can make real money online by becoming a content creator like myself! 
Yes, it takes time and effort, but imagine the benefits:
Working from your laptop.

Earning money on your terms.

Generating extra income that's life-changing, especially in times of high inflation.
I started my content-based business in 2015 thanks to this excellent step-by-step program! 
By diligently following all the lessons and implementing the strategies, I have established a thriving online business covering all my living expenses.
This community of like-minded and helpful members will take you by the hand, showing you how to grow a vast online audience and profit from your content.
Final Words
Thanks for reading my Forest Pop review! I hope it was informative and eye-opening!
If you've got queries or insights you'd like to share, drop them in the comment section below.
Peace!