Welcome to my Bubble Pop Deluxe review!
Over 100,000 people have been captivated by this seemingly simple bubble shooting game.
The pitch is enticing, isn't it?
Pop bubbles, match three identical balls, complete levels, and voila!
Cash rewards are yours, ready to be magically whisked away into your PayPal account.
Sounds a bit too good to be true, right?
I've seen and reviewed a truckload of these games, each promising easy money for matching fruits, candies, bubbles – you name it!
Unfortunately, these games all have one thing in common: they use fake cash to lure people in and exploit their time.
It's a sad reality, my friend.
So, it's only natural that you're skeptical about Bubble Pop Deluxe.
Is it legit, or is it just another money-making scheme? Will they actually transfer the money they advertise?
Let's find out!
RECOMMENDED: Check out the step-by-step program that helped me build an affiliate site and quit my job in 2019. No special skills required! 
Bubble Pop Deluxe Review
Name: 

Bubble Pop Deluxe

Developer: 

ハッピーライフLLC

Availability:

 Worldwide

Minimum payout: 

$50

Overall Rating: 0 Stars
What Is Bubble Pop Deluxe?
Bubble Pop Deluxe is another bubble shooting game found on the Play Store.
This type of game has been extensively explored and replicated by numerous developers. Frenzy Bubble Shooter is just one example.
While Bubble Pop Deluxe may not stand out in terms of exciting graphics or innovative gameplay, it has attracted a considerable number of downloads.
Why are people downloading this app like it's the next big thing? The answer lies in the enticing cash prize offer.
By completing levels, players are rewarded with unrealistic cash prizes!
And here's another thing that raises eyebrows – despite being downloaded over 100,000 times, the game is still listed as 'early access.'
Game developers usually use this classification to avoid negative reviews flooding their app's page on the Play Store.
That's why I consider it a significant red flag!

How Does Bubble Pop Deluxe Work? 
Bubble Pop Deluxe is an Android game that can be downloaded worldwide from the Play Store.
It offers immediate access without requiring any registration or additional steps.
Your goal is to eliminate all the bubbles within each level.
However, players must be mindful of the limited number of bubbles they have to shoot.
To play Bubble Pop Deluxe, you begin by tapping on the screen to aim at bubbles of the same color as the bubble they are shooting.
The objective is to match at least three bubbles of the same color, eliminating them from the playing field.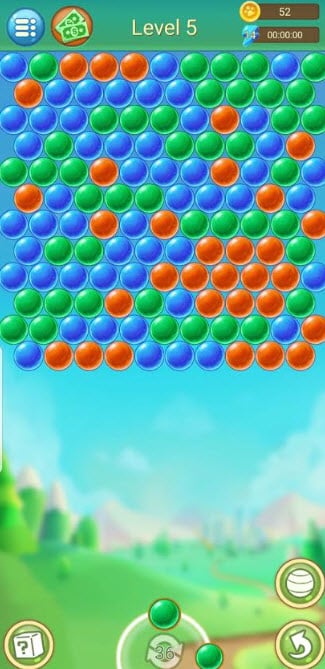 By carefully selecting targets and making strategic shots, you can clear large groups of bubbles with a single shot.
The game provides only 36 bubbles to shoot in each level.
Running out of bubbles before completing the level will result in a failed attempt, and you will have to retry the level.
After clearing all the bubbles from a level, you get rewarded with cash rewards and gold coins.
There is a button that allows them to multiply the reward by three.

However, each time this button is clicked, it triggers an advertisement, generating profits for the developer.
Initially, the cash reward is set at $8, which can be very appealing to players.
However, the subsequent rewards diminish significantly to just a few cents per level.
It feels like you will have to play forever!
The challenge arises because players must accumulate at least $50 before withdrawing the funds via PayPal.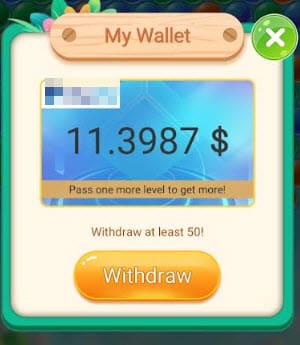 This reward platform is going viral! Cash out via PayPal, Visa, Gift Cards, and in-game currencies - Click here to find out how to generate an extra $10+ per day! 
This requirement makes reaching the payout threshold very time-consuming!
That's a smart strategy the developer uses to prolong your playtime and maximize their profits by bombarding users with adverts.

Is Bubble Pop Deluxe Legit? Does it Pay?
No. Bubble Pop Deluxe doesn't pay a dime. That's right, not a cent, not a penny, nada.
See, they set this tantalizing cashout threshold of $50 only to give you an illusion of making progress towards the gold pot at the end of the rainbow.
Reaching that mark feels like running a marathon with a tortoise. Slow and, honestly, torturous.
Let's say you manage to reach this magical number. Do you get your well-deserved reward? Nope!
Instead, they will likely push additional requirements, like watching a gazillion more videos or completing extra levels.
The goalposts keep moving, and guess what?
All they want is to expose you to more and more advertisements, squeezing every drop of revenue from your precious time and effort.
So, my friends, I implore you – don't fall into this trap! The promise of cash prizes is merely a façade, a shiny object designed to distract you while they profit off your hopes and dreams.
Don't let them. You're worth more than that.
Earn a Full-Time Income Online
Chasing after games that promise big bucks can feel like hunting for a unicorn – they're myths.
And for the few that pay, the earnings are so minuscule they hardly justify the hours spent on them.
If making money is your priority, let's discuss real strategy here.
From my personal experience, becoming a content creator is one of the best ways to earn online.
Consider launching an affiliate site like this one, providing valuable content that can rank on Google.
It's not rocket science, just a series of simple steps and strategies coupled with consistency and dedication.
Picture this: working remotely, at your pace, free from the tyranny of a boss breathing down your neck.
This is one of the most liberating and rewarding ways to make money in the world! 
You don't have to navigate these waters alone.
There are expert marketers who are willing to guide you, show you the ropes, and provide you with a clear plan of action.
That's how I managed to succeed. I took the plunge, joined an excellent step-by-step program, soaked up all the lessons, and built an online asset that has been thriving since 2015! 
Click here to discover this platform! 

Final Words
Thanks for reading my Bubble Pop Deluxe review, and I sincerely hope it offered some valuable insights!
So, have you played this game and reached $50? We're all ears for your experiences!
If you have any thoughts or queries about this application, don't hesitate to share them in the comment section below. 
Peace!