Welcome to my Roaster Earn review!
I was browsing the Play Store's massive list of reward applications when I stumbled across Roaster Earn.
Since the app has been installed over 100K times, I was curious about what made it so popular!
After signing up, I noticed nothing exceptional compared to platforms like TapChamps, and MoneyTree.
Like other gpt (get-paid-to) apps, Roaster Earn connects users with plenty of Offer Walls and survey panels.
However, as soon as I landed on the redeem section, everything made sense!
The company indeed provides a significant advantage regarding cash-out options. Are you curious?
In this review, I will share my experience with Roaster Earn and give you my honest opinion.
Why are so many people installing it? Does it legit or fake? How much money can you make?
Let's find out!
Before leaving this post, check out the step-by-step program that helped me build an affiliate site and quit my job in 2019. It's free to join, and you don't need any previous experience.
Roaster Earn Review 
Name: 

Roaster Earn

Developer: 

RoastingTechnologies™

Price: 

Free

Payout Threshold:

 0.20 USD

LEGITIMATE
Overall Rating:

2.2/5
What is Roaster Earn? 
Roaster Earn is an Android app that pays you for completing simple tasks from your smartphone. 
This free platform has teamed up with several advertisers, so you can earn credits by completing offers, answering surveys, and watching videos. 
Some well-known Offer Walls available include Offertoro, Adgate Media, and Adgem. 
Once you've earned enough credits, you can cash out through PayPal or use them to claim gift cards.
Reward apps like Roaster Earn have become increasingly popular in recent years as they provide a convenient way to earn extra cash. 
Besides, people appreciate the immediate gratification of completing online tasks and the fact they don't need to report to a boss. 
Operated by RoastingTechnologies, Roaster Earn has been installed over 100k times and rated 4.1. 
Despite the good overall rating, the Play Store has recently been flooded with 1-star reviews from disappointed users.
How Does Roaster Earn Work? 

Installation and Registration 
Roaster Earn is accessible on the Play Store for any Android device. 
The first step after launching the applications is to sign up with a Google account. 
It may not be the most exciting activity, but checking the Terms of Service and Privacy Policy is important. 
The reason is that these documents provide virtual information about the rules as well as your rights as a user. 
How Much Are Credits Worth? 
Roaster Earn rewards its users with credits for completing various tasks within the app. 
One thousand credits are equivalent to $0.025, making it inconvenient to find how much money a specific task pays. 
Gamezop & Quizzop
Once you gain access to the platform, the first option you will see is the Gamezop and Quizzop. 
This tab offers HTML5-based mobile games in many categories: action, adventure, arcade, sports, strategy, and more. 
Once you open Gamezop or Quizzop, a 300 seconds timer will start running in the background.
After reaching zero, you will receive 15 credits into your balance. VIP members earn 30 credits. 
Bear in mind that credits are only awarded if you remain active in the game for the entire duration.

Referral Task
The next opportunity is Roast Earn's referral system, which allows you to invite friends and earn credits in return.
All you have to do is share your unique referral code to earn credits for each person you invite. 
Roast Earn doesn't award a percentage of your referral earnings unlike most rewards apps.
Instead, you will get a one-time commission of 500 credits when your friend installs the app and creates an account. 
In return, your friend will get 300 credits for entering the code. 
Have you noticed 500 credits are worth 1 cent? Is it worth annoying your friend to earn a single penny? I don't think so! 

This reward platform is going viral! Cash out via PayPal, Visa, Gift Cards, and in-game currencies - Click here to find out how to generate an extra $10+ per day! 
Offer Walls
Roaster Earn features 7 Offer Walls where you can earn credits for completing offers, taking surveys, and watching videos. Here is the complete list:

Adgem:

 Most converting offers

Adgate Media:

 High-converting offers

Offertoro:

 Daily limited bonuses

AyeT_Studios:

 High-paying tasks

Adsence Media: 

Unique Hideout videos

Monlix:

 Most offers worldwide

Wannads:

 Highest-paying surveys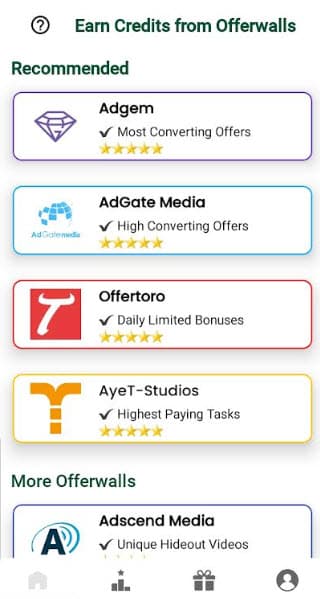 Before completing an offer, carefully read the description provided by the advertiser.
This will give you a better idea of what you must do to earn the credits. 
Some offers may require you to download an app and purchase or subscribe to a service.
If you decide to complete these paid offers, always check the terms and conditions to avoid any unpleasant surprises.
My advise? Focus on free offers, such as games that ask you to reach a certain level or apps that only require a quick registration. 
Many people prefer to stick with surveys, as they can provide the highest return in the long term compared to free offers. 
When completing surveys, you will waste a lot of time with disqualifications. However, it's essential to answer questions truthfully to avoid a negative impact on your account. 
Extra Tasks
This section lets you watch videos from different networks to earn 10 credits each. As a VIP Member, you will earn 20 credits. 
You can watch videos from three companies: Unity, Applovin, and Vungle.
In the events tab, you can find many activities you can participate in. 
Each one is unique with its custom set of rules and requirements. For example, you may be asked to share your opinion about Roaster Earn on Trustpilot and win 500 credits. 
There are a few more options to collect credits, such as playing a scratch card game, spinning wheel, and more. 
Withdrawing Funds
At the beginning of this review, I said Roaster Earn has a clear advantage over similar applications. 
That is because the app allows users to cash out via PayPal with as little as $0.20 and up to $20.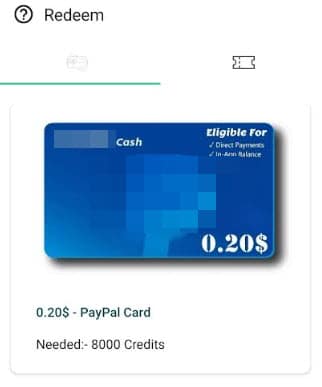 You will also have access to an extensive range of gift cards that cater to your every need and interest. 
That includes popular brands like Amazon, Google Play, Uber Eats, Sephora, Xbox, Playstation, eBay, Walmart, and more.
Bear in mind that you may only be allowed to withdraw one gift card per month! 
Is Roaster Earn Legit? Does it Pay? 
Yes, Roast Earn is a legitimate application, but the app's reliability regarding payments is questionable. 
Several users reported issues redeeming rewards and transferring earnings to their PayPal accounts.

One user even mentioned that the app used to be good, but it became a complete disaster after continuous updates.
Another user reported that her first withdrawal was successful with no issues. But the second one has been postponed without any notice. 
Like most reward apps, it's common to hear about users not getting credited for offers, which is sad. 
On the other hand, several users reported positive experiences with the app, such as receiving $0.20 within a few days.
So, as you can see, there are mixed feeling about Roast Earn. But of course, the negative ones naturally weigh much more than the positives. 
Conclusion 
Despite offering several offer walls and a low payout threshold for PayPal withdrawals, I don't recommend Roaster Earn. 
The large number of negative reviews suggests a significant risk of encountering difficulties when redeeming rewards.
I wouldn't be happy spending hours completing offers and boring surveys only to find myself begging for my well-deserved payout. 
Is There an Alternative to Roaster Earn? 
If you're looking for an easy way to earn rewards online, Prizerebel is my top recommendation! 
Although this platform is only accessible through your browser, it has been optimized for mobile devices. 
I have used Prizerebel for many years, and they never missed a single payout.
Mind, you I cashed out hundreds of times, and the money never took more than 12 hours to reach my PayPal account. 
In addition to the vast number of offer walls, the company pays up to 30% referral commission.
This means you'll get $3 for every $10 your friend earns by completing tasks. Check out my full Prizerebel review here! 
 Need more options? Here is my extensive list of GPT platforms! 
Final Words
Thanks for taking the time to read my Roaster Earn review! 
Your feedback matters! If you've used this app, please take a moment to share your experience in the comments below. 
Peace!