Welcome to my Maya Tribe review!
If you've downloaded this match-3 game, chances are you were lured in by an irresistible advertisement! 
The commercial for Maya Tribe starts by suggesting players can earn $357 in 5 minutes of gameplay. 
It follows a script everyone wants to hear, along with PayPal logos and multiple $100 payouts! 
What's even more impressive is that it supposedly has no pesky adverts or requests to invite friends.
Are you feeling that strange smell of being conned? Because it seems like this Maya Tribe game might not be living up to its words after all. 
I have reviewed hundreds of fake money games that look just like this elimination game. 
Despite variations in their look, they all use the same tactics to keep players hooked and generate revenue.
But let's give it the benefit of the doubt and see if this game actually pays users for matching Mayans. Is it legit or fake? Let's find out!
Before leaving this post, check out the step-by-step program that helped me build an affiliate site and quit my job in 2019. It's free to join, and you don't need any previous experience.
Maya Tribe Review
Name: 

Maya Tribe: Merge Puzzle

Developer: 

Jamly CC,Inc

Availability:

 Worldwide

Price:

 Free

Payout threshold:

 $1000

Overall rating: 0 star
What is Maya Tribe?
Maya Trive is another match-3 where players indulge in a surreal amount of money.
By combining three or more identical Maya characters, they will merge into a higher-level Maya. 
As a result, you will get a fantastic reward, but only after watching the video.
The game's early stages might make you feel like you just discovered a secret pirate treasure.
However, the developer wants you to commit to the game for a while and reach $1000 before you can cash out. 
Well, just be aware those dollar signs might turn into fool's gold! 
How Does Maya Tribe Work? 
Maya Tribe can be installed for free on any Android device through the Play Store. 
The game will entice you to receive all the money you collect during the event. 
However, they claim you can cash out immediately if you reach $1,000. 
To receive payment, they will ask you to enter the email address associated with your PayPal account.

You can then start playing this simple yet addictive match-3 game, where the objective is to eliminate Mayans. 
Just swipe and form groups of three or more Mayans of the same level.
As a result, they will merge them into a higher-level Mayan, triggering the task reward or the PayPal bonus.
With the task reward, you are encouraged to tap four treasure chests containing cash rewards.
By tapping these chests, Maya Trive displays a promotional video, which you must watch to claim your reward. 
If you open the four gifts, they promise a big reward! 
As for PayPal bonuses, you must tap the "claim" button, which will also activate the video. 
Knowing the developer is generating revenue from all these views is crucial.
By incentivizing players with virtual dollars to watch videos, the game increases the number of views, which in turn maximizes profits. 
Is Maya Tribe Legit? Does it Pay? 
No, it doesn't! Maya Tribe is just another fake money game trying to get your attention with worthless virtual dollars. 
It targets unsuspecting players who get caught up easily by the flashy advertisements of hefty payouts. 
What happens after reaching the $1,000 balance? Well, your order will remain under review, and the solution is to watch 30 videos within 24 hours.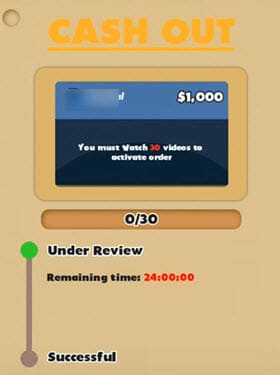 Did they promise to pay you after fulfilling this condition? Of course, not… 
They create the illusion of progress, making you believe you'll eventually receive the money in your PayPal account.
However, the cash-out system is fake, and they will undoubtedly come up with another excuse. 
So, if you watch the 30 videos, your order status will transition from "under review" to "under progress," and now you are persuaded to watch 50 videos. 
WHAT? 

This reward platform is going viral! Cash out via PayPal, Visa, Gift Cards, and in-game currencies - Click here to find out how to generate an extra $10+ per day! 
That's right! I hope you don't fall for this crazy Maya Tribe game, as you won't get a single dime! 

Earn a Full-Time Income Online
Are you tired of working hard for someone else's dream only to live paycheck to paycheck? 
Ready to break free from the traditional work model and create your own path to success?
Creating an online business can help you achieve a more fulfilling lifestyle. 
By growing a significant online audience, you can choose where, when, and how you work! 
I started my online entrepreneurship journey in 2015, which led me to break free from many chains:
The chains of conformity, financial insecurity, and geographical limitations! 
If you want to take the leap and start today, check out this step-by-step training. 
It's the same platform I used to build this site, rank high on google and make life-changing commissions! 
Final Words
I hope my review has helped you realize the true color of Maya Tribe.
If you would like to share your experience with the game, do so in the comment box below. 
Peace!