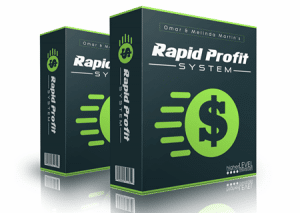 Omar and Melinda Martin have just released a course to help you make money fast while building a list. Can you really succeed after going through the lessons? Is Rapid Profit System a scam or legit?
Discover all you need to know about Rapid Profit System within my review below.
If you want to follow the same steps that I use to make $700+/month, don't forget to check out my #1 recommendation*.
Rapid Profit System Review
---
Product: Rapid Profit System
Website: rapid-profit-system.com
Price: $19.95 + upsells (OTO 1: $27; OTO 2: $37)
Owners: Omar and Melinda Martin
Overall Rating: 2.5/5
What is Rapid Profit System?
---
Rapid Profit System is a video course that will show you how to promote JVZoo products using a method that is quick and easy to implement.
JVZoo is a vast marketplace for digital products, and because of its high commission rates (50%-100%), many affiliates earn $100s if not $1,000's a day!
Don't get me wrong. I have found some great products for sale on JVZoo, but most of them are overhyped and fall very short in terms of real value.
Nonetheless, many affiliates don't seem to care and flood the internet with fake positive reviews.
Anyway, it's possible to find good products and make good commissions with JVZoo, and Rapid Profit System will show one strategy.
Pros and Cons
---
Pros
Affordable training.
Well organized.
There are lots of bonuses.
30-day money back guarantee.
Cons
No free trial.
You can lose money with advertising.
There is a risk of getting your Facebook ad account shut down.
2 Upsells
How Does it Work?
---
The training consists of 3 phases that I would like to talk about briefly below:
Phase 1 – Your Market
This video is all about niche marketing selection, which is very important.
You will learn how to research the niches and determine if they are profitable or not.
Deciding on your niche is the very first step before you start creating your marketing campaigns.
So, you need to understand your audience behaviors, how to solve their problems and how to choose products that match their needs.
In short, you will learn how to find your audience and how to select the product.
Phase 2 – The Funnel
This phase has two videos that will show you how to set up a landing page and build a list of subscribers. You will also learn how to offer bonuses (action incentives) to your prospects before you direct them to your affiliate offer.
After people subscribe through your landing page, they will be directed to your affiliate offer, and you will earn a commission if they buy the product,
You will have access to some PLT (private label rights) to give away as a bonus in the content page.

Phase 3 – Your Traffic Campaign
This phase is all about traffic and email marketing. It's divided into three parts:
Part 1 will teach you how to create Facebook ad campaigns and how to target specific users according to your affiliate offer.
In part 2 you will learn how to gather huge audiences of buyers. And Part 3 you will learn how to create email campaigns and continue promoting offers to your list.
Bonuses
Rapid Profit Systems comes with many useful bonuses such as:
Professionally designed bonus page.
High converting follow-up email series
Five bonus incentives that you can give away for your prospects with Private Label Rights.
Immediate approval from Omar to promote his other 5 products.
Vendor approach script.
Bonus resource list – Discover where to find more quality and affordable PLR products.
 Upsells
---
After you purchase the front end product, Omar will try to sell you another two products:
Usell #1 – Rapid Profit System TURBO Package – $27
This upsells consists of an additional 20 bonus products that you can use in your campaigns. You will also get other 4 custom bonus pages, 4 pre-written email campaigns,  2,500+ Highest Converting Email Subject Lines and Omar's broadcast email vault. According to Omar, these emails have made them millions.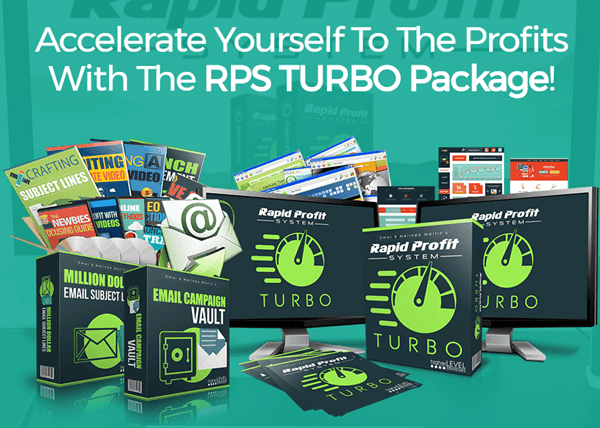 Upsells #2 – Rapid Profit System Powerhouse – $37
With this upgrade, you will get:
The SECRET Funnel Session Workshop: Learn the tips and tricks to develop high converting sales funnel.
SECRET Traffic Session Workshop: Learn the strategies of experienced marketers to drive a ton of quality traffic to your offers.
30 more PLR products.

The Strategy – Does it Work?
---
Yes, you can make nice commissions promoting JVZoo products.
However, I am still a bit skeptical of investing in Facebook ads the way Rapid Profit System suggests.
Omar and other top affiliates are able to make lots of money with JVZoo because they have already built a huge list of email subscribers. They could have reached where they are now by taking advantage of both free and paid traffic methods.
The thing is, if you are just starting out, it's a big challenge to generate consistent profits with just paid methods. It's risky too because you are investing your hard earned money without any guarantees.
Your squeeze page needs to convert extremely well so you can generate a positive return on investment. It's risky!
You need lots of testing before you find the winner campaign, and it's important to keep in mind Rapid Profit doesn't give you any guarantees. The proof is in the "Earning Disclaimer":

This reward platform is going viral! Cash out via PayPal, Visa, Gift Cards, and in-game currencies - Click here to find out how to generate an extra $10+ per day! 

Any earnings or income statements, or any earnings or income examples, are only estimates of what we think you could earn. There is no assurance you will do as well as stated in any examples. If you rely upon any figures provided, you must accept the entire risk of not doing as well as the information provided. 

Should you decide to take the risk, you also need to be careful with strict Facebook Ads policy. You see, JVZoo products are well-known for its exaggerated claims and aggressive marketing campaigns.
If your landing page doesn't comply with TOS, Facebook can disable your ads account for an indefinite period. That wouldn't be nice considering Facebook is one of the best tools to get target traffic.
Final Thoughts
---
Rapid Profit System provides a decent training and tools to help you promote JVZoo product. It's definitely not Scam.
Although you can make money with this method, there is also the risk of losing money with paid ads. That's why I don't recommend it for beginners.
Also, I am not a big fan of JVZoo platform. I think it's tough to find a great product over there that I can recommend. I would never promote any crap just in view of affiliate commissions.
Verdict: Legit / Not Recommended
If you want to get a reliable source of passive income from home, you should consider building a blog. By writing helpful review and tutorials, you can attract free visitors and promote any products you want on your blog. That way you won't risk losing money with ads.
No idea how to start? You can check out my #1 recommendation for step by step training, support, and tools to start and grow an online business around your passions and interests.
There are free lessons available, which will help you build the foundation for your business.
I have made excellent progress thanks to the training and support from the community.
If you want to learn more about my top and see my online income reports, click the link below:
Thanks for checking out my Rapid Profits Review. I hope this helps you make an informed decision. If you have any thoughts or questions about it, feel free to drop me a message below.
Your friend,
Stefan