Welcome to my Papa Go app review app!
I was browsing Google Play in search of mobile applications that supposedly pay real cash. That's when I discovered Papa Go, an addictive game that entices players with virtual dollars.
The developers want you to believe you can cash out via PayPal once you reach $100, or even $1000 after collecting 60 decorations.
I have reviewed a ton of similar games that don't live up to people's expectations and cause a lot of frustration. After watching hundreds of 30-second videos, players realize they will never earn a single penny!
In this review, I am going to uncover everything you need to know about Papa Go and give you my honest opinion. Does it pay? Is it a scam or a legit app?
Before you leave, don't forget to check out my top recommendation for making money online. This program helped me reach $1,600+ per month from my laptop and quit my job last year. No special skills required! 
Papa Go App Review
Name: Papa Go
Developer: Paplinkogo Game Studio
Eligibility: Worldwide
Payout Threshold: $100
Price: Free
Overall Rating: 

1/5
What is Papa Go?
Papa Go is a game in which you drop balls from the top of the pegboard. It gives you virtual cash and coins when they fall into the slots at the bottom.
The rewards accumulate in your account, and you have the chance to redeem $100 via PayPal or $200 via Amazon gift cards.
The app was developed by Paplinkogo Game Studio and is very similar to this popular Plinko game.
How Does Papa Go Work?
After installing the application on the Playstore, you can play the game straight away for free.
Just tap on your screen to drop the balls. When they fall into one of the nine containers at the bottom, you get tokens or virtual cash depending on the ball.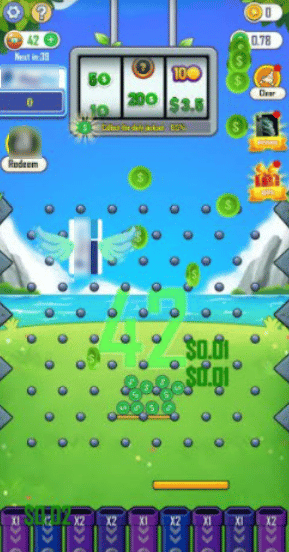 A green ball is worth $0.01, whereas a yellow one is worth 1 token.
Each container has a bulb. When you light all of them, Papa Go activates the slot machine for a chance to win tokens, cash, and items (decorations).
If you tap on the exclamation button at the top, you can check the official rules. There, you will find the odds of winning each reward on the slots game.
For example, they claim the probability of winning $5 is 10%, which should not be taken seriously. You will understand why later on!
When you run out of energy, you can watch a video and get an extra 50 balls.
Recommended read: Top Game Apps That Pay You Real Money
How to Withdraw the Money? 
If you tap on your Token or cash balance, you will see 3 different requirements:
$100 virtual cash: Redeem $100 via PayPal.
1 Million tokens: Redeem $200 Amazon Gift card.
60 Items: Earn the jackpot of $1000.
But wait… there is more!

Papa Go claims you can earn daily dividends by reaching 100% and unlocking the process. This is done by playing the game, signing in everyday, and watching videos.
In addition, you can play the Lucky Wheel to earn iPhone 11 puzzles. If you collect 100 pieces, they will supposedly let you redeem this excellent Apple phone.
Discover 10 legit apps that pay you instantly here. 
Does Papa Go Pay Real Money? 
There is no evidence that the company is processing payment.
In fact, almost everyone who writes about their experiences on Google Play says they cannot cash out. The reason is that the app doesn't let them reach $100.
Many players report that Papa Go crashes or enters maintenance mode whenever they try to collect the last penny. So, it doesn't matter how long you play, you may get stuck at $99.99 forever! 
The same happens with dividends, decorations, and phone puzzles. When you are 1%, 1 item, or 1 piece from claiming your reward, you get stuck!
It's a very frustrating situation for those who played and watched a ton of videos with the expectation to earn money.
Now, keep in mind that Terms of Service says tokens and coins have no monetary value. Besides, you have no property rights to the digital currency, which implies that Papa Go doesn't need to pay anyone. 
Does it mean Papa Go is a scam? Well, not really, because if you are playing the game, you automatically agree with the rules. That's how all mobile apps and websites work.
Conclusion 
Many people think Papa Go is a fun game to pass the time. Me, personally, I think it's quite boring!
I guess most people who stick with it for a long time do so because of the cash rewards and iPhones.
After reading lots of reviews, I couldn't find anyone who received money or prize from the app.

Verdict: Not Recommended 
Earn a Full-Time Income Online
Have you ever dreamt of being your own boss? How about working from home?
You can actually combine the best of both worlds by building an affiliate site and benefiting from the digital economy.
Thanks to this excellent online business program, I could set up a website from scratch and get thousands of visitors per month.
Today, it allows me to make money regardless of whether I am stuck at home or traveling the world.

This reward platform is going viral! Cash out via PayPal, Visa, Gift Cards, and in-game currencies - Click here to find out how to generate an extra $10+ per day!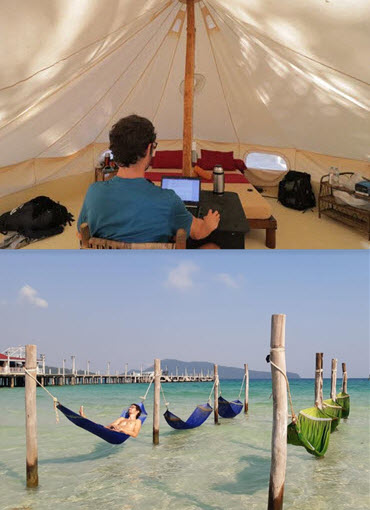 It takes time and commitment to make your site stand out from the crowd, but with proper training and mindset, anyone can do it!

Final Words
Thank you for reading my Papa Go app review. I hope it was helpful!
If you have played the game, kindly share with us your experience. Did you reach $100 and cash out? I would be very surprised if you did!
Peace!