Welcome to my Monster Popstar Island app review!
I just came across a casual game that supposedly pays $200 via PayPal, PicPay and other gift cards.
All you have to do is collect enough virtual dollars and diamonds by tapping sets of identical monsters.
The developer promotes his app by saying it will transfer lots of money. Heck, you don't even need to watch sponsored videos!
However, there is no evidence that it actually pays. In fact, Google Play is jam-packed with negative reviews from users who claim they were lied to and scammed.
You are here because you don't want to fall victim to another fake money game. So, is Monster Popstar Island legit? Does it pay or not?
Let's find out!
Before you leave, don't forget to check out my top-rated GPT site. Members are generating $200+ on the side by completing simple tasks and referring friends. Cash out via PayPal and gift cards!
Monster Popstar Island App Review 
Full Name: Monster Popstar Island – Blast Puzzle
Developer: Kiroro Game LLC
Payout Threshold: $200 (PayPal), $100 (gift cards)
Price: Free (no in-app purchases)
Overall Rating: 1/5
What Is Monster Popstar Island? 
Monster Popstar Island is another match puzzle game in which you collect rewards by destroying identical blocks.
Just tap on batches of two or more identical monsters to earn points and clear the stage.
Whenever you eliminate the blocks, you will collect virtual dollars and diamonds that can redeemed for real money. 
Not only that, but you also get the chance to earn an iPhone 12 if you collect enough items.
Monster Popstar Island has been installed over 100,000 and is almost identical to Veggie Popstar. 
How Does Monster PopStar Island Work? 
Installation and Permissions
Monster Popstar Island is available for Android users in all countries.
Bear aware the app can access and even delete content stored in your device such as photos, media and files. It can also read your phone's status and identity.
So, if you care about your privacy and data, think twice before installing this application.
Sign in
You can earn sign in bonuses just for launching Monster Popstar Island on consecutive days.

How to Play? 
Tap monsters of the same color to blast them and score.
The more blocks you destroy at once, the more points you will earn. You can only pass the level if you reach the target score.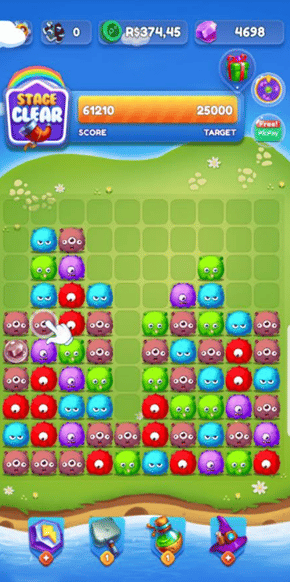 Monster Popstar Island dishes out virtual dollars and diamonds when you tap on green coins and monsters.
However, you only get the "money" if you tap the claim button and watch the sponsored video.
After clearing the stage, they will entice you to open 4 boxes and watch videos in return for puzzle pieces.
After collecting 100 puzzle pieces, you can supposedly redeem an iPhone 12.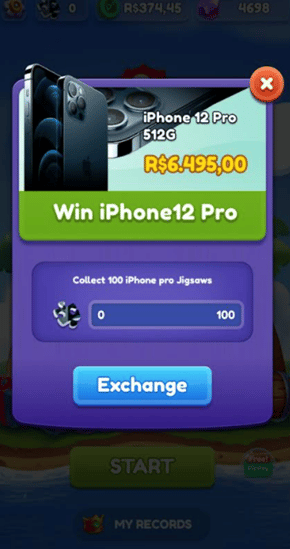 There are 4 props to help you eliminate monsters faster.
Lightning: Destroy 5 monsters randomly.
Hammer: Eliminate one monster.
Potion: Select one monster to change its color.
Wicked Hood: randomly rotate position.
You can earn more rewards by activating the lucky wheel located in the top-right corner.
How Do You Get Paid? 
Once you reach $200, open your cash balance and tap "Redeem" to request your payment.
In addition, you can trade 680,000 diamonds for $100 gift cards from Amazon, Steam, Google Play, Xbox, Playstation, Visa and more.

Is Monster Popstar Island Legit? Does it Pay? 
No, it doesn't! Monster Popstar Island is just selling players the illusion of making easy money.
It's impossible to cash out because when you reach $200, they ask you to activate the order by watching 75 videos ads.
Of course, this is just a lame excuse to lure you into watching even more advertising.
I didn't want to proceed because I knew I wouldn't receive the payment.
Most likely, they will push even more misleading commercials down your thought as a condition to cash out. Totally FAKE! 

This reward platform is going viral! Cash out via PayPal, Visa, Gift Cards, and in-game currencies - Click here to find out how to generate an extra $10+ per day! 
Be careful with games that display dollars because over 99.9% of them never pay out!
Just have a look at the reviews on Google Play and you will find endless evidence that this is not a money-making app.

I am impressed that Monster Popstar Island doesn't silence users with the excuse of being "Early Access".
At least people can share their experience to warn those willing to download this app.
Conclusion 
Monster Popstar Island is highly addictive because it makes people believe they are making real money.
Unfortunately, the company will never transfer the funds regardless of how many videos you watch.
Don't waste your time and mobile data with this game unless you are just playing for fun.
Since you need real money, you'd better search for reliable platforms that pay for your online activity.
There are many options out there, but this one is my top reward site! 
Now, here is my top recommendation: If you want to achieve time and location freedom, you could generate a full-time income with your own online business.
This program will help you set up a WordPress site so you can attract a large audience and generate excellent commissions!
This is me, working and having fun on a remote island in Cambodia thanks to my online revenue.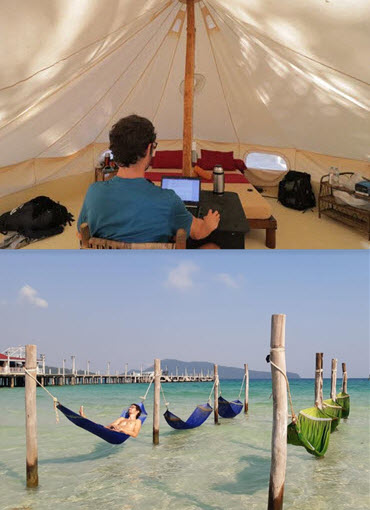 > Check out my #1 recommendation and join now for free! <<
Drop me a comment below if you have questions about this opportunity and I will me more than glad to help.
Final Words
Thanks for taking the time to read my Monster Popstar Island app review. I hope it was helpful.
If you want to praise or share your frustration about this app, feel free to leave us a comment below.
Peace!