Welcome to my Mega Coin Dozer review!
Today's post is about another coin pusher game that claims to reward players with real PayPal money. 
The developer promotes the app as an opportunity to win $1800 a day by touching your screen. 
The best part? Mega Coin Dozer is 100% free to play, so you know you are not risking your hard-earned dollars. 
Tap the screen to drop the coins and collect virtual cash as they fall off the edge. 
Ah, and watch out for the avalanche of advertisements on your way! Yes, you will have to watch many videos to reach the target before being able to cash out. 
The question is: Will you receive the money in your PayPal account? Is Mega Coin Dozer legit or fake? 
Let's find out
Before leaving this post, check out the step-by-step program that helped me build an affiliate site and quit my job in 2019. It's free to join, and you don't need any previous experience.
Mega Coin Dozer Review 
Name: 

Mega Coin Dozer

Developer: 

Milkway Game

Membership Eligibility:

 Worldwide

Price:

 Free 

Overall Rating:0/5

This reward platform is going viral! Cash out via PayPal, Visa, Gift Cards, and in-game currencies - Click here to find out how to generate an extra $10+ per day! 
What is Mega Coin Dozer? 
Mega Coin Dozer is a classic arcade game that simulates a coin pusher machine on your device. 
In this game, you must touch the screen to drop nickels over the surface and wait for the arm to push the coins off the edge. 
As the yellow and green coins fall off the platform, you will collect either tokens or virtual dollars. 
The goal is to increase the value of both accounts (coins and cash) until they meet the necessary threshold for withdrawal.
Mega Coin Dozer also allows you to collect puzzle pieces and redeem them for excellent gifts, such as Samsung Galaxy, iPhone 13 Pro, Apple MacBook, and more! 
How Does Mega Coin Dozer Work? 
You can install Mega Coin Dozer on any Android device via the Google Play Store.
Upon launching the game on your phone or tablet, you will receive a daily bonus of $50. 

Tap "collect," and the cash reward will immediately drop into your virtual cash wallet as magic. 
Next, Mega Coin Dozer will prompt you to fill in your PayPal account, so you eventually receive the funds. 
According to the redemption page, you must play the game and achieve a $250 bonus to cash out. You will have just 24 hours to receive the bonus. 
Clever marketers use this scarcity technique to create a sense of urgency and get people to take action. 
Mega Coin Dozer begins with a stash of 50 coins, and you will get an extra coin every 5 seconds. 
Alternatively, you can claim an extra 50 coins by watching a video or spending $60 with your virtual wallet. 
To play the game, tap the screen to drop the coin over the machine's platform.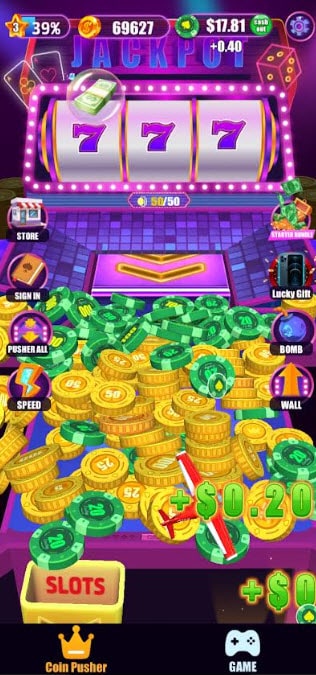 It has a pusher arm that swings back and forth, pushing the coins off the edge. 
When yellow and green coins are knocked off, you get tokens and virtual dollars, respectively.  
If they drop inside the moving slot box, it will trigger the reel machine for a chance to win extra coins and puzzle pieces. 
This box is relatively big, so it's not difficult to boost earnings as in other coin pusher games. 
To maximize your earnings, use tools like the Wall, Speed, Pusher All, and Bomb. Each tool allows you to drop coins much faster and save time. 

Lucky Gift 
The Lucky Gift section is where you can use the puzzle pieces to claim amazing prizes, such as the iPhone 13 and the new Samsung Galaxy. 
You must collect ten units of each puzzle to be able to win the prize. 
You can accumulate puzzle pieces by activating the slots or tapping the bubbles with the "get" button. 
As expected, each bubble will trigger the commercial promoting another unrealistic money game. 
How do You Get Paid? 
There are two options to cash out from Mega Coin Dozer: using your coin or cash balance.
You need to accumulate at least 2.16 million coins to exchange your coins for cash rewards.
You can then redeem a $200 gift card from XBOX, Amazon, Visa, Steam, Google Play, and Playstation.
As for your cash balance, the minimum cash-out requirement is $250. Once you reach this amount, you can supposedly withdraw the funds via PayPal and live a happy, wealthy life.
Well, not so fast! In the next section, you will find the real face of Mega Coin Dozer and why it's best to avoid it.

Is Mega Coin Dozer Legit? Does it Pay? 
No, it doesn't! Mega Coin Dozer is another coin machine simulation with fake cash rewards! 
I mean, who wants to tap their phone screen thousands of times in return for fictitious money? 
Well, the only thing you will get out of this game is frustration! 
I spent around 1 hour testing Mega Coin Dozer only to see how it would behave in terms of deception. 
And I was not impressed to find a similar modus operandi to many other arcade games. 
It entices the players with the opportunity to cash out at $250, but once you get there, the usual bait-and-switch tactic kicks in. 
The game will prompt you to click the cash-out button and enter your email address linked to your PayPal. 
Following that, your withdrawal will undergo a review period of 48 hours. 
Here is the catch: You can watch more videos to shorten this waiting time or pay $0.99 to skip the review. 
 This is ridiculous! And sadly, this is becoming the norm among fake money games.
They are not happy just wasting people's time, but they are craving their hard-earned money too! 
Conclusion 
Mega Coin Dozer is a sly fox that preys on people's desire for quick cash to maximize profits. 
You will be enticed to swallow a large number of adverts without any guarantees that you will receive the cash prize at the end of the road.
But once you think you have crossed the finish line and stretch your arms to grab your $250, you get a slap on your face. 
Instead of receiving the money, they will ask you to pay $0.99, only to be left with no compensation. 
So, don't waste your time, energy, and money with Mega Coin Dozer! Instead, uninstall this game and search for real money-making platforms. 
One great option is Prizerebel, a GPt site where members get paid for sharing their opinions and completing offers. Learn more about Prizerebel here!
Earn a Full Time Income Online
If you want to achieve time and location freedom, here is my sincere suggestion for you:
Build a content-based online business! 

Creating a website and publishing helpful content can finally unlock the potential for earning a full-time income! 
This excellent step-by-step program will help you set up a WordPress site and get significant traffic (visitors).
Thanks to my online revenue, I could spend three years in South East Asia as a digital nomad. That's me in beautiful Cambodia! 
> Check out my #1 recommendation and join now for free! <<
Final Words
Thanks for taking the time to read my Mega Coin Dozer review. I hope it was helpful.
If you want to share your thoughts on this arcade game, feel free to leave us a comment below.
Peace!