Welcome to my Gummy Bear Crush review!
This new Android game has caught my attention with its bold cash prize claims! 
The advert features a guy in front of a Ferrari saying he won 2 Billion and decided to treat himself. 
Then, it shows a quick simulation and suggests the opportunity to hit the jackpot with just 1 minute of gameplay. 
Bear Crush Bear is another color block elimination game where you get virtual dollars redeemable for real cash. 
Having reviewed countless similar games on the blog, not a single one has been proven authentic.
That's why the prospects of making real money with this game are bleak.
So, is Bear Crush Bear legit or fake? Will they transfer the funds if you meet the requirements? Let's find out! 
Before we dive in, I would like to share with you the step-by-step system that helped me to generate $2,000+ each month and quit my job in 2019. So click here and build an online asset that pays you real money! 
Gummy Bear Crush Review 
Name: 

Gummy Bear Crush

Developer: 

Gamma Gift Studio

Membership Eligibility:

 Worldwide

Price:

 Free 

Overall Rating:0/5
What is Gummy Bear Crush? 
Gummy Bear Crush is an Android game where you eliminate blocks to earn incredible cash rewards! 
You can clear them from the board by tapping on groups of 3 blocks of the same color. 
It's similar to Panda Cube Smash, Fish Blast, Lucky Diamond, and many other elimination games that follow the same mechanics. 
As you progress through the levels, you will get virtual dollars that can be multiplied by watching sponsored content. 
Then, you can allegedly withdraw your balance via PayPal or Cash App once it reaches $1,000.
How Does Gummy Bear Crush Work? 
Gummy Bear Crush can be downloaded free on the Play Store and works on any Android device. 
Upon launching the game, you will receive a new user bonus of $10. To earn an extra $100, simply click the button and watch the first video.
You will likely watch a commercial for another unrealistic money-making game!
Before installing any of these apps, it is essential to read this review to learn how they operate.
After collecting your $100, you will see the Limited offer page, saying you must collect $1000 to cash out.  

Additionally, the developer offers PayPal bonuses to those who watch videos and warns that this must be done within 24 hours.
I started playing Gummy Bear Crush by tapping groups of blocks of the same color.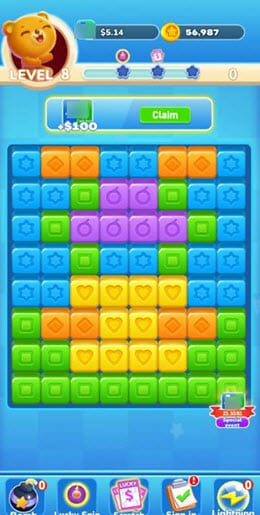 By eliminating the colored cubes, you can receive insane cash prizes. 
Furthermore, you can trigger amazing rewards after completing the level and tapping the "claim more" button to multiply your winnings.
However, the money is only added to your account after watching the sponsored video. 
Wanna make money without playing Gummy Bear Crush? No problem! 
The game has a banknote icon with the $30 prize underneath. Click this icon and watch the video until the end to receive "Cash." 
Rinse and repeat until your reach $1,000, and head to your virtual wallet to withdraw your funds. 
Players may have to watch over 20 videos to achieve the target amount! 
While I didn't count how many commercials I watched, I can tell you that it took me almost one hour to cash out.
Is Gummy Bear Crush Legit? Does it Pay?
No, it doesn't! You won't receive any money From Gummy Bear Crush since the payout is ridiculously high. 
Game developers would never pay thousands of dollars just so players have fun with their free casual games. 

Expecting real cash rewards from Gummy Bear Crush is the same as believing money grows on trees. 
After reaching $1000:
Click the "Cash out" button.

Select the payment platform (PayPal or Cash app).

Enter your account. 
They say transfers to your account may take 24 hours and prompt you to complete other conditions during this period.
What conditions? There will be multiple requirements, but the first consists of completing 20 levels. 
Yep! That means they will force you to watch at least another 20 videos to comply. 
But in reality, this is merely a pretext to prolong your playtime by giving you false hope of earning money.

This reward platform is going viral! Cash out via PayPal, Visa, Gift Cards, and in-game currencies - Click here to find out how to generate an extra $10+ per day! 
You will probably have to endure other hidden requirements to eventually realize the prize is fake!

Conclusion  
Gummy Bear Crush is advertised as a money-earning game, but everything is an illusion! 
 All the virtual dollars you accumulate hold no value in the real world, meaning they will never be transferred to your account. 
It's a shame that people are still falling for these fake reward apps in 2023, despite so many warnings. 
But it's never too late to understand how these developers exploit users by profiting from their time. 
Earn a Full-Time Income Online
Those impressive cash earnings are only possible to those who provide value to the internet.
If you want to make thousands of dollars, one of the best strategies is growing an online audience. 
You can do that by setting up a website and consistently posting helpful content that ranks on Google. 
Another way to maximize your reach is by publishing on YouTube and social media. 
I was able to grow an online business and generate life-changing commissions thanks to this step-by-step program I joined back in 2015! 
This is one of the best platforms to become a digital entrepreneur and achieve the so-called laptop lifestyle.
Final Words
Thanks for reading my Gummy Bear Crush review. I hope it was helpful! 
 If you have played the game, I'd love to hear about your experience in the comment box below.  
Peace!