Welcome to my Money 3D Cash Count review!
I was browsing the Play Store recently when I stumbled across this 3D money-grabbing game. 
It's not your casual money game that you play purely for entertainment, though. 
Like 100% of apps on this blog, the developer offers players the opportunity to withdraw money. 
I am talking about hundreds of pounds within just a few minutes of playtime! 
The best part is that you can cash out via PayPal anytime without a minimum requirement. 
Thanks to this incredible offer, thousands of people are flocking to the Play Store and downloading the app without a second thought. 
But the question is, does Money 3D Cash Count legit or fake? Will they pay you for collecting virtual banknotes? 
Let's find out!
Before we dive in, I would like to share with you the step-by-step system that helped me to generate $2,000+ each month and quit my job in 2019. So click here and build an online asset that pays you real money! 
Money 3D: Cash Count Review 

This reward platform is going viral! Cash out via PayPal, Visa, Gift Cards, and in-game currencies - Click here to find out how to generate an extra $10+ per day! 
Name: 

Money 3D: Cash Count

Developer: 

Dam Nhipy Life

Membership Eligibility:

 Worldwide

Price:

 Free 

Overall Rating:0/5
What is Money 3D Cash Count? 
Money 3D Cash Count is an Android game where you supposedly earn real money by collecting virtual banknotes. 
Your job is to tap or swipe the screen to collect the flying 3D coins and banknotes.
Each green note grants £0.03 to your cash balance, and you can withdraw the money via PayPal. 
The crazy thing about Money 3D is that you can accumulate hundreds of pounds in less than half an hour. 
It feels like you could become a professional money clicker and finally achieve financial freedom! 
Money 3D Cash Count has been installed over 10k times and rated 3.4 stars.
And you know what? You won't believe how high this rating is after reading this review!

How Does Money 3D Cash Count Work? 
Money 3D Cash Count can be downloaded for free from the Play Store. 
The game revolves around eliminating virtual banknotes and coins, which fly across your screen occasionally. 
All you have to do is tap or swipe to collect the coins and virtual cash.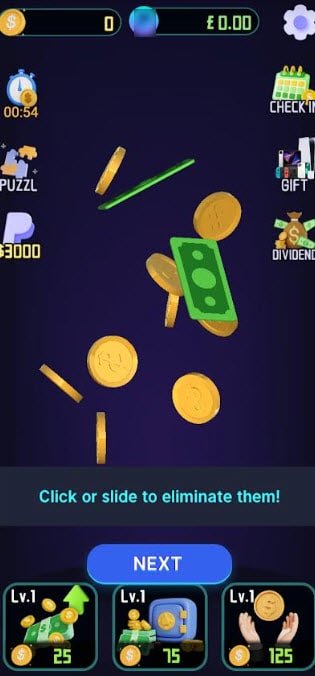 Every time you eliminate a banknote, your cash balance will increase by £0.03.
As for coins, use them to upgrade your gaming experience in three different ways.
The three-level upgrades (aka skills) are the following:
Upgrading this skill can increase your earnings.

This upgrade increased the number of items that are thrown on your screen. 

This upgrade increases the frequency of automatic elimination. 
You will occasionally be interrupted while playing with a surprise bonus ranging from $10 to $500.
Tap the receive button to claim the fantastic cash reward.
Just bear in mind that such a high prize is often accompanied by a commercial for another money-making app.
You must watch the video until the end before they add virtual cash to your account. 
Money 3D Cash Count also features the Lucky Wheel, Million Puzzle Challenge, and dividend section. 
They allow you to earn more money and other great prizes, such as the iPhone 13 and iPad Pro. Well, at least that's what they say! 

Withdrawing Funds
Money 3D Cash Count allows you to cash out your earnings whenever you want.
That means you won't have to achieve a specific target amount to withdraw the funds. 
But, as with most unrealistic cash reward apps, there is always a catch! Keep reading, and you will find out! 
Is Money 3D Cash Count Legit? Does it pay? 
No, it doesn't! The cash rewards advertised by the developer are as fake as the 3D banknotes flying on your screen. 
In other words, your virtual pounds or dollar hold no value in the real-world value.
So, don't expect any money to be transferred to your PayPal account!  
Now, listen up before you make another mistake of trying to comply with further requirements. 
After you click the cash out button and enter your PayPal email, it says the order is successful! 

However, they show you a pop-up window with another "Cash out" button and the following message:
"Cash out needs to use Google's server protocol. This means you have to pay a small fee".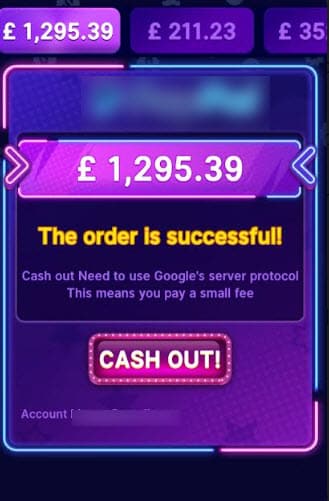 It reminds me of the Feel Wealth app, which uses the same excuse to take your money! 
If you press the button, it doesn't tell you how much you need to pay.
Instead, Google Play notifies you that by tapping "agree," you consent to the immediate performance of the contract and acknowledge that you will lose the right of withdrawal. 
What? 
Are they asking you to sign a contract before you know how much money would be deducted from your bank account?
Well, I want to believe that is not the case. However, I don't want to pay anything, only to confirm something I already know: The cash prize is entirely fake! 
I checked the review on the Play Store and discovered that some people paid the fee. Some reportedly paid £1.99, £2.99, and $9. 
The developer accepted their payment but failed to deliver the funds as promised. I feel sorry for them, as they will never see their money back. 
Conclusion 
Don't waste your time and money with Money 3D Cash Count because the cash rewards are 100% fake. 
Not content with wasting your time, these guys want to tap into your bank account too! So, don't pay them any fees! 
I know this kind of game look very tempting, but one this is certain:
They are nothing more than distractions created by clever developers who monetize your playtime via advertisements. 
The more you play, the more money they make! 
Earn Real Money Online
If you want to make a decent income online, I suggest you build an online business and take full control of your destiny. 
For example, you can create your desired lifestyle by growing a significant online audience.
I am talking about having the freedom to work whenever and wherever you want. 
That's what we call "The laptop lifestyle!
I have operated a lucrative website since 2015 thanks to the step-by-step training community developer by Kyle. 

Since then, I have made enough commissions to cover all my living expenses and travels worldwide. 
If you are interested, click this link to learn more! 
Final Words
Thanks for reading my Money 3D Cash Count review. Please, use the comment box to share your thoughts on this application. 
Peace!