Welcome to my mCrypto app review!
I was scrolling through the Play Store the other day, searching for real crypto-earning apps, when I found mCrypto.
The concept is simple: install and play games on your phone and earn coins you can later exchange for Bitcoin, Ethereum, and Ripple.
I have reviewed a ton of reward apps that promise easy money but end up being total duds or even outright scams.
So, is mCrypto legit or fake? Is this platform transferring the money to those loyal users who meet the requirements? 
This review will explore this app and tackle all these burning questions. 
Ready to trade in your 9-5 for a laptop lifestyle? This excellent step-by-step program helped me generate $2,000+ per month and can help you do the same. Click here to find out!
mCrypto App Review
Name: 

mCrypto 

Advertiser: 

Game Master's

Eligibility:

 Worldwide

Price:

 Free (no in-app purchases)

Payout Threshold:

$0.3
Overall Rating:

4 star
What is mCrypto? 
mCrypto is a free mobile app that rewards users with real cryptocurrency for playing games on their Android devices. 
The platform caters to every taste, whether you're a puzzle lover or an action enthusiast. 
As you immerse yourself in these games, mCrypto diligently tracks your playtime, rewarding you with coins for every minute.
But that's just the tip of the iceberg! You can also boost your coin collection by completing surveys, embracing special offers, and inviting friends to join the fun.
Once you've accumulated enough coins, you can exchange them for cryptocurrencies and even PayPal. 
mCrypto has been installed over 100k times on the Play Store and rated 4.5 stars. 
How Does mCrypto Work? 
mCrypto can be easily installed from the Play Store, and it's 100% free to use.
To start your journey, register using your Google account, and you're in!
But first, there's a disclosure to agree to—mCrypto uploads users' installed package information to third-party SDKs to provide the best app offers.
Once you're all set, you'll be greeted with a sweet 1000-coin welcome bonus and land on the dashboard, showcasing all the earning opportunities.
Playtime Games
Head over to the "Earn" section, and the first option is the Playtime Games sponsored by Adjoe GmbH.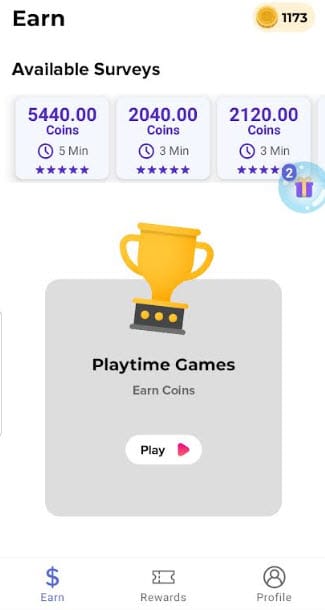 This is a well-known company specializing in creating personalized, rewarding mobile user experiences.
Before diving in, you must accept Adjoe's Terms of Usage, which cover data collection, and grant users access.
This permission allows them to monitor your time on their games so that you can be rewarded accordingly.
Now, you can pick any game from the list, each displaying the maximum number of coins you can earn and the rate.
But remember the earning rate changes over time, getting slower and lower.
For instance, the popular game Merge Master: Dinosaur Monster started at 85 coins per minute, but after a while, it dropped to 91 coins for 2 minutes.
Therefore, you'll eventually need to try new games to maintain decent earnings. This smart tactic boosts user engagement and attracts more audience to their game offers. 
After installing your chosen games, you'll find them in the "Your apps" section.
Be sure to launch the games from that section, or else you won't get credited.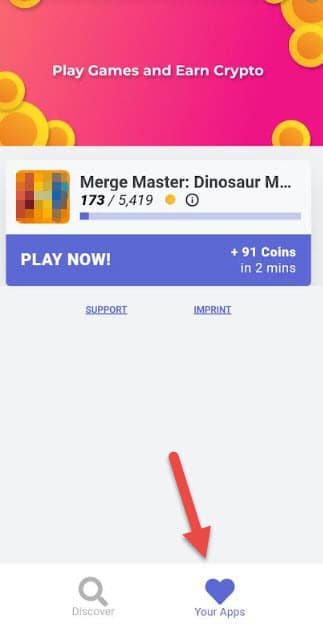 Refer and Earn
This opportunity allows you to share an invitation link with your friends and earn referral commissions. 
The referral program is designed to be a win-win for you and your friends.

When your referral earns their first coin, you'll receive a generous bonus of 5000 coins as a thank-you for bringing them on board.
But the benefits don't stop there; you'll also earn a 10% commission on your friends' earnings as long as they continue using the app.
App Task
This section comprises four well-known Offer Walls: Fyber, Adgate, Ayet, and OfferToro.
To collect coins from these platforms, all you need to do is explore the tasks and offers available, which may include installing and trying out new apps, watching video ads, signing up for trials, or completing surveys.
Each offer will clearly display the coins you can earn upon completion, allowing you to choose tasks based on your interests and rewards.

This reward platform is going viral! Cash out via PayPal, Visa, Gift Cards, and in-game currencies - Click here to find out how to generate an extra $10+ per day! 
For example, a Fyber offer might ask you to install and play a specific game for a set time or reach a specific level. 
Upon completion, you'll be rewarded with a designated number of coins.

Just remember that some rewards might take a few days to appear in your account, so don't sweat it if they don't appear immediately.
Here's a tip: Keep track of all your completed offers, as these platforms have a track record of missing rewards. 
Survey Offers
Diving into the survey offers tasks, you'll find three survey panels to choose from: BitLabs, Pollfish, and CPX Research.
Participating in these surveys allows you to earn coins while sharing your opinions with marketing research companies.
Keep in mind that most surveys are on the hunt for participants who fit specific age ranges or other demographic criteria.
As a result, you'll need to answer a series of pre-qualification questions to determine if you're the right candidate.
If you tick all the right boxes, you'll be invited to complete the entire survey and receive the coins after completion.
However, if you don't fit the bill, you'll be disqualified and won't earn any coins.
While the process can be time-consuming, the rewards for completing surveys are higher than those from playing games in the long run.
If you're patient and persistent, survey offers can be a better way to boost your mCrypto earnings.
Click here to find out the 10 best survey apps! 
Withdrawing Your Funds
When you're ready to cash out your hard-earned coins from mCrypto, head over to the "Rewards" tab.
You can choose from PayPal and five popular cryptocurrencies: Bitcoin, USDT, Ethereum, Binance Coin, and Ripple.
You'll need a minimum of 2900 coins to cash out $0.3 worth of any cryptocurrency.
If you prefer PayPal, the minimum requirement is slightly higher at 21400 coins, equal to $2.
Once you've collected enough coins, select your preferred method, and the platform will process your request. 
Is mCrypto Legit? Does it Pay? 
Ues,! It's 100% legit, and the app works wonderfully. I've personally received Bitcoin in my crypto wallet without any issues.
I've encountered numerous people who have redeemed their rewards multiple times too, which was reassuring! 
One of mCrypto's strong points is its reliable tracking system, ensuring your points are accurately tallied.
That being said, there have been some complaints about games not awarding the correct number of coins.
However, mCrypto's support team is responsive and eager to assist with any issues you may encounter.

One user changed his review to 5 stars after the support fixed the problem and gave the missing coins. 
It's important to remember that, like many legit reward apps, earnings on mCrypto can be somewhat slow. So, patience is key here!
Conclusion 
mCrypto is an exciting and legit app that offers a fun way to earn crypto by playing games, completing surveys, and referring friends.
Despite minor hiccups, the responsive support team is there to help, and the rewards are real.
However, patience and persistence are critical, as earnings can be very slow, just like many other reward apps.
If you enjoyed mCrypto and are looking for more rewarding opportunities, I highly recommend checking out PrizeRebel. 
This well-established platform offers even more earning opportunities as it has partnered with more advertising companies. 
Another two popular apps for earnings crypto are QuiCrypto and FreeCash! 
Check out my FreeCash review here!
Check out my QuiCrypto review! 
Earn a Full-Time Income Online
Are you tired of earning just pennies from playing games and completing surveys?
It's time to step up your game and unlock your true potential as an online entrepreneur! 
Imagine earning 100 times more or even reaching a full-time income, all from the comfort of your own home.
I've personally transformed my life by growing this website and mastering the digital economy.
By ranking articles on Google and monetizing the traffic using proven techniques, I've achieved remarkable success – and so can you!
Why wait any longer? Join the same program I discovered in 2015, which provides a comprehensive, step-by-step guide to building lucrative niche sites. 
Click here now to learn more and start today! 
Final Words
Thank you so much for taking the time to read my mCrypto app review! I hope it helps! 
I'd love for you to share your thoughts, experiences, or any questions you might have in the comments section below.
Peace!