Welcome to my Habit Gift review!
This peculiar Android application swears it'll reward you for, get this, your daily habits!
I mean, what?
That's right. It entices users with the opportunity to win real cash for simple human activities like drinking, walking, and even going to the loo. OMG! 
The developers advertise it as an easy way to make $5 – $50 and cash out via PayPal and Amazon gift cards. 
This concept takes me down memory lane to two similar apps I examined a few months back: Lucky Habit and HabitNow. 
They both turned out to be a complete waste of time, not paying a single penny. Yup, completely fake!
So, is Habit Gift poised to be the exception or just another fake reward app? Let's dive in and discover the truth!
Ready to trade in your 9-5 for a laptop lifestyle? This excellent step-by-step program helped me generate $2,000+ per month and can help you do the same. Click here to find out!
Habit Gift Review
Name: 

Habit Gift

Advertiser: 

dehua.liu

Eligibility:

 Worldwide

Price:

 Free (no in-app purchases)

Payout Threshold:

£0.50

Overall Rating: 1 star
What is Habit Gift?
Habit Gift is an Android app that claims to transform your daily habits into a rewarding experience.
The app supposedly helps you develop healthy habits by tracking your steps, giving reminders to stay hydrated, eating regularly, and more.
Here is the deal: You will get coins as you engage in these basic activities and play mobile games.
The developer then suggests these coins can be traded for real cash through PayPal, making it feel like you're cashing in on a healthier lifestyle.
With a whopping 50,000+ installs and a 3.9-star rating, you'd think Habit Gift is legit, right?
Well, not so fast because a surprising number of frustrated users are publishing negative reviews on the Play Store. 
How Does Habit Gift Work? 
Habit Gift, available worldwide and free to use, might initially sound like a sweet deal.
Upon launching the app, you must agree to share your data with their partners. If you're cool with that, tap "Agree," and you'll land on the home screen.
The home screen shows your daily step count, health status, and a list of daily habits to tackle.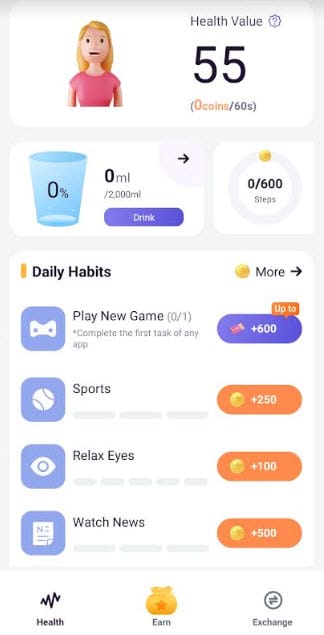 You can level up your health status by walking, hydrating, deep breathing, and participating in other activities.
You'll collect coins by activating these tasks on the app, but here's the thing: you don't even have to follow through with the activity.
For instance, tapping "Reading" will score 250 coins worth a measly £0.008. Yup, less than a penny!
Habit Gift asserts that as your health value increases, so do your coin rewards.
And whenever you check in a task, you'll be enticed to tap the "Earn tickets" button, whisking you away to the earn section.
You'll find a list of third-party games you must install and play on your phone to earn tickets.
The app says that once you've collected 700 tickets, you can withdraw £0.50. But unfortunately, the list is empty in the UK!
That means users in specific countries are left high and dry with no way to earn tickets.
Now, you might be wondering how to exchange coins for cash rewards.
Well, there are two conditions you have to fulfill: accumulate at least 21,000 coins and 700 tickets to withdraw the minimum amount of £0.50. 
And guess what? There are even bigger cash rewards like £1, £5, £50, and £100 up for grabs!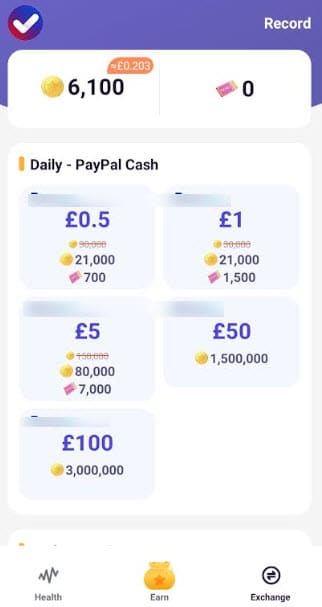 Since the app doesn't provide games or adverts to collect those tickets, I cannot cash out! However, your experience might be different, so who knows?
In the next section, I will share what others say about Habit Gift. Does it pay or not? 

Is Habit Gift Legit? Does it Pay? 
Believe it or not, you might receive a small payout for your time using this application. 
I've seen several reviews from users claiming they've received their money. However, it's highly unlikely you'll see more significant amounts coming your way.
It takes an agonizingly long time to meet the requirements for a payout, and user experiences are hit-or-miss.
Let me share a few real-life examples to give you a better idea.

This reward platform is going viral! Cash out via PayPal, Visa, Gift Cards, and in-game currencies - Click here to find out how to generate an extra $10+ per day! 
One user mentioned they couldn't withdraw initially and planned to try again later.
Surprisingly, the person updated his review, saying he managed to get the initial 90p payout. But then, Habit Gigt suddenly stopped tracking their game progress. 

Another user received a £0.10 payout, but additional payouts require completing a task even though none were listed. What a bummer! 
Conclusion 
The concept of earning money for your daily habits seems attractive, but the reality of Habit Gift falls very short of the dream.
The journey to earn just a few cents is fraught with obstacles, inconsistencies, and frustrations.
We've seen from user experiences that payouts, when they happen, are minimal and often trapped behind additional requirements like playing games or completing tasks.
The app's dependence on third-party content makes it harder for users to reach the withdrawal thresholds.
It's essential to remember that Habit Gift's primary goal is to generate revenue and promote third-party applications. 
Meanwhile, the developer cleverly entices users with the illusion of earning cash rewards ranging from £5 to £100. But let's be real: the chances of that happening are slim to none!
Earn a Full-Time Income Online
You wouldn't believe how much time I used to spend online only to make a few pennies on the dollar!
But then, I had an epiphany! In 2015, I took matters into my own hands and built my very own online business.
Let me tell you. Attracting a significant audience to my website was a total game-changer as it allowed me to generate hundreds of dollars and scale to over $2000 per month!
The real icing on the cake? The incredible freedom that comes with becoming a successful content creator.
I can choose my hours and work from anywhere in the world without supervisors or customer interaction.
Well, I've got great news for you! If you're ready to ditch useless apps and embrace a life of abundance, this step-by-step program is just what you need.
It will guide you to create a profitable niche site and generate excellent commissions. Trust me when I say it's an opportunity you don't want to miss!
Final Words
Thanks for reading my Habit Gift review! We hope you found it insightful and informative.
If you've tried the app, we kindly ask you to share your experience by leaving a review. Did you receive the money or not? Let us know in the comments below! 
Peace!