Stone Evans wants to give you the same website that has made him a millionaire for FREE! Will Plug-in Profit Site offer a quick solution to help you escape the 9-5? Or is it just another scam?
Let's check it out!
Plug-in Profit Site Review
Product Name: Plug-in Profit Site
Website: pluginprofitsite.com
Price: $10/ year + $10/ month + hundreds of dollars paid to MLM companies
Owner: Stone Evans
Overall Rating:

1/ 10
What is Plug-in Profit Site All About? 
Plug-in Profit Sites promises a shortcut to build an online business. The owner is offering a ready-made website so you can start making money online and finally fire your boss. But is that so easy?
Although he says the website is free of charge, you actually have to pay for a domain name (around $10/year) AND hosting ($10/ month). So it's not 100% free!
Why Having This Website is Not Enough 
Before I tell you how Plugin Profit Site works, let me explain how I prefer to attract an audience for my site.
Indeed, the foundation of your online business is a website. Without it, you have little chance of reaching out so many people necessary to earn significant commissions.
However, you still need to attract these people to your site and that's the real challenge behind a successful business.
The most effective and risk-free way to attract a large audience when you are just starting out is to write quality content for your site. Do this on a consistent basis, and Google will assign more and more authority to your site and rank your articles at the top positions. That's how I do.
When people search for specific terms on Google, they will click on your articles right at the top and visit your site. Well, this person is a potential customer.
Plugin Profit Sites works in another way, which I don't recommend.

This reward platform is going viral! Cash out via PayPal, Visa, Gift Cards, and in-game currencies - Click here to find out how to generate an extra $10+ per day! 
Immediate Freedom? 
Stone Evans makes people think this website will automatically generate passive income quickly, and without any effort. This is highly unlikely unless you spend a lot of money on advertising first, which is very risky!
He also makes people think that building a website by yourself is difficult. However, with some simple steps, anyone can do it!
You Will Be Encouraged to Join MLM Programs 
Plug-in Profit Site recommends you sign up for five multi-level marketing (MLM) companies.
However, purchasing anything is unnecessary before you get your website up and running. You can sign up for free with Pure Leverage and insert your username. The same thing happened with SFI. Besides, you don't need to join the other three programs to move on.
Check out the current programs:
1.Pure Leverage
It's an MLM company where you have to spend at least $24.95 / month to access and promote some internet marketing tools. There are more upsells if you want to have access to higher-tier commissions.
2. Six Figure Income (SFI)
Another MLM company that requires you to buy products from its sister e-commerce site is Tripleclicks.com. You earn enough points to participate in their referral program when you buy products.

3. Traffic Authority
The resellers' license costs $20/month and has costly traffic packages for sale if you want to promote them.
4. Domain Cost Club
This is a company that provides unusual and very expensive domain extensions. You have to pay a minimum of $99 to become a member and be able to promote them. You must pay a membership fee to make money from referrals, and it also provides multiple levels of compensation.
5. Got Backup
This is also an MLM company that sells backup services for your computer, and the basic membership costs $8.99 per month.
You Must Purchase a Domain Name
When you approach step 3, they will ask for a domain name, which is your site's address on the internet.
If you don't have one, they provide a link to their own registrar, where you can purchase a domain for less than $10 per year.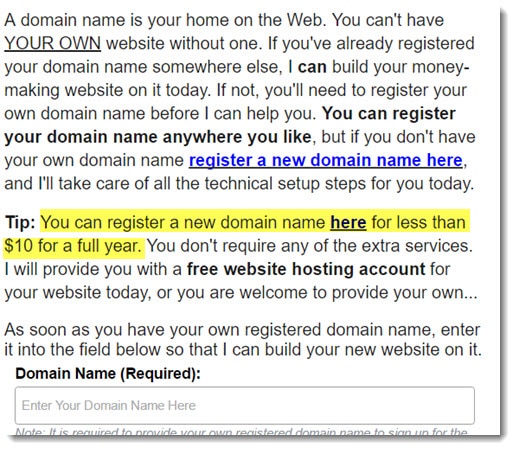 Note that he will provide a free website hosting account today. Yes, that's true, but he didn't mention that it's only free for the first 30 days.
The problem is not much the hosting price but the overpriced MLM products you will have to buy to earn commissions.

Conclusion 
Plug-in Profit Site promotes the idea of quick cash without effort, so many people think the ready-made website is everything they need to start making money online.
If you are a newbie and don't understand how to get traffic to your affiliate marketing business, you can easily lose money with tools and expensive advertising. Many people still pay for overpriced products just for the right to promote them, which is something I don't recommend.
As a website owner, there is no need to join any MLM company to make money online. When you build a website, there are plenty of affiliate programs you can join for free such as Amazon and Commission Junction.
Plug-in Profit Site is not a scam, but it's a program that I don't recommend.
Verdict:

Not Recommended
What Now? 
To build a profitable online business, the first thing I encourage you to do is to get proper training in affiliate marketing. You need to build a solid foundation for your business and understand how to attract a large audience to your site.
Anyone can do it, and I'm sure you can find plenty of free information on the internet. However, many drawbacks can lead to failure. You can…
Stumble across disconnected, outdated and wrong information.
Be misled by the hype.
Get discouraged by the lack of reliable support.
If you want excellent step-by-step training, 24/7 support, and a website-building platform, I suggest Wealthy Affiliate. WA is an impressive online business training and community for those who dream of being an online entrepreneur and achieving time and location freedom. 
I have achieved great results after two years of implementing their step-by-step program. You can learn more about this platform and see my results by clicking the link below.
>> Click Here and Check Out My Wealthy Affiliate Review

Have you tried the Plug-in Profit Site? Do you think it's a good or bad opportunity to make money online? Feel free to leave your comments below.
Peace!