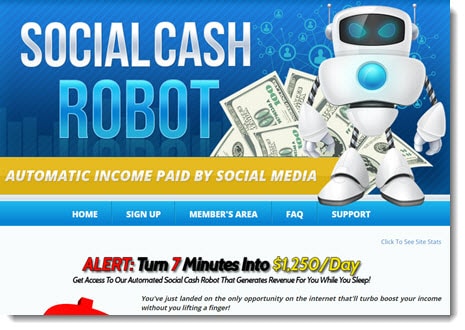 A friend of mine was just about to buy a share with Social Cash Robot when he decided to contact me and ask for my opinion. As soon as I opened the site, I saw "turn 7 minutes into $1,250/day". Hard to believe! Is it really possible to make passive income with this program? Or is it just another scam?
Well, the internet is infested with Ponzi Schemes disguised as revenue sharing programs. You need to be careful with the kind of business you are investing your money in. Do they have a good reputation? Are they transparent? Which services are they providing?
Read my review and find out the truth about Social Cash Robot!
Tired of Wasting Time and Money With Deceitful Websites? 
==>> Check My #1 Recommendation and Build Your Online Business!
Social Cash Robot Review
---
Product Name: Social Cash Robot
Website: www.socialcashrobot.com
Price: $49 per share
Money Making Strategy: Revenue Sharing?
Recommended?

NO
Score:

0 out of 10
What is Social Cash Robot
Social Cash Robot presents itself as a revenue sharing program. If you are not familiar with the term, it consists of a business that collects investments and distributes its profits between investors (stakeholders).
This type of program is legitimate, but the problem is that many websites are lying about their actual business model. In fact, what many of them are doing is using money from new investors to pay older investors – A fraudulent system known as a Ponzi scheme.
As long as a good number of new investors joins the "club" and purchase shares, the system can pay everyone. Eventually, the number of new members necessary to keep the system profitable becomes too high and unachievable. That's when the owner decides to vanish with everyone's' investments.
Is Social Cash Robot a Ponzi scheme, then? It looks like, but they are actually selling a product tied with the $49 share.
You just know about it when you visit the Income Disclaimer. Therefore, Social Cash Robot might be just a revenue sharing program that doesn't guarantee you any profits.
How Does it Work?
The tagline of Social Cash Robot is "Automatic Income Paid By Social Media". So, it makes people believe they will get paid by Facebook, Tweeter, and other networks, which is not the case.
These big companies have no partnership with Social Cash Robot.
Social Cash Robot says that they own an inventory of social network assets (secondary business).
These assets are said to provide valuable exposure to business owners via social media. In short, they are basically selling Facebook likes, Tweeter followers and Google +1, which can increase the popularity of a product or company.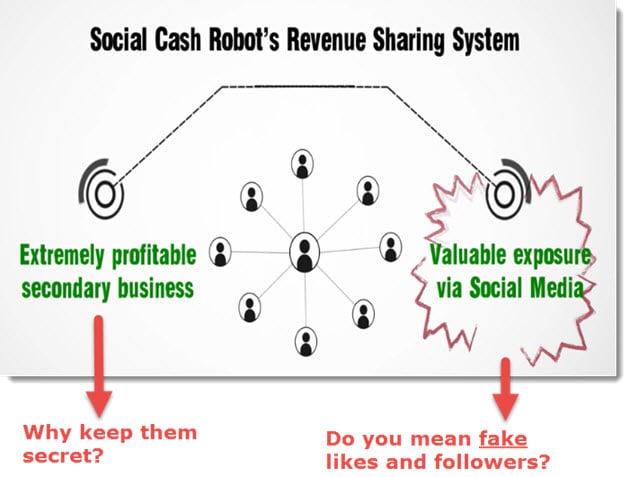 In order to sell these likes and followers to business owners, they need to pay people to do that job. They claim to have many wholesale suppliers for that matter. That's where you come in!
They will use your investment (share) to pay for that service and sell it with a profit margin. The difference between buying and selling likes and followers is supposed to be paid back to you.
Each share costs $49 and is said to provide unlimited passive income every day. The more shares you have, the more money you can make.
Like-Farming is Against Social Media Rules
It's important to note that the commercialization of likes, shares, and followers is against social media rules, just because they are fake and mislead users. This fact alone is a good reason to avoid contributing to this system!
There are many crowdsourcing platforms on the internet paying peanuts for hundreds or even thousands of Facebook likes. We can even find click farms in countries like Bangladesh, Nepal, and India, where people are working long hours to earn as little as $1 for 1000 aleatory likes.

Social Cash Robot is Not Transparent
Social Cash Robot doesn't tell you exactly which "assets" they are using to source these likes and followers. Therefore, it's impossible to check if they are buying and selling anything.
This lack of transparency is a serious red flag!
They also don't publicly disclose profits so you can decide if it's risky or not. This would be vital to know because you will not earn anything in case there are no profits.
There are some people on the internet claiming they made $2, $5, $6 and even $10 with 1 share. Yes, that can be true, but be careful!
It's a well-known scammers' tactic to give away some money to gain trust and make people invest more money. I am sure that if you purchase only 1 share, you will not earn over and over again forever!
In fact, it doesn't matter how many shares you buy. They don't make any guarantees.
The Income Disclaimer
After reading the Income Disclaimers, you will realize they have the power do many things. 
First of all, they can close your account for any reason!
We may terminate your license to use our website, and access to our website, for any reason, and without giving you notice.
It's ironic, but they are saying the information they provide should not be trusted. If you lose money, it's your fault! That's what they are claiming:
We do not guarantee the accuracy or completeness of any of the information provided, and are not responsible for any loss resulting from your reliance on such information.
You are Paying for a Product
You will see the following paragraph near the end of the page:
Product Description

For each $49 share that you purchase, you'll receive exclusive access to valuable downloadable products that you can use immediately. These products are what you are purchasing and any commissions that you receive are considered "extra" or an added bonus. These commissions are NOT guaranteed. You may access these via your member's area in the Bonus section!
It means you are purchasing ebooks with some basic training, not a share of the company.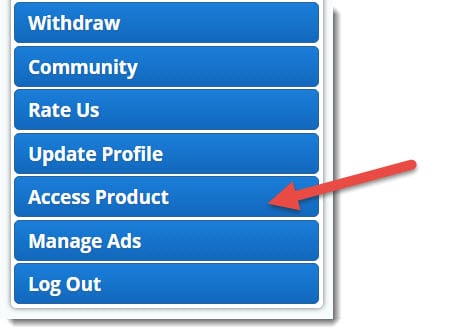 Now you can't accuse them of being a Ponzi Scheme, because, in fact, you are buying a product. The thing is, you don't know that unless you read the Income Disclaimer. Furthermore, as you are getting instant access to these products, there are no refunds! 

Another Methods to Make Money
You can also make money by referring (inviting) people to Social Cash Robot by sending them your affiliate link. If they buy a share, you will earn 10% commissions.
Conclusion – Is Social Cash Robot a Scam? 
I can't say Social Cash Robot is a scam because I have no proof.
It claims to be a revenue sharing program, but you can't expect any single penny as there are no guarantees.
The important thing to keep in mind is that once you pay them, they have the power to do whatever they want with your money, and there are no refunds!

This reward platform is going viral! Cash out via PayPal, Visa, Gift Cards, and in-game currencies - Click here to find out how to generate an extra $10+ per day! 
Verdict:

Not Recommended
You need to be cautious with revenue sharing programs. I have reviewed a more transparent revenue sharing program called My Traffic Value.

You can see all their business transactions (profits, and losses) and you know beforehand how much you are going to earn. Still, there are risks involved as any other type of investment, but what I am saying is that it's a more transparent platform.
A Better Way to Make Money Online
One of the best ways to make money online is to build an online business and promote products as an affiliate.
An online business is incredibly cheap compared to most brick and mortar businesses and can be more profitable too.
By creating a website, all the content that you create will keep paying you for years. That allows you grow your business to a point where you eventually make a living online.
So, how can you get started? I recommend you get the same affiliate marketing training that I got when I started this website back in 2015. Wealthy Affiliate gave me an excellent step-by-step course in affiliate marketing and put me in touch with highly successful entrepreneurs on a daily basis.
 I hope this review was helpful to you! If you have questions or thoughts about Social Cash Robot, leave a message in the box below!
Your friend
Stefan