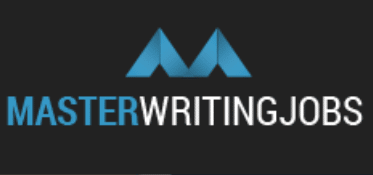 You probably think Master Writing Jobs is too good to be true. These guys are claiming you can earn $2,000 to $10,000 per month by using their "amazing" database of freelancing writing jobs. No experience required! So, is Master Writing Jobs a scam? Is it worth paying for this service?
Let's find out!
By the way, if you want to achieve time and location freedom working from your laptop, check out my # 1 recommendation.
Master Writing Jobs Review
---
Name: Master Writing Jobs
Website: www.masterwritingjobs.com
Price: $34
Owner: Unknown
What is Master Writing Jobs?
---
Master Writing Jobs is a platform that provides a database of writing jobs as well as tutorials and tools to help with your freelance career.
It's important to understand that masterwritingjobs.com is not the employer. It only connects you with businesses that are advertising freelancing jobs so you can apply for them.
The Hype 
---
Just like Mommy Jobs Online, and My Home Job Search, Master Writing Jobs is over-hyped. They want to make you believe that, once you get access to their high-paying job database, you will start finding clients and making lots of money in asap.
If you watched the video, you should recall when John said he spent his first two years working like a dog and not having time with his family. Poor thing!
Then, he found an easier, faster and more profitable way. A system that allows him to rake in $100,000 per year, working just 4-5 hours per day from home! It's hard to believe.

Of course, you will have to pay $34 to see what is inside, but they won't give you any secret list of high-paying jobs, and you won't have any advantage over other freelancers.
Is Master Writing Jobs a Scam Then? 
---
Well, unfortunately, I don't have any proof to make such a claim. I didn't purchase this product, and I never will.
However, there are many red flags that you must be aware of before you take the plunge.
Fake Scarcity 
Look at the top right corner, and you will see a countdown with just a few spots available. They say this is to ensure quality training. However, you can wait for the rest of your life, and the number won't get lower than 3.
It's a tactic to urge people to buy impulsively – a dishonest approach to business.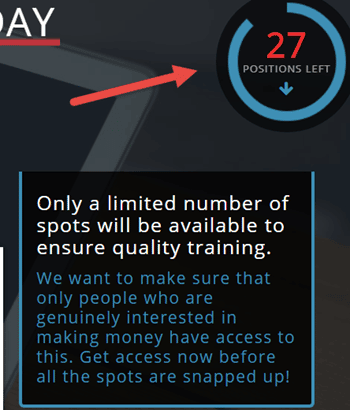 "As seen on" – Are you sure about that?
The sales page states that Master Writing Jobs can be seen on Forbes, CNNMoney, NBC, FoxBusiness, and CBCnews. But in fact, that is a lie!

I searched for it on Forbes.com and didn't get any results. The same thing for the other sites!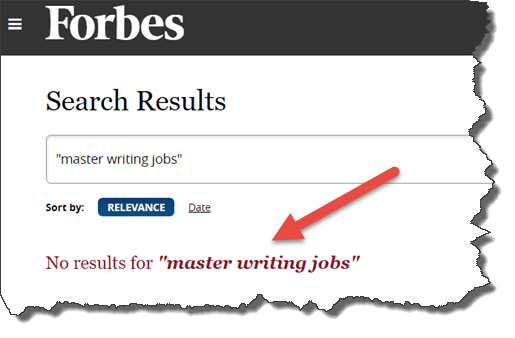 Fake testimonials
Another shocking discovery was to find that they are using fake testimonials.
Here is the proof. I found out that Amy Douglas is actually Nancy Show, a supposed nurse who is the founder of a blog called HiFiveBaby.com.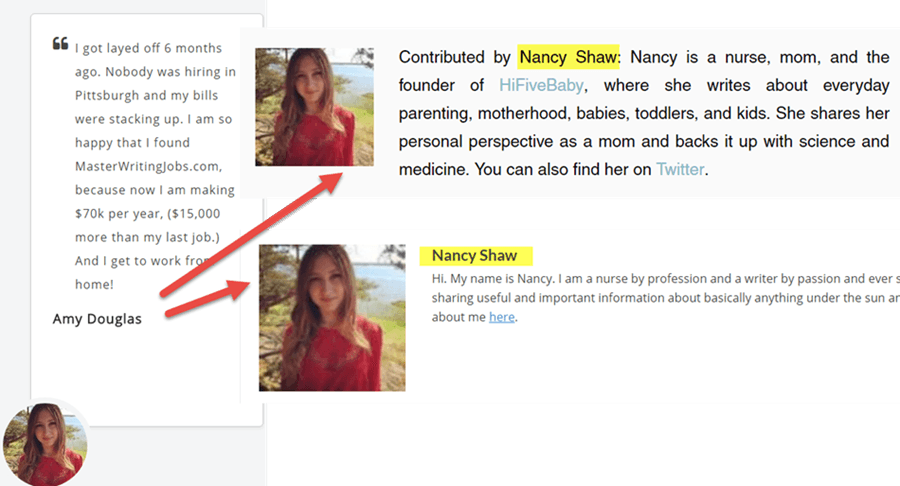 Getting a Refund Can be Difficult
Master Writing Jobs is not a service for sale on digital marketplaces like JVZoo, Clickbank or Warriorplus, which can make the process of getting a refund is quite complicated. Besides, you can only pay the membership via credit card, not Paypal.
So, it's a big problem when you decide to get your money back, and the only option you have is to contact the customer's support via email or phone.
Some people had to file a complaint with BBB.org to get their money back.
Lots of Complaints
I checked the company on BBB.org and found 53 complaints.
Most, if not all of all these people tried to contact the company to get a refund with no success.
These are some of the things people said about Master Writing Jobs:

The actual job was not at all what they promised.

After I paid the money, I looked on the dashboard of the website and there were no "real" jobs available.

I saw that the so-called jobs they offered were either for people with degrees and for jobs NOT AT HOME, and a list of scam Surveys to make money

There is no way to contact this company for refund. Have sent emails with no response and phone number is disconnected
Pros and Cons
---
Pros
Cons
Overhyped.
You will be directed to freelance sites that you can find for free on the internet.
I have seen lots of complaints on the internet.
You can struggle to get a refund.
Final Thoughts
I don't think Master Writing Jobs is a scam, but it doesn't seem to live up to the hype.
They make you think there is something special about their job board and "system" that will put you in a privileged position. But the reality is that you won't be in a different position in regards to other freelancers.
Verdict: Not Recommended

This reward platform is going viral! Cash out via PayPal, Visa, Gift Cards, and in-game currencies - Click here to find out how to generate an extra $10+ per day! 
My Advise to You
---
If you want to become a freelance writer I have some advice for you. You should not spend any money trying to find freelancing jobs because there is plenty of free platforms out there.
The most popular ones are Upwork, Fiverr, Elance, PeoplePerHour, Freelancer, and SimplyHired.

Just bear in mind competition is fierce and you should be prepared to work long hours to make a decent income. If you are just starting out, you will have to build a solid reputation, and that takes time.
The problem I see with most newbies is that they have an employee mentality towards their freelancing business. I advise you build an entrepreneur mindset instead.
Don't waste a lot of time going after jobs. Instead, set up a professional website, improve your Linkedin Profile and start marketing yourself independently. You want to reach a point where people are begging for your service and not the other way around.
How I Prefer To Make Money Online
---
Even though freelancing is a great way to make money online, you are still trading your time for money. If you go for a holiday, the money won't come and will feel the financial pressure.
It's not ideal because you can end up working more than a regular 9-5 and not enjoying properly the flexible lifestyle.
Well, I decided to build an online business (a blog) and promote products as an affiliate marketer. I can tell you. This was the best decision I have ever made!
I can work whenever and wherever I want and still make passive income online.
Since the internet never sleeps, my business is running and generating revenue 24/7. 
Basically, my job is to write articles that help my audience, such as reviews and how to's. Then, when people search for a review on Google, they can find my article on the top positions and visit my site.
If the product is high-quality, I can include my affiliate link in the article, and if the person decides to buy it through the merchant's website, I earn a commission.
It's that simple. I just connected the merchant with a potential customer.
Thanks to an excellent step by step training, I was able to create a blog and grow an audience of about 1,000 visitors per day. After two years, I went from $0 to $700+/mo, which is remarkable for someone who had never built a website and never heard about affiliate marketing before.
So, if you want to learn more about the strategy and platform that I use to build my online business, check out my #1 recommendation. It's free to get started!
Thanks for checking out my Master Writing Jobs review. If you have any questions, please drop me a message below, and I'll be more than glad to help you out.