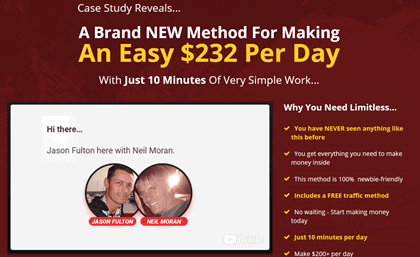 What would your life be like if you could make $200+/day with just 10 minutes of simple online work? The perfect dream, right? Well, that's exactly how much the creators of Limitless are claiming you can make if you apply their methods. So, is Limitless a scam or legit?
In this review, I would like to cover all you need to know about this method a give my honest opinion about it.
By the way, if you want to discover how I made $472,50 during my 10-day vacation trip to Morocco, don't forget to check out my # 1 recommendation here.
Limitless Review
---
Name: Limitless
Website: www.grablimitless.com
Price: $12.95 + Upsells
Owner: Jason Fulton & Neil Moran
The Sales Page
---
One thing I despise about "make money online courses" is the hype.
Limitless makes people believe they will make quick and easy money online, and so they jump on it with unrealistic expectations. 
Starting a business with unrealistic expectations is not ideal because you are more likely to give up when you realize the real struggle behind these beautiful dollar signs.
When you have an online business, you can make $376 in one day with 10 minutes of work, or even with NO WORK whatsoever. As I said, I made over $400 while traveling in Marocco for 10 days.
However, those $472.5 resulted from months of hard work that is now generating passive income. Meaning that the work I did in the past still pays off.

This reward platform is going viral! Cash out via PayPal, Visa, Gift Cards, and in-game currencies - Click here to find out how to generate an extra $10+ per day! 
What is Limitless?
---
Limitless is a step-by-step video training that will show how to take advantage of Bing Ads to promote a CPA offer that pays $1-$5 per sign-up.
The course was developed by Jason Fulton, who is an experienced internet marketer and author of many other courses, including Profit Whirlwind, 3 Step Profit Machines, and Payday Tornado.
Pros and Cons
---
Pros
Easy to follow lessons.
There are lots of useful tips and tricks.
It explains an interesting method to earn $1,000 in ad credit.
You can make money using Limitless, but you should not expect quick results.
30-day money back guarantee.
Cons
Overhyped.
You have to purchase specific services if you want to promote Yoonla.
You can lose money with paid ads.
Lots of upsells.
How Does it Work? 
---
You will have to invest in Bing advertising to promote an educational platform called Yoonla. According to the official website, Yoola provides knowledge and tools so you can create the ultimate digital lifestyle.
The idea is to advertise a landing page to capture people's emails and direct them to Yoola after they subscribe. This is the type of page I am talking about: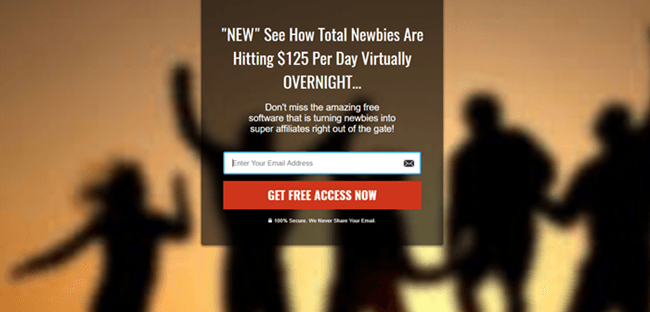 Yoonla will pay you $2 – $5 every time someone joins for free through your landing page. This commission is known as CPA (cost per acquisition), which is an advertising model where the company pays for each lead (potential customer) that you bring to their business.
Yoonla also pays a 60% commission when your referral upgrades to the Yoonla VIP Partner Program.
Where is the money coming from? 
Now, you are probably wondering how Yoonla makes money to pay for such a profitable CPA program?
The answer is: Through affiliate commissions they will earn when YOU purchase the services that they recommend. That's right!
Although the website is free to join, you can't get their affiliate links and promote Yoonla unless you are a Yoonla VIP member.

In order to become a VIP, you will have to purchase the following services:
Yahoo Aabaco "Advanced Hosting Plan,":   $3,99/mo if you pay annually or $9,99/mo if you pay monthly.
Autoresponder with GetResponse: $15/mo.
Once you have these services, they will integrate them with the landing pages that promote Yoonla.
Getting Traffic
The next step is to get traffic (visitors) to these pages using PPC (pay-per-click), which is the paid advertising method you will learn inside Limitless.
I use Bing ads, which cost me around $0.50-$0.60 per click to promote some of my affiliate offers. So, as you can see, there is a risk involved because you need to earn more money than you spend on advertising, hosting, and autoresponder combined.
For example, last month I spent around $80 and didn't make a single sale. It's frustrating sometimes, and that's why I decided to spend less on ads and focus more on free traffic. You need to test and see how it works for you.
The good thing about Limitless is that they will explain how to get $1,000 in Ad credit. So you can actually make a lot of testing without spending a lot of money.

The Training
---
Limitless consists of 14 video lessons that will cover, among other things, how to:
Set up your campaigns from start to finish.
Get $1,000 in Ad credit.
Spy on your competition to see what's working for them.
Upload your redirect page
Track conversions.
Add negative keywords.
Get free traffic.
The course is well laid-out, and you will undoubtedly learn useful tips and tricks to make this method work.
Upsells
---
After you pay $12.95 for the front-end product, there will be another four upsells.
1 ($37) – Done For You Campaigns.
2 ($47) – Faster Results Upgrade: Advanced training to get results even faster.
3 ($97) – License rights: Earn 100% by promoting Limitless.
4 ($197) – 2-Week Coaching: Neil will hold two webinars. The first webinar will be just training and the second one will be full Q&A section and 1-on-1 coaching.
Conclusion – Is Limitless a Scam? 
---
No. Limitless is a legit training that will help you make money online. However, the sales page does a disservice by giving the reader false expectations about the method.
Although you can make a lot of money, you can also lose a lot of money if your marketing campaigns don't convert well enough. That's why I don't recommend paid traffic for those starting out.
You can give Limitless a try and see how your campaigns will perform. If you spend more than you earn, send a support ticket and ask them to help you reach the fantastic results you saw on the sales page.
If nothing seems to work, request a refund. But do so within the first 30 days.
Verdict: Legit

How I Prefer to Make Money Online
Personally, I prefer to build affiliate sites that get free traffic. I do this by writing helpful articles that get high rankings in Google's search results. It's also possible to get free traffic on Youtube and social media.
Then, I just promote high-quality products that will truly benefit my readers. The good thing about this method is that you can create a website around your passions and interests.
When you follow your passion, you work harder, you work longer, and you achieve much more!
Thanks to excellent step-by-step training, I created a blog and grew an audience of about 1,000 visitors per day. And after 2 years, I went from $0 to $700/mo, which is remarkable for someone who had never built a website and never heard about affiliate marketing before.
$900 is not enough for me to quit my job, but I can pay all my expenses with it and save all that I earn working at the coffee shop.
If you want to learn more about the strategy and platform that I use, check out my #1 recommendation!
Thanks for checking out my honest Limitless review. If you have any questions, please drop me a message below, and I'll be more than glad to help you out.